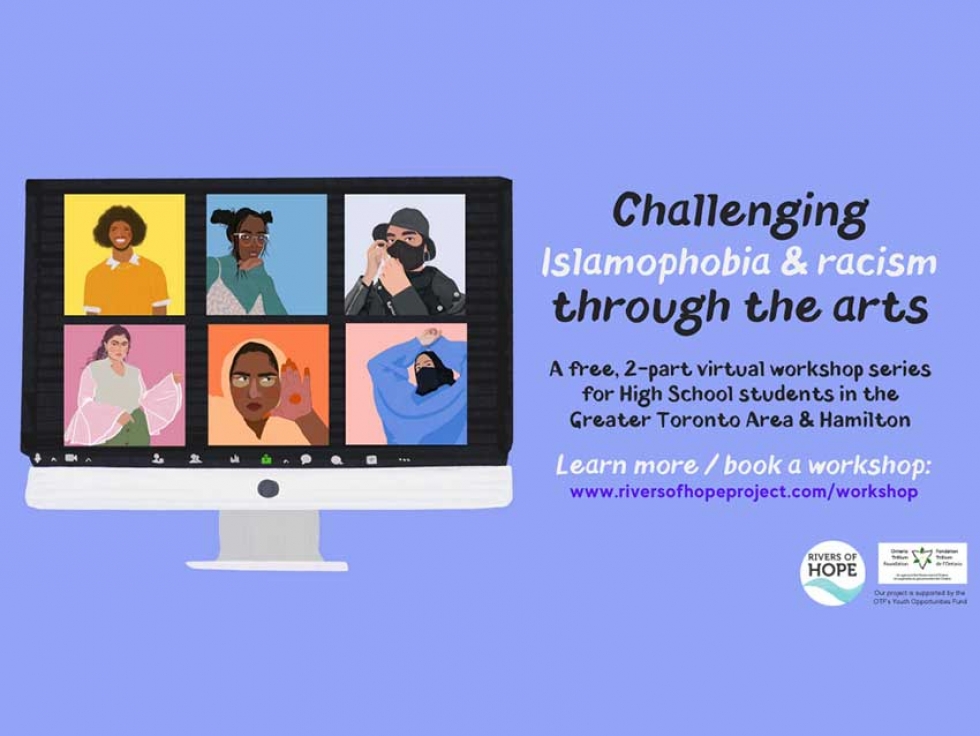 01
Oct


2020
Rivers of Hope Challenging Islamophobia and Racism with the Arts Online Workshop Series Available for High Schools in the GTA & Hamilton
Written by Sidrah Ahmad Chan
In these difficult times, Rivers of Hope would like to thank teachers and education workers from the bottom of our hearts.
You are working so hard to ensure the very best for students of all backgrounds in these extremely challenging circumstances.
Rivers of Hope is pleased to announce a new, free resource available to support High School teachers in the Greater Toronto Area and Hamilton.
Challenging racism and Islamophobia through the Arts is a 2-part online workshop series to support you and your students in challenging racism and Islamophobia in schools.
Our workshops respond to the rise in anti-Muslim hate crimes and online hate in the Canadian context and use the arts to make the workshop material accessible to a wide range of students.
What does the online workshop include?
Inspiring examples of how to challenge racism and Islamophobia using photography, film, and other art forms
An interactive discussion on the unique experiences of Black Muslims, Muslim women, LGBTQ+ Muslims, and other intersecting identities
Theatre activities to practice the Five D's of Bystander Intervention
An invitation to all workshop participants to create their own artwork to challenge racism and Islamophobia in their community
To learn more about our workshop series, please see the attached workshop flyer, or visit www.riversofhopetoolkit.ca/workshop.
How to book a workshop:
Our workshops are free, but there are only 20 sessions available between now and June 2021.
To book a workshop for your classroom or community organization now, please fill out our online booking form.
About Rivers of Hope:
Rivers of Hope is a grassroots organization dedicated to challenging racism and Islamophobia through education and the arts. Since 2018, our workshops have reached almost 1000 people across Ontario. Our current project is funded by a 3-year Ontario Trillium Foundation grant. To learn more about our work, please visit www.riversofhopeproject.com.
We are truly looking forward to working with you on this project and supporting your students in making change. If you have any questions, please don't hesitate to reach out.