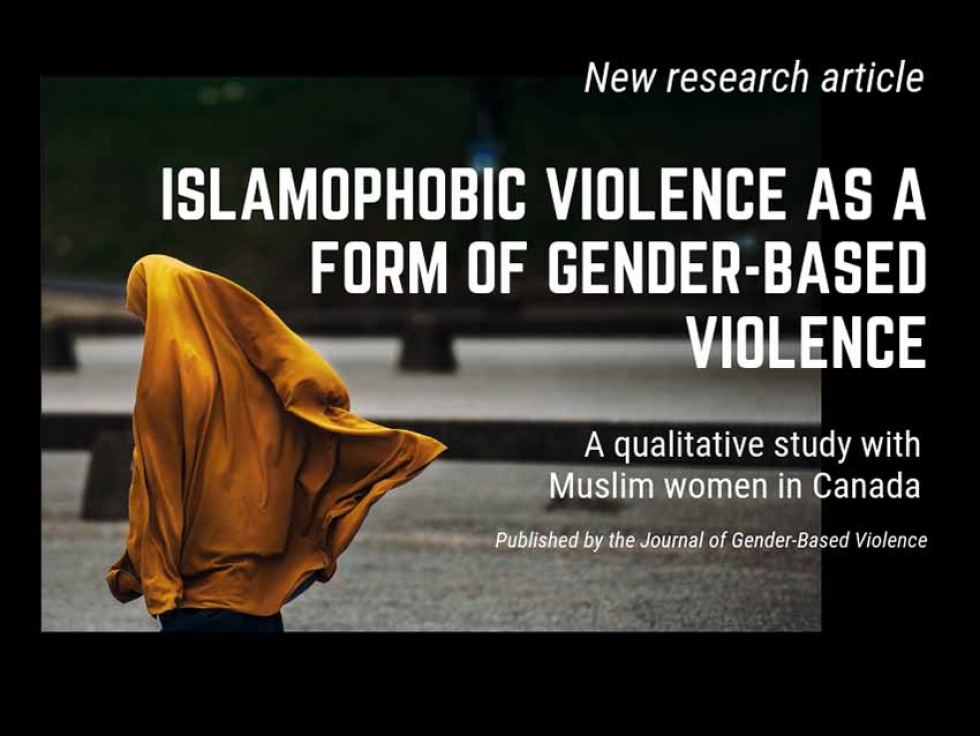 21
February


2019
Recent Publication: Islamophobic violence as a form of gender-based violence: a qualitative study with Muslim women in Canada
Written by Sidrah Ahmad
Sidrah Ahmad is a writer and researcher based in Toronto, Ontario. She co-founded the Rivers of Hope Toolkit for survivors of Islamophobic violence. Her writing for mainstream media and academic research has helped to bring the reality of gendered Islamophobic violence into public discourse in Canada.
Her research on this subject has now been published in the Journal of Gender-Based Violence.
You can follow Sidrah on Twitter here.
Sidrah discusses gender-based violence and Islamophobic violence in her presentation in Ajax, Ontario in the video below (May take a few moments to load from YouTube).
*********
Islamophobic violence against Muslim women in Canada is real, serious, and needs immediate attention. It is both gender-based violence and racist violence.
My new research article "Islamophobic violence as a form of gender-based violence: a qualitative study with Muslim women in Canada" has been published by the Journal of Gender-Based Violence, a peer-reviewed, international journal based in Britain, and published by Bristol University Press.
The article covers the experiences of 21 Muslim women survivors of Islamophobic violence in Toronto, Canada.
This article provides:
The first qualitative research study on Islamophobic violence against Muslim women in the Canadian context
A discussion of the different forms of Islamophobic gender-based violence reported by participants, including attempted femicide, physical assault, sexual assault and verbal assault, and intimate partner violence
A suggestion of a new term: 'Islamophobic gender-based violence'. This term helps us name the violence that Muslim women face due to the combined effect of misogyny and Islamophobia
A discussion of how stereotypes of Muslim women being "passive", "weak" and "oppressed" make them more vulnerable to being targeted for Islamophobic violence
Access: Access the article online here
Contact: If you have questions about the article, please email Sidrah Ahmad at This email address is being protected from spambots. You need JavaScript enabled to view it..
Article citation: Ahmad, S.M. (2019) Islamophobic violence as a form of gender-based violence: a qualitative study with Muslim women in Canada, Journal of Gender-Based Violence, DOI: 10.1332/239868019X15492770695379