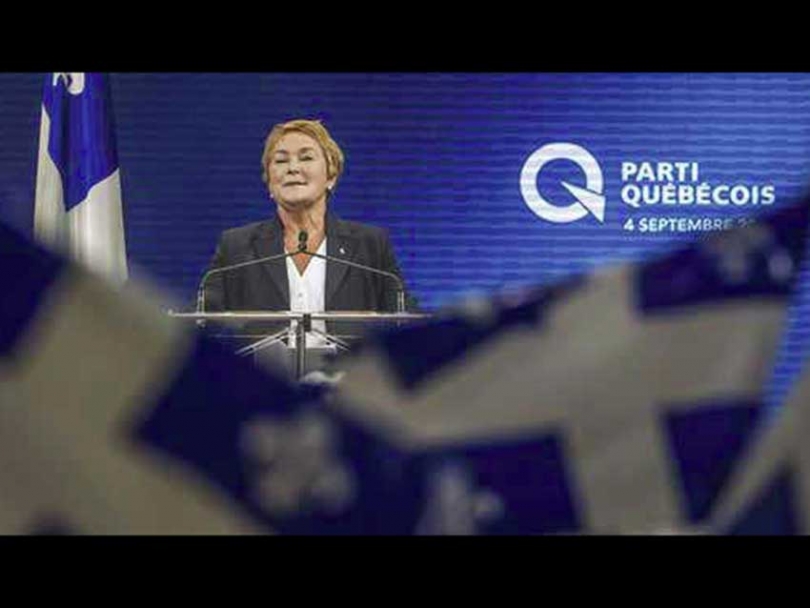 Pauline Marois makes history as the first female premier of Quebec and the fifth woman currently at the helm of a Canadian province or territory.
Photo Credit: rogeriobarbosa.com
14
Sep


2012
PQ victory raises concerns about religious rights, economy
Written by Sadia Virk
The Parti Québécois win in Quebec has drawn mixed reaction from Canada's second largest Muslim community.
Amongst Montreal's 200,000-strong Muslim community, there was a varied sense of disappointment at the success of the Parti Québécois, consolation that the separatist party failed to win the required 63 seats to form a majority government, relief that the Liberals are no longer in leadership; and hope that the new balance of power will usher positive change.
"I am upset that the PQ has won, but relieved that they did not win a majority," said Brossard resident Aisha Khan. "I am also surprised at how close it was, I was expecting the Liberals to do worse and the CAQ to do better."
Winning 54 of the 125 seats up for grabs in the National Assembly, the pro-independence PQ narrowly edged out the incumbent Liberals, ending party leader Jean Charest's nine year rule as premier. The Liberals finished closely behind the PQ, winning 50 seats winning 31.2 percent of the popular vote, compared to 31.9 percent won by the PQ. The Coalition Avenir Quebec (CAQ) and the Québéc Solidaire won 19 and 2 seats respectively.
When asked how she thinks the PQ might govern Quebec, Ms. Khan said, "They will attempt to take away human rights from Quebec residents, such as rights to communicate in English, as well as cultural and religious rights. I think all this ridiculous and unnecessary talk will breed a climate of hate and will take away from the real issues."
Pierrefonds resident Hameed Uddin expressed his relief at the election results and feels it sends a strong message to the PQ that Quebecers do not want a referendum on separation. He also voiced concerns, shared by others, of economic instability, as was seen after the 1976 election of the first PQ government, which prompted an exodus of various corporate head offices, as well as Anglophone residents.
"In this globalization era, limiting the strengths and intellectual capacity of (Quebec's) population by imposing language restrictions is counterproductive and against global trends where governments are encouraging their people to learn more languages," he said. "We need politicians who are visionaries and who will work towards advancing Quebec to be a leader in a globally competitive world. We should not be just considering ourselves as part of Canada, but as part of the global village and aim to be a dominant player at the world stage."
Another Pierrefonds resident, Sameer Zuberi, expressed satisfaction with the election results and hopes the status of the PQ as a minority government with the Liberals in opposition will prove to be a positive force for Quebec.
"I'm fairly happy with the new makeup of the National Assembly, a minority government is always good for the population," he shared. "The PQ has a strong social-democratic tradition and can be a force for a more just society. The Liberals won't advance an agenda which goes against their base, Anglos and Quebec's minorities. An increased Québéc Solidaire presence is healthy, as they specifically advocate for the inclusion of cultural communities in the mainstream. Finally, the CAQ's emphasis on putting the separatist-federalist debate on the backburner is a positive step towards depolarising Quebec politics."
For Brossard resident Ahmad Hussain, the election results came as no surprise, as he had anticipated the dwindling support for the Liberal government.
"I think the Liberals were in power a little too long and it's in the best interests of "˜good governance' that we reshuffle our governments every now and then," he explained. "I'm eager to see how the PQ cleans up corruption and I'm sure they will. Charest's government was simply too corrupt and didn't care when public calls were made to inquire into corruption in the construction industry."
A point of concern in the PQ platform for many members of the Montreal Muslim community was the Charter of Secularism, which among other things would seek to ban employees in public institutions from wearing overt religious symbols, including the hijab, kippah and turbans. According to Mr. Zuberi, such a move would be detrimental not only to religious communities, but to Quebec as a whole.
"The proposed Charte de la laïcité is quite divisive, it goes against the very spirit of a free and democratic society and will lead to social cleavages," he explained. "If the government is smart, it will advance a national identity that is open and inclusive to anyone who makes Quebec home. The PQ should be careful about approaching identity politics in an exclusive and ostracizing manner. Instead the PQ should focus on the positive aspects of its platform, that is, creating a more just and fair society."
Likewise, Ms. Khan believes such a charter would contravene the Quebec and Canadian Charter of Rights and Freedoms and also demonstrates a lack of knowledge on the part of Premier Pauline Marois concerning the contributions of Montreal's religious minority groups to the wider society.
"It (the charter) infringes on individual human rights and I feel it is an unnecessary and irresponsible use of taxpayer's funds," she said. "I think she is unaware of how many openly religious people are such active members of the public community in the Greater Montreal Area, as they are teachers, nurses, doctors and therapists."
Canadian Muslim organizations also weighed in on the results, sending messages to Premier Marois to avoid division. The Muslim Council of Montreal issued a statement following the announcement of the election results, with president Salam Elmenyawi stating, "We will be closely watching the performance of Ms. Marois as premier of Quebec and calling on her to demonstrate true leadership in governing for the welfare of all communities. She faces a serious task of healing the wounds caused to many minority groups during the election and must work to eradicate racism, hate and xenophobia, while preserving civil liberties and social harmony."
Likewise, the Canadian Council on American-Islamic Relations (CAIR-CAN) said in a released statement "It's time for the Parti Québécois to promote the province as a place where differences among people of all backgrounds and faiths are deemed as complementary strengths, rather than threats to Quebec values."
As for Mr. Zuberi, he remains cautiously optimistic for the future of Quebec.
"I believe the outlook is positive, but Quebec minorities must remain actively involved and help shape public debate," he said. "This can be done by joining mainstream institutions within Quebec society, calling in radio phone-in shows or writing a letter to a local paper or politician. Its critical minorities make their voice heard in a reasoned and balanced manner."
Mr. Hussain echoed such statements, calling for more organization within the Muslim community and more active participation in the political arena.
"I think as second generation Muslims in Canada, our concerns should be broader than the preceding generation," he said. "Granted we are looking to vote for a "˜Muslim friendly' party, but in order to truly look at what's best for our community as a whole, we need to understand the myriad of issues surrounding what's best for us."
See also The sky is not falling: Analysing the Quebec election results on page 6.  
This article was produced exclusively for Muslim Link and should not be copied without prior permission from the site. For permission, please write to info@muslimlink.ca.