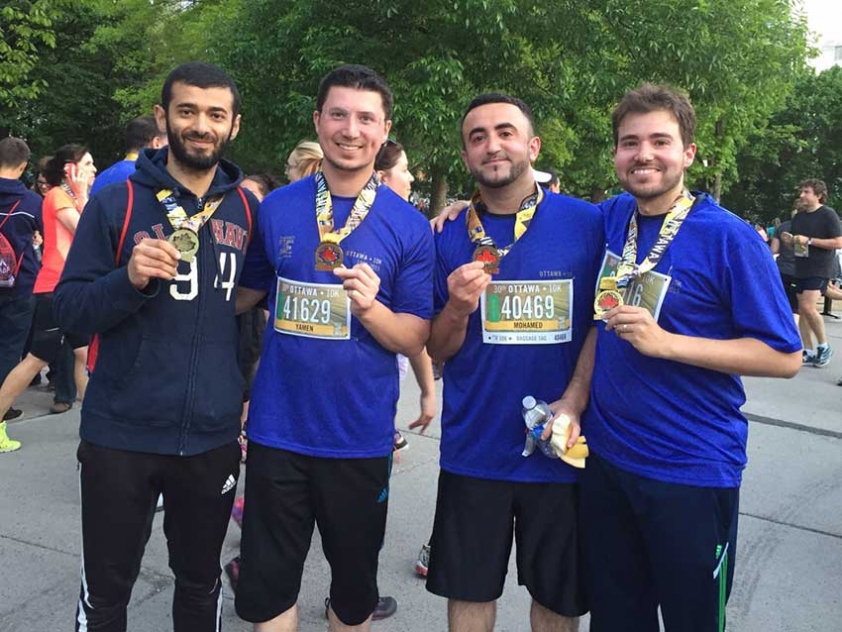 Haissam Dahan took part in Ottawa Race Weekend with his friends Mohammad Dourou, Yamen Ghamian, and Ahmed Shalaby
Courtesy of Mohammad Dourou
28
May


2015
Ottawa Race Weekend Runners: Haissam Dahan-This Out of Shape Dad Still Has It
Written by Muslim Link
The Ottawa Race Weekend, May 23-24 this year, is an annual two-day running event made up of multiple races. All the races start and end at Ottawa City Hall. There are 2K, 5K, 10K, half (just over 21km), and full marathons (just over 42km) in addition to a 1.2m kid's marathon and a wheelchair marathon. Almost 50,000 people participated this year and the key event is the Ottawa Marathon. First held in 1975, the Ottawa Marathon is the largest marathon event in Canada and participants can use it to qualify for the Boston Marathon. Haissam Dahan ran his first 10K after marriage and kids on this weekend and shares his experience with Muslim Link.
Tell us about yourself
My name is Haissam Dahan. I am a Muslim Lebanese Canadian.  My family came from Lebanon to London, Ontario when I was 10 and I moved to Ottawa when I was 18 to study at Carleton.  I am now 36 years old, am married and have two boys. I practice dentistry, and am completing my (never ending) PhD.
Why did you want to participate in Ottawa Race Weekend this year?
I have done the 10 Km race three times in the past with a few of my Muslim buddies, but that was before I got married, had children and saw my waist size expand. I guess I felt that I had something to prove to myself-that I am still healthy and can still do this.
How did you prepare for the race?
Well the plan was to go running on Sunday mornings with my 5 to 6 friends who agreed to do this race with me.  What actually happened was that I think we went running together twice, and for half an hour at most.  Eventually, I gave up on my friends and started running by myself.  But I only ended up running twice or three times on my own.
How do you feel about having the opportunity to participate in such a big event in your home town?
It's really awesome to have this big race here in Ottawa.  It makes me love Ottawa more.  We are a healthy city with lots of running and bike paths and parks.  There's a lot of ways that people, young and old, single, married or with children can stay fit here in Ottawa.
What were some highlights of this year's Race Weekend for you?
The highlight for me was that I actually beat my best time ever! I did the race in less than 1 hour, which is a new record for me.  Not bad for an out of shape dad like me!
How does your faith connect to your participation in an event like this?
I think Islam teaches us to continue to strive to be better at whatever we do, from work, to family, to our health.  I think it's part of my religion to set goals for myself and to try to achieve them.  Plus, doing the race with my Muslim brothers was a fun way to connect with them and to strengthen those feelings of brotherhood.
What advice would you give to someone who wants to participate in Ottawa Race Weekend next year?
SIGN UP! And Just do it!  Don't worry if you did not train as much as you wanted.  It's about the journey and not the destination (as in Life).  Enjoy it and drink lots of fluids
This article was produced exclusively for Muslim Link and should not be copied without prior permission from the site. For permission, please write to info@muslimlink.ca.