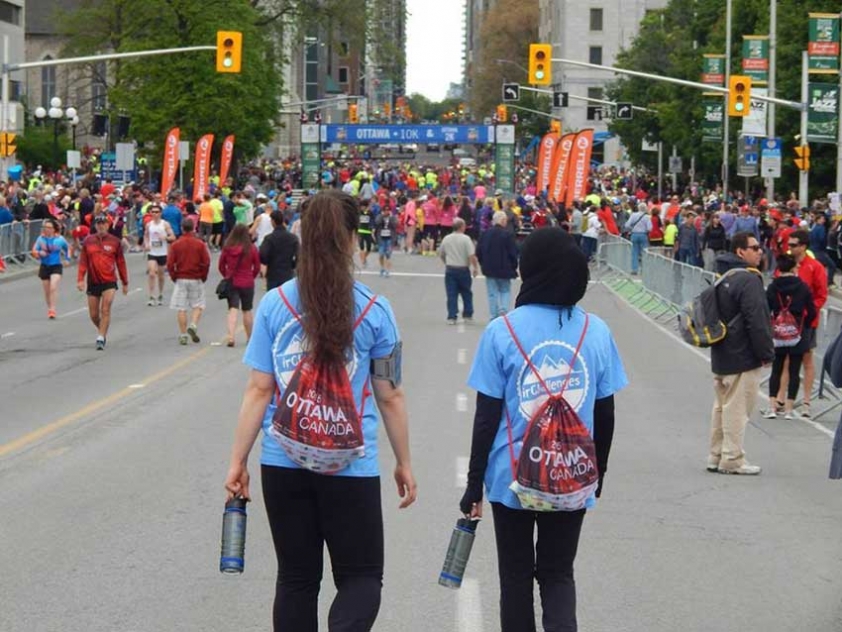 Seyma Uran and her friends ran the 5K and raised money for Islamic Relief Canada at the 2015 Ottawa Race Weekend.
Courtesy of Lina Ghandour
05
June


2015
Ottawa Race Weekend Runners: Seyma Uran Ran for Islamic Relief Canada
Written by Muslim Link
The Ottawa Race Weekend, May 23-24 this year, is an annual two-day running event made up of multiple races. All the races start and end at Ottawa City Hall. There are 2K, 5K, 10K, half (just over 21km), and full marathons (just over 42km) in addition to a 1.2m kid's marathon and a wheelchair marathon. Almost 50,000 people participated this year and the key event is the Ottawa Marathon. First held in 1975, the Ottawa Marathon is the largest marathon event in Canada and participants can use it to qualify for the Boston Marathon. Seyma Uran ran the 5K with a group of friends as part of Islamic Relief Canada's IRChallenges. Each raised $500.00 for orphans. She shared her experience with Muslim Link.
Tell us about yourself.
My name is Seyma Uran. I was born and raised in Ottawa, Canada. My ethnic background is Turkish. I will be entering my third year in Health Sciences at the University of Ottawa in September. I currently have two jobs: I work with my parents for a family business and I also work at a pharmacy as a technician.
Why did you want to participate in Ottawa Race Weekend this year?
I participated in Ottawa Race Weekend on behalf Islamic Relief Canada. Islamic Relief allows people to create challenges for individuals to help raise awareness for social issues. I joined the Islamic Relief Challenge Ottawa Chapter, which was raising $500 for sponsored orphans. When we raise 500$, we have the option of running 5k, 10k, or even a marathon. Thankfully, I was able to reach my goal of 500$ and so I ran 5k on Saturday.
How do you feel about having the opportunity to participate in such a big event in your home town?
I felt that it was a wonderful opportunity to participate in this event. I felt it was a privilege to be living in Ottawa and having the chance to be a part of such a major event.
How did you prepare for the race?
In all honesty, I didn't have time to train for the event because my parents left town and so I had to run the family business until they came back. This meant working open until close. However, I did go to the gym a couple of times before they left.
What were some highlights of this year's Race Weekend for you?
I had a couple of friends who were also participating in the same challenge. It was definitely much more fun running with my friends. We were all there with the same motive and we were all very excited. It was great seeing people of all ages and ethnic backgrounds. One of my favourite parts of theracewas seeing all the adorable little children dressed in their athletic gear. There were also many supportive people cheering us on as we were running, which definitely put a smile on my face.
How does your faith connect to your participation in an event like this?
I felt that Ottawa Race Weekend was a great opportunity to represent the Muslim community in Ottawa. My friends and I were the only ones who had Islamic Relief t-shirts, so a lot of people were reading our shirt and looking to see what cause we were running for. This simple act of joining the race on behalf of Islamic Relief may have interested many people in the organization. I also felt proud of my friends and I for setting a goal and accomplishing it, Alhamdullilah (thanks to God). It was even more satisfying knowing we were doing it for the sake of Allah.
What advice would you give to someone who wants to participate in Ottawa Race Weekend next year?
My advice would be to participate with friends and family! That means children, parents, siblings, and friends! It's a wonderful experience, and I felt that it was wonderful seeing so many people participating. I would also encourage finding a cause to run for. My friends and I ran on behalf of Islamic Relief, but there could always be other causes that may also interest you.
This article was produced exclusively for Muslim Link and should not be copied without prior permission from the site. For permission, please write to info@muslimlink.ca.