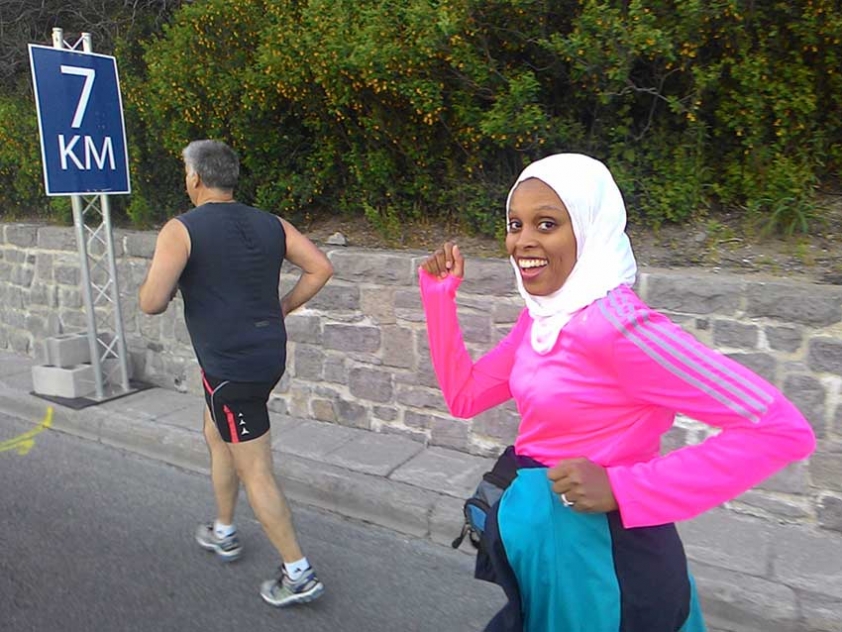 Fireda Ahmed ran the 10K in the 2015 Ottawa Race Weekend.
Courtesy of Fireda Ahmed
28
May


2015
Ottawa Race Weekend Runners: Fireda Ahmed on Perseverance, Faith, and Inspiration
Written by Muslim Link
The Ottawa Race Weekend, May 23-24 this year, is an annual two-day running event made up of multiple races. All the races start and end at Ottawa City Hall. There are 2K, 5K, 10K, half (just over 21km), and full marathons (just over 42km) in addition to a 1.2m kid's marathon and a wheelchair marathon. Almost 50,000 people participated this year and the key event is the Ottawa Marathon. First held in 1975, the Ottawa Marathon is the largest marathon event in Canada and participants can use it to qualify for the Boston Marathon. Fireda Ahmed ran her first 10K on this weekend and shares her experience with Muslim Link.
Tell us about yourself.
My name is Fireda Ahmed. My cultural background is diluted in the waters of the Red Sea as I am part Yemeni-Hijazi and part Eritrean-Ethiopian. You can call me Arab-African. I was born in Saudi Arabia, but grew up and lived in Montreal until my recent move to the Capital. I have two bachelors from McGill, in physiology and in social work. Insha'Allah (God willing) I'll be pursuing my Masters in Social Work at Carleton to focus on mental health and work towards opening a Cognitive Behavioral Therapy Clinic. I am happily married and mother to two beautiful boys, Alhamdulillah (Thanks to God).
Why did you decide to participate in Ottawa Race Weekend?
When I saw a Facebook picture of my sister completing a half marathon, I got inspired to set a race as a goal and motivation to work out regularly. So I signed up for the race 6 months ago with an old colleague from Montreal. We didn't meet until the race, but we were each other's accountability partners.
How did you prepare for the race?
To prepare, I signed up at my local gym, announced to everyone that I was preparing for a 10K and worked out three times a week. I used the "Couch to 5K App" to guide my transition into running and [to] track my workout. I was so happy to have consistently worked out for 6 consecutive weeks. Unfortunately, a chronic health issue brought my training to a complete halt about four months ago.
As I got better, I tried to get back to training, but had lost momentum and motivation. I actually wouldn't have run if it were not for my friend who was coming all the way from Montreal for the day. Since I couldn't rely on the physical readiness of my body, I had to rely on my willpower. This was going to have to be a mind over matter kind of race! So I visualized the race, I meditated, and I even spoke to my lungs about the strain I was going to be putting them through as I completed deep breathing exercises – too bad I forgot to speak to my knees!
I must mention that I was also on a detox diet for the past month. I honestly don't think I could have run 10k without recent workouts if the toxins hadn't been flushed out of my body!
What were some highlights from the race for you?
I didn't really have any expectations about the event and didn't realize its magnitude. Needless to say, I was VERY impressed and honored to be able to take part in such a momentous event. Since I'm still new to the city, the run gave me a chance to discover some of Ottawa's finest landscapes and appreciate the genuinely cheerful citizens encouraging us from the sidelines.
The highlight of this race for me was realizing that anything is possible if you set your mind to something, announce it to the world, team up with an accountability partner, and leave the rest to Allah. 
I arrived the day of the race an hour past the time to pick up my runner's kit. My friend's partner ran all over to try to get it for me and for a moment, I truly thought I wasn't going to run that day. My friend kept encouraging me to stay positive and hopeful. When her partner came back, he said there was nothing they could do at this point to get my kit, but that I could still run anyway. And I did!  So you won't find my stats if you look up my name, and I didn't get a certificate with my time on it, but I have a meaningful personal accomplishment I can look back at for future inspiration.
How does your faith connect to your participation in an event like this?
I understand Islam to be a holistic way of life. As a Muslimah (female who is Muslim), I strive to balance the needs of my mind and body with those of my spirit. This run gave me the motivation to push my body to its limits, use my mind to run through the pain and keep my spirit high when challenges were met, like having to run back half a kilometer because I dropped my health card near a water station. This life is a journey back to Allah and on this journey, like in this run, you cannot be enslaved to the limits of your body, you must train it to serve you. You cannot let your mind be distracted with pain or entertainment; you need it to stay focused on the end goal. You may see your spirit waver, but you know the journey is long and you surround yourself with those who can help uplift your spirit and keep you going down the right path.
What advice would you give to someone who wants to participate in Ottawa Race Weekend next year?
If you're thinking of participating next year, my recommendations are:
Believe in yourself. Anyone can do this! We saw a blind man run, aided by a guide. So why can't you?
Sign up early. Spaces do fill up! You also want to have time to prepare physically and mentally.
Sign up with at least one friend who will hold you accountable for training and showing up.
Pick up your kit THE DAY BEFORE THE RACE!!! It's really amazing that they have your name on the bib and activate your tracker so your loved ones can actually follow your path down the race track LIVE! The tracker also provides your running time and helps photographers identify you and send you the pictures they took of you. Don't miss out on any of that the way I did!
Running on a treadmill is fine, but learn to run outside. I never got around to going there, but the Running Room has a great program for runners of all level.
BYOW! Bring your own water! There were only two water stations for the 10K, which I didn't feel was enough. I saw runners with belts holding little bottles of water, [it] looked practical.
Eat clean food!!! My friend can tell you how the pizza and ice cream she had earlier that day were slowing her down.
Prepare to have fun!! There's thousands of runners and everyone is focused on their journey so don't worry about how you look or how good you are. No one cares so just enjoy it!
This article was produced exclusively for Muslim Link and should not be copied without prior permission from the site. For permission, please write to info@muslimlink.ca.