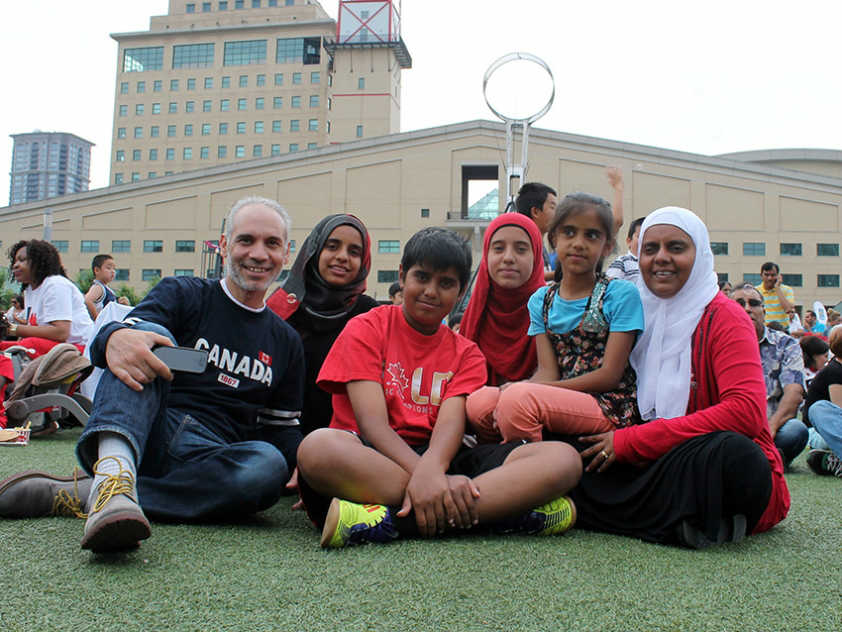 Rabia Khedr and her family
Courtesy of Rabia Khedr
25
Jul


2014
Muslim Woman Running for City Council in Mississauga
Written by Massey Hoveyda
Rabia Khedr is no regular applicant for the position of City Council, Ward 6 in Mississauga. This dynamic mother of four is a graduate of the University of Toronto in Mississauga, an active member and leader within her community and a decade long veteran on the Mississauga Accessibility Advisory committee. She also lives with a disability – Khedr is legally blind.
Encompassing all of the characteristics of someone who has grown and flourished despite her disability, Khedr epitomizes the heart of a determined and vibrant individual. Having to face a system that is often not supportive of people with disabilities, Khedr learned from a young age to be a leader, setting an example for her younger siblings who also live with disabilities.  
Her resume is impressive and covers a wide range of volunteering and leadership roles. She is the winner of the Toronto Community Leadership Award, a Queen Elizabeth Diamond Jubilee Award and a Women Who Inspire award, among several others.  She sits on various boards, including the chair of the school council at The Valleys, and the Ontario Women's Health Network. She was the youngest woman profiled in the book Extraordinary Lives: Inspiring Women of Peel, published in 2012 by the Mississauga chapter of the Canadian Federation of University Women. She also runs her own private consulting firm, diversityworX, which helps organizations promote diversity in their work environment.
When I interviewed her, my first question was why she is running. Her answer was frank and straight forward, "As a consultant, as a volunteer, a founder of organizations, groups and initiatives, I have done what I can in that capacity for my community. Now it's time to sit at the decision-making table".
Her goal is simple: to do what she can from the outside in to affect change that advances not only the rights of people with disabilities, but works towards inclusion and accessibility for everyone within her community. "Disability is what I'm recognized for," she said. "But I dabble in everything." Recalling her work with diversityworX, Khedr explained how she really enjoys training organizations in making inclusive accommodations for people with diverse needs and backgrounds, working to shift attitudes.
When I asked her where her desire to run for city council and her activism within her society began, she said that it all started at the grassroots, with conversations with friends and neighbours that made her aware of a shared sense of exclusion from her community – as Muslims, as people with disabilities, as immigrants, the need for active participation and inclusion was a lacking necessity. Being active with organizations such as the Canadian Association of Muslims with Disabilities and the Federation of Canadian Muslim Women is where she got her foothold, organizing activities for the community, such as sports days for the children. "I didn't get to participate in these things. I want my kids to be able to participate in them."
When I asked Khedr why she thought it was important for Muslims and other immigrant communities to be involved in politics, especially at the municipal level, she referred to it as an obligation, "Lots of immigrant communities do not appreciate the role of municipal politics in their daily lives," she said. "We tend to focus ourselves more with international politics, and neglect the local politics that impact our lives so immensely."
She cites examples of services that affect our daily lives that municipal politics dictates: our roads, public transit, parks, garbage collection, and schools. If municipal government is not effective, we end up with all sorts of local issues that ultimately lead to the deterioration of our society.
Which is why Khedr states that it is important to raise consciousness and understand the role of municipal politics, to see what it does for our communities, and how we can get involved in order to positively affect it.
On the other hand, Khedr also sees getting involved in politics as an exercise in democratic freedom. "We live in a free and democratic country, and it's important to put these internalized Canadian values such as equity, equality and justice to the test by saying, 'Hey, I can put my name out there, with a woman of colour and a disability, who covers her head on top of that, and know that I have an equal chance at running than anyone else. I can do it. It's my right!"
Khedr, who wears a hijab, also wanted women to know that they can make dreams happen, despite their visible expression of faith. "Hijab does not have to be barrier," she said. "All you have to do is engage others in debate, dialogue and conversation because it's through communication that we build common ground"
To the Muslim and immigrant communities, Khedr's message is strong - exercise your right to vote at every opportunity and remember that so many people around the world are struggling for very basic human rights. "They are living daily struggles, fighting for the right to vote and we get it on a silver platter. It's our duty to exercise this right that is given to us so easily"  
She also mentioned the value in making small contributions to local municipal candidates that you believe in. It's these contributions that help level the playing field for individuals running within a ward.
To learn more about Khedr's campaign, visit http://www.rabiakhedr.ca/. ■
This article was produced exclusively for Muslim Link and should not be copied without prior permission from the site. For permission, please write to info@muslimlink.ca.