Habitat for Humanity, a non-profit Christian housing organisation, recently welcomed members of other faiths to join together in the construction of a home for a low income family.
Shahrukh Alavi, a volunteer and member of the Faith Committee for HfH says that although there was some interest initially among Ottawa's Muslim community, that interest didn't materialize into any active involvement.
Habitat for Humanity builds simple, decent, affordable homes for low-income working families using volunteer labour and donated materials.
To participate in the program, the family must put in five hundred hours of volunteer work into their own house, before they move in. Then they pay off an interest-free mortgage on a monthly basis.
Work on the next HfH build will begin in August at 1216 Carp Rd. in Stittsville. The house is being bought a family simply identified as the Tareq family. 
But even though the current proposed build is for a Muslim family, interest in the building project among Muslim volunteers has not peaked.
"Anyone can swing a hammer or use a screwdriver or paintbrush," Mr. Alavi states.
His first job at a build site was to screw in the little door stops. But actual work on the building project is just one of the many ways Ottawa's Muslims can get involved. Others include:
1. Remember HfH in your duaas, for the success of their projects and for more families to get homes built in this way.
2. Shop! There are two Habitat Re-Stores in the Ottawa area located at 2370 Walkley Road and 7 Enterprise Avenue. Habitat Re-Stores are outlets run by HfH that sell home improvement items donated by citizens and businesses. Everything from front doors, mirrors, curtain rods and carpeting to indoor paint, ceramic tile, screws and nails can be found there at huge discounts.
3. Donate your left-over home improvement items and materials to the Re-stores.
4. Donate lunches to the Habitat workers on the building sites.
5. Volunteer and
work at the Re-Store
be a driving assistant
do tradeshows and public speaking
work on a build
fundraise
Log on to their website (www.habitatncr.com) to register as a volunteer; there is surely something that appeals to you. Additionally, The Builder's Club is an initiative which allows members to give monthly allotments through pre-authorized payments to Habitat for Humanity. Even dropping off your aluminum cans for HfH to recycle will help them make money for their builds.
It all starts with seeing that a people around you are doing good, inviting you to take part, and finding a volunteer activity that suits you. Don't let this opportunity pass. We have no real excuses for refusing this invitation.
The groundbreaking ceremony for the newest home being built takes place August 4, 2010. Sign up as a volunteer and take your place amongst those who house the needy.
This article was produced exclusively for Muslim Link and should not be copied without prior permission from the site. For permission, please write to info@muslimlink.ca.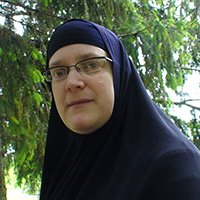 Sakina bint Erik is a local author, illustrator and educator.  She home-schools her children and has been a Muslim since 1996. Presently pursuing a bachelor's degree at the Islamic Online University in Islamic Studies, she lectures about the important role of Muslim women scholars throughout history.