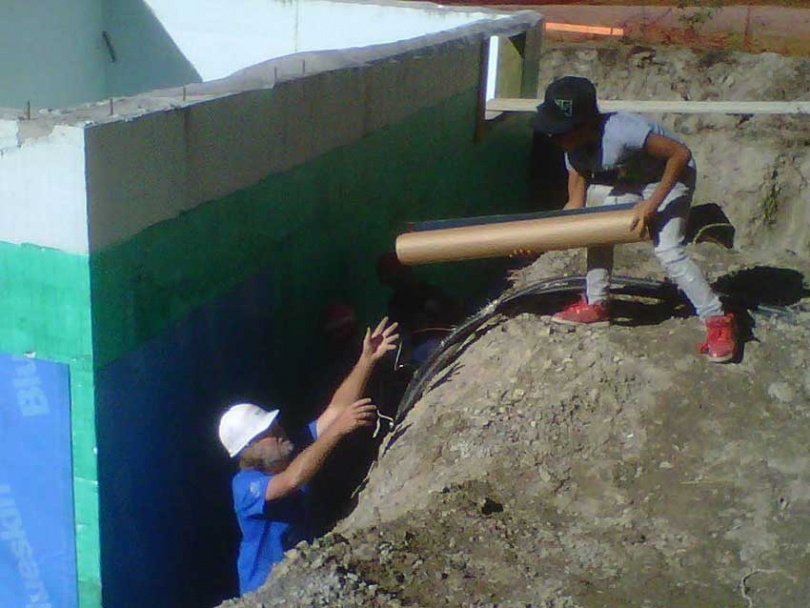 Habitat for Humanity volunteers work on a housing project.
Photo credit: http://habitatforhumanitykelowna.ca
23
Sep


2011
Habitat for Humanity makes affordable housing a reality
Written by Sakina bint Erik
Ahmed Ali and his family smile when contemplating their next move. The house they will move into isn't ready yet, but thanks to the Habitat for Humanity housing program, the house will be their very own. And it comes with an interest-free mortgage.
For a family with five children -- two having special needs -- sharing a three-bedroom townhouse has been a challenge. They desperately need more space for their growing family, and so when Ahmed heard on the radio that there might be a way for him to move his family into a home they could affordably own, he began the process of applying.
Habitat for Humanity is an internationally-known initiative that helps low-income families acquire their own homes, either by renovating existing properties for them, or by building brand new homes for the families from the ground up.
HfH is very clear about the homes being a "hand-up and not a hand-out." The houses are built or renovated by volunteers using donated materials and are sold to the families at no profit. The homeowners' monthly no-interest mortgage payments go into a revolving fund which is used to build and renovate more homes. Homeowners are usually expected to put 500 hours of "sweat equity" into their own home or other HfH projects.
After attending an HfH information session, Ahmed submitted an application, and waited to hear back, hoping his family would be accepted. Sadya, his wife, received the long-awaited call from Habitat for Humanity's office informing the family that their application had been accepted.
There were just two things left: for the family to complete 500 "sweat" hours (this replaces a down-payment and can be earned by volunteering with Habitat for Humanity at their build sites or their ReStores), and for HFH to find a home to renovate and prepare for the family.
Despite their hectic schedule, Sadya, Ahmed and their eldest daughter have together completed 459 of their 500 hours of service. They have spent their volunteer hours working inside one of the ReStores run by Habitat. A Habitat for Humanity ReStore is a great place to purchase good-quality building supplies for home renovation. The prices are discounted as the materials have been donated.
The family received more good news recently when HfH informed them that it had identified a suitable house for renovation. Ahmed and Sadya's six-year old son is disabled, so the search had to identify a home that was wheelchair accessible. The house, situated in the Walkley Road/Bank Street area, is wheelchair accessible and isn't very far from Children's Hospital. The delighted couple say the location is well suited to the family's needs as they have a second child who also requires regular visits to hospital.
Since the HfH house has just three bedrooms, part of the basement is being converted into a fourth bedroom to give the family more elbow-room. Although it may be a while before renovations are completed and the family can move into their new home, the Ali family has every reason to smile. They will soon be the proud owners of their very own home.
To learn more about Habitat for Humanity in the Ottawa area or to volunteer at one of their build sites, visit their website at www.habitatncr.com or call 613-749-9950. Consider visiting the Habitat ReStores at 2370 Walkley Road in the east end of Ottawa, and at 7 Enterprise Avenue in the west end.  
This article was produced exclusively for Muslim Link and should not be copied without prior permission from the site. For permission, please write to info@muslimlink.ca.