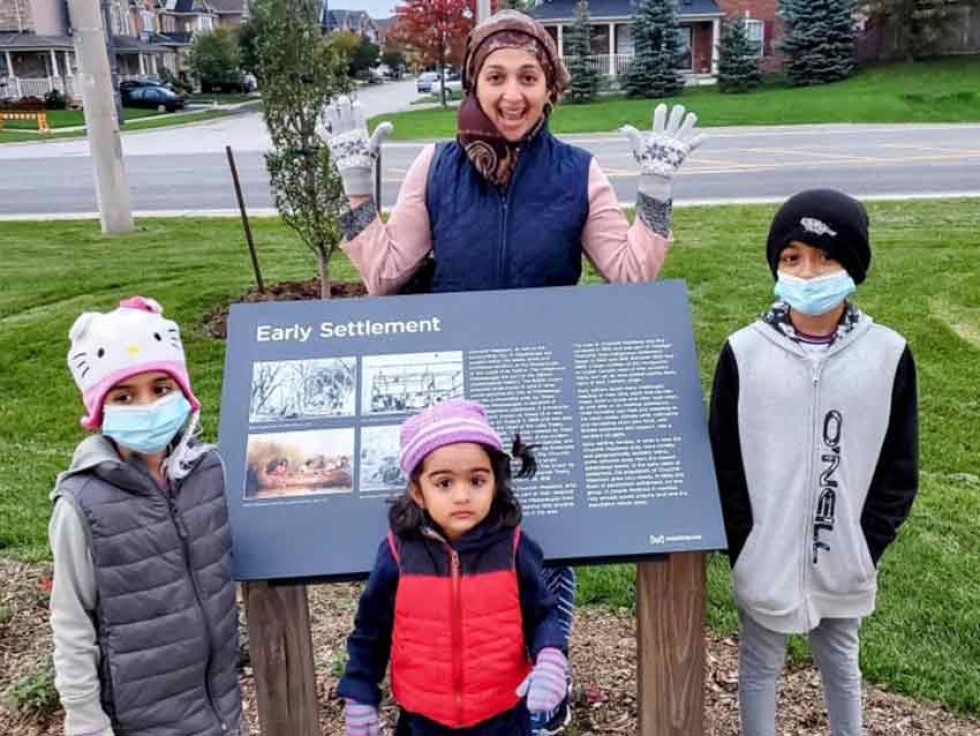 Zaineb Survery with her three children in front of one of the signs documenting the history of Churchill Meadows.
Zaineb Survery
20
Apr


2022
Mississauga Mother Helps Create Signs to Educate Locals about Churchill Meadows History
Written by Chelby Daigle
Zaineb Survery spearheaded an initiative to document the history of her neighbourhood, Churchill Meadows in Mississauga, Ontario. 
Muslim Link interviewed Zaineb about her efforts and the importance of showcasing local history in Canada.
Tell us about yourself
I have lived in Canada for 26 years. I was born and raised in Saudi Arabia. I have lived in Mississauga for the last 10 years, and grew up in Kingston, Ontario and Fredericton, New Brunswick. I have a Bachelors in Business Administration (BBA) with a Finance major, and worked in banking. Learning about business and the importance of economics from my BBA degree allowed me to see how finances drive and evolve societies.
In my downtime I write. Ten years ago, I published two translations from Urdu to English on the Seerat (History) of Prophet Muhammad (SAW) from Birth to Hijrat, and A Collection of Messages, which is poetry exploring cultural and societal issues in South Asia, the Middle East, and the West. Writing sparked my core interest in how we must know our history to know how to move forward. I have also written several articles on the histories of the Indigenous Peoples in Mississauga published by Heritage Mississauga, and several local history articles for the Churchill Meadows Residents' Association.
Recently, I founded the Indigenous and Muslim Education (IME) platform in the aftermath of the murder of the Afzaal family in London, Ontario, growing Islamophobia attacks in Canada, and uncovering the murders in the Indigenous children's mass graves.
How did the idea to research and write the history of Churchill Meadows begin?
Different elements and parts of my life came together at the same time. I had two children during the first five years of moving to Mississauga. I also did a lot of walks with them in the stroller, exercising, and exploring parks as I managed prenatal and postpartum depression for both pregnancies. I noticed surrounding neighborhoods (20 to 25 mins away walking distance ) had lovely signs giving some acknowledgement to how their area began. Having written the two earlier books and being aware of my love for history and understanding how economics drives societal changes, I wanted to know what my area was before. Four out of every five residents in my locality of Churchill Meadows (49,000 population) belong to a visible minority i.e. have a non-European background - how did this come to be? Where did all the white people who lived here before go, and why? (White flight is still happening here by the way, anecdotally observed mind you).
As well at this point, I had already written a few articles for Heritage Mississauga (who preserves historical records for the city) on the life of the Haudonesaunee, namely the Mississaugas of the Credit First Nation who once lived here. I had already interviewed Indigenous Elders who now live in an area called Hagersville. Everything they explained from my research prior built up my confidence that my articles needed to be on a bigger scale.
At that point also, I became a regular visitor to the library and noted how so many intelligent children of all ages visited. I thought to myself if I can even get 1 out of these 100 kids who happen to read these signs and reflect on the awareness of Allah SWT's creations - it's a success for me. Finally, studying Surah Rum and its tafsir (explanation) at the time ultimately convinced me I can't let my talent or fascination wither away, and I need to do my part to help improve another's life - by studying our local history. Given that 1 in every 5 of my area is also a Muslim, "Read" is the most important verb to us. Allah is the Best Planner.
How did you go about finding partnerships to get this project off the ground?
The main partners are the Churchill Meadows Residents' Association, City of Mississauga, and Heritage Mississauga. I approached each party one step at a time.
I was already the key editor for the Churchill Meadows Residents' Association (CMRA) quarterly electronic newsletter. They knew me, and credibility was established. I made a pitch to the President, Shazia Amal, and she convinced me I needed to pitch further to the Board of Directors if they can back me up prior to approaching the City Councillor to help me take on this project. I told CMRA: I will research and write the content FOR FREE; but what I need their help with is financing the manufacturing of the signs - they are expensive in order to make them winter-weather and vandalism proof. They said, ok, we approve your idea, let's talk to the city and see how much we need to fundraise for the signs. Originally I planned for 6 signs. 
Then I connected to the City of Mississauga's department of Parks and Recreation, and pitched the idea to the Senior Landscaping Architect for the city, Kathy Ross. She pleasantly surprised me with the news that the city is happy to pay for the signs, but they will be reduced to three signs, and the city's writing department will ultimately do the final edits. I said - you got it!
Finally, I had to coordinate the research and deadlines with the city and Heritage Mississauga. At this point, I had also already established a relationship with Heritage Mississauga and their in-house historian, Matthew Wilkinson, in writing the earlier articles and histories of the Mississauga of the Credit First Nations. He was very supportive of me visiting their premises, pulling up old records, and going line by line on every plot that was purchased since the 1800s! I felt like a Hollywood lady detective superstar using the old projector machines, negative films, etc.
What were some of the challenges encountered in trying to bring this project to fruition and how were they overcome?
There were many challenges. Just to name a few:
Time. The City thankfully decided to install the interpretive signs at the new Community Center the area had been asking for for years. This was a multi-million dollar facility, and clearly was going to take time. The whole process from pitching to the Residents' Association to the unveiling of the signs in the opening of the Community Centre took 4.5 years. Being Muslim and knowing the importance of Sabr (Patience) is what helped.
COVID. I am the type of person who expects and mentally starts preparing for the worst. Half way through I stopped emailing Kathy to know the status of the signs - I was emailing her once every 6 months in the beginning requesting an update - eventually I only emailed once a year! Because businesses and I imagine cities suffered so much in lost revenue - I was ready for the city to slash its budget for the signs, which were expensive to install to begin with. How I overcame the 'fear' this whole project and my effort would be dismissed was Faith and test of Sincerity: I gave the effort for Allah SWT to recognize my efforts, but  He Decides what comes of the effort. Tie the camel right.
Bureaucracy. Originally I wanted 6 signs: Natural History, Indigenous Livelihood, Pioneer Settlement, Current Settlement, Ecology, and Environmental Concerns. Hence why this project would not be cheap. Ultimately, compromises must happen for progress to move forward. There was no natural history sign, but the City agreed to save boulders from the excavation and make them part of the landscape for sensory learning (Shazia's idea). The ecology sign would be written by the Credit River Conservation Authority, and the waterway concerns signage by the city. Content on the Indigenous Peoples was most compromised. I am still trying to figure out the reasoning for this as there are deep, divisive cultural values. This article is not the right place to discuss now. However, this discussion is needed if Truth and Reconciliation is truly what Mississauga, its officials, and the public cares about. I try to think of Prophet Muhammad (SAW) being the best diplomat and pragmatic, and all the societal divisive values he faced. Go one situation at a time, assess and acquire expert knowledge, think through while being calm and kind - this is the theory we know he delivered magnificently.
Personal. I felt like I was wasting my time, my ego eating away that my name is not even going to be on this so what is the point, I will do an awful job in research and bound to offend a group or two, and I will not manage to get this submitted on time as baby #3 arrives. What got me through besides the above mentioned in Faith in Allah and Sabr (with myself) were also my dad and the inspirational historical and present women whom I encountered in my research. My dad was a civil engineer for 30 years in Jeddah, Saudi Arabia; he says that living life and getting difficult work done is like water: "Water always finds a way to where it wants to go. If it can't get through the rock, it will find a way around the rock. Find a way around what's obstructing your work." Also, women are NOT acknowledged enough in our histories - in every culture. Maybe it was my pregnancy hormones feeling the empathy - but I saw women in the forefront during my research how they thrived in difficult moments for their own families to survive. Whether Indigenous women hunting during the harsh winters, and low harvests for the early Irish pioneer women, to the Pakistani mom making ends meet living in an $1500/month basement while kids are fed well but manage to be in good-spirits unaware how challenging their financial situation is. I knew these women had to be acknowledged through these signs. And If I didn't acknowledge them in this way - who would?
What have been the results of this project?
Three signs have been installed successfully. People's reactions have been surprise, joy, inspiration, and also indifference, and questioning what is the big deal since nothing more controversial was written. Oh well. 
What advice would you give to others interested in researching and making the local history more easily available to the public?
In your downtime, consider signing out books from the library in your area or visit local museums - get different perspectives! 
Get creative with how you want to express your findings - no need to limit yourself in print. This is the visual-based society now where vlogs, Facebook, tic-toc (my struggle), and YouTube docs can be uploaded.
Think about coordinating your skills with the resources you have. All resources are limited, including your energy. 
Build your credibility in your network/community and build a reputation as a hard worker - yet still be courteous and don't be opportunistic with people!
Give yourself downtime for self-care; it is easy to feel discouraged or get over-obsessed with this kind of work. 
Stay balanced with your priorities be it your health, family, work, studies, etc. 
Don't do this for the sake of money nor fame - will that motivate you enough when you feel down? Motivate yourself to please Allah SWT. 
Learn how to talk to different sorts of people or stakeholders (research and prepare how to do this BEFORE you talk to them) - be it city bureaucracy, historians, resident associations, and especially the Indigenous Peoples who live or once lived in your area - reach out to them specifically as their input is so valuable and unfortunately overlooked in Canada but remember to not be opportunistic! Intentions are key.
Create a network for yourself to be around with like-minded community building people; they will help you a lot if/when you feel down and you can share  ideas and concerns.
****
Watch Zaineb's interview with the Muslim TV Network (It may take a few moments for the video to load from YouTube)
This article was produced exclusively for Muslim Link and should not be copied without prior permission from the site. For permission, please write to info@muslimlink.ca.