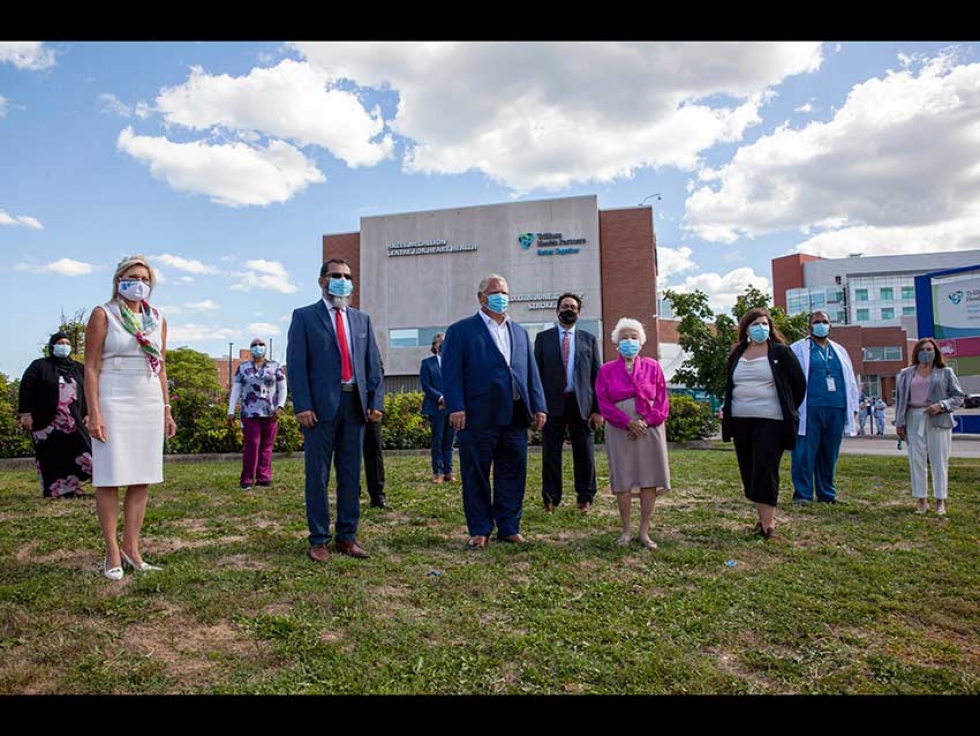 Attendees at the announcement First Row: Mayor Bonnie Crombie, City of Mississauga Abdul Qayyum Mufti, Board Member, Trillium Health Partners Foundation Hon. Doug Ford, Premier of Ontario Hazel McCallion, Former Mayor, City of Mississauga Caroline Riseboro, President and CEO, Trillium Health Partners Foundation Second Row: MPP Kaleed Rasheed (Mississauga-East Cooksville) Nadeem Chaudry, Community Member Atta Qureshi, Community Member Dr. Zohair Syed, Physician and Project Lead of Special Projects, THP Kathryn Hayward-Murray, Chief Nursing Executive, THP Third Row: Mulikat Sodiq – Registered Nurse, THP Farah Khan, Registered Nurse and Director, Quality, Risk & Patient Safety, THP Dr. Dante Morra, Chief of Staff, THP
Trillium Health Partners Foundation
20
Aug


2020
$5M Marks Largest Hospital Donation Pledge From Muslim Community in Canadian History
Written by Trillium Health Partners
In a record-breaking pledge, the Muslim community announced $5 million to support the redevelopment of Mississauga Hospital, one of three sites that together comprise Trillium Health Partners (THP), as part of THP's larger redevelopment plan. Individuals, families, corporations, mosques and community associations from the Muslim community have a long history of giving back to THP and other health care institutions across the country. This marks the largest gift to a hospital by the Muslim community in Canadian history.
Philanthropic support will be an essential component of financing THP's future redevelopment project. This gift, led and organized by community leader and THP Foundation board member Abdul Qayyum Mufti and his closest friends and business associates, Nadeem Chaudhry and Atta Qureshi, shows the Muslim community's commitment to their faith and the long-term health of the city and the region.
"I want to thank Abdul Qayyum Mufti and the Muslim community for showing the true Ontario spirit in making this generous contribution to support our frontline heroes at Trillium Health Partners," said the Honourable Doug Ford, Premier of Ontario. "Our strength as a province and as a people comes from our diversity and shared values, and it's needed now more than ever. By having each other's backs, we can get through these extraordinary times."
"I want to thank Mississauga's Muslim community for once again stepping up to show how much they care about our city. Their generosity never wavers, and this is yet another example of the true spirit of Mississauga. This historic pledge will help THP get one step closer to building a new and modern hospital that will care for our growing, diverse and ageing population," remarked Mayor Bonnie Crombie.
THP is the largest community-based acute care facility in Canada, seeing over 1.75 million patient visits last year, including some of the top numbers for births, surgeries and emergency visits. Over the next 20 years, THP will experience more demand for care than any other hospital in the province as the area population grows by 45 per cent and the number of seniors more than doubles.
"A redeveloped and expanded Mississauga Hospital is key to our ability to create a new kind of health care for a healthier community, ensuring we can continue to offer care with innovation, compassion and excellence. To our friends in the Muslim community, we extend a huge thank you for this most generous gift," said Michelle DiEmanuele, President and CEO of THP. Caroline Riseboro, President and CEO of the THP Foundation, commented, "This momentous gift reflects the power of philanthropy in the most diverse city and region in Ontario. Thank you so much to the Muslim community for leading the way with this landmark gift to the new Mississauga Hospital."
THP cared for one of the highest volumes of COVID-19 patients in the province, but had to overcome the limits of its Mississauga Hospital site, which opened in 1958 before today's more rigorous hospital building codes. A new kind of health care requires bold new infrastructure and state-of-the-art technology within a more complete, efficient and inclusive system. To help achieve that vision, the larger, modern Mississauga Hospital will boast significantly more capacity to care for patients while reflecting the best of today's standards. The hospital's expanded emergency, surgical and ICU capacity will ensure THP can continue to provide high quality, accessible and sustainable care in the face of rising demand.
Mr. Mufti has been raising funds for THP for many years, having established the Family Day Walkathon in 2010. To date, he and his fellow walkers have raised hundreds of thousands of dollars through the walkathon with the completion of the 2020 event last February.
Encouraged by that success, Mr. Mufti is now rallying the entire Muslim community to raise $5 million to help support the redevelopment of Mississauga Hospital. At the media conference on Aug. 19, 2020 at Mississauga City Hall when the gift was announced, he and his colleagues shared that they had already secured $100,000 as the first installment of the pledge.
"How we look after those in need of health care is a measure of our commitment to each other. The Muslim community is proud to make this gift to the people of Mississauga and Peel, and we encourage all members of the community, across Canada and beyond, to contribute to this extraordinary project," said Abdul Qayyum Mufti. "Charity is at the heart of our faith. One of the sayings of the Prophet Muhammad (PBUH) is You are not a believer if you sleep with your stomach filled while your neighbour goes hungry. We are thrilled that the Muslim community will be recognized by the hospital for this gift inspired by the teachings of the Prophet Muhammad (PBUH)."
Members of the community may support this initiative by visiting trilliumgiving.ca/mc to make a gift.
This article was produced exclusively for Muslim Link and should not be copied without prior permission from the site. For permission, please write to info@muslimlink.ca.