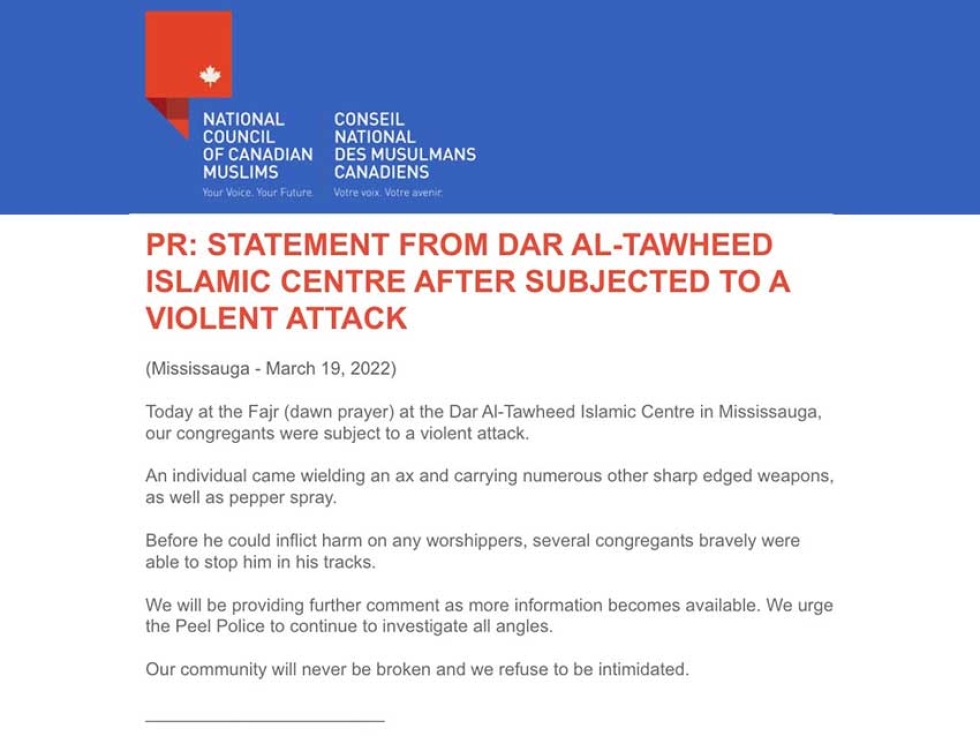 23
Mar


2022
On Saturday, March 19, during Fajr prayer at the Dar Al-Tawheed Islamic Centre in Mississauga, our congregants were subject to a violent attack. Dar Al-Tawheed is our sister organization and we operate under the same Charity Organization.
Alhamdulillah, several congregants bravely were able to stop the attacker in his tracks. Although this was very shocking, we know that our community will never be broken and we refuse to be intimidated.
Due to this recent attack we are attempting to clean our carpets and run air purification due to the impact of the bear spray. We hope this will be resolved shortly insha'Allah.
We have requested Peel Police to provide security in the short term. However, with Ramadan soon approaching, we will be hiring security guards to keep our community safe.
In addition, we will be providing Emergency preparedness and security training for our staff and volunteers.
Those who would like to donate to cover these additional expenses click online here
Details about the attack (Peel Regional Police):
Officers from the 12 Division Criminal Investigations Bureau have laid several charges against 24-year-old Mohammad Moiz Omar for what is believed to be a hate-motivated incident that occurred at a Mississauga Mosque.
On March 19, 2022, at approximately 7:00 am, police attended the Dar Al-Tawheed Islamic Centre in the area of McAdam Road and Matheson Boulevard in Mississauga regarding an assault. It is alleged that a man walked into the Mosque and discharged bear spray towards the members of the Mosque while brandishing a hatchet. The members of the Mosque quickly subdued the man until police arrived.
The Mosque members received minor injuries as a result of the bear spray.
Mohammad Moiz Omar, a 24-year-old man from Mississauga, has been formally charged with the following offences:
Assault with a weapon
Administering Noxious Substance with intent to Endanger Life or Cause Bodily Harm
Possession of a weapon for a dangerous purpose
Utter Threat to Cause Death or Bodily Harm
Carrying Concealed weapon
Mischief to religious property
He was held for a bail hearing and appeared before the Ontario Court of Justice in Brampton.