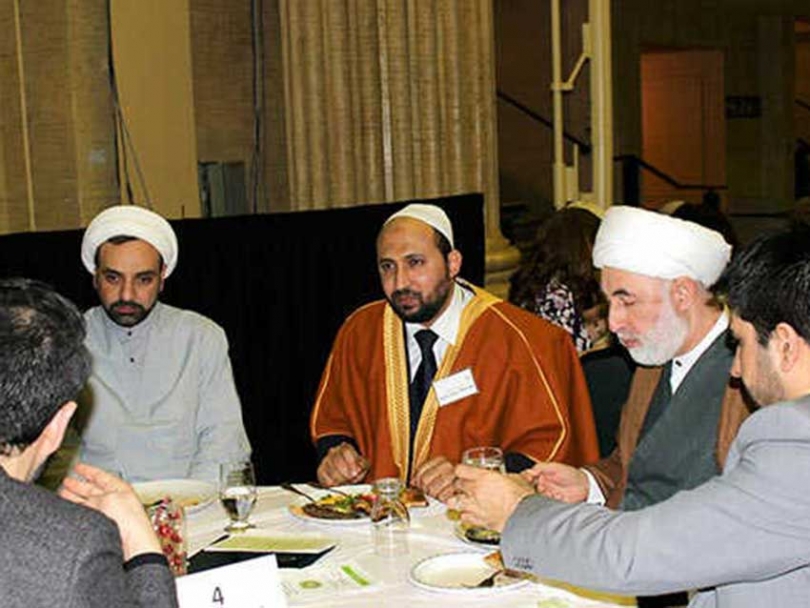 Imam Sami Metwally and Sheikh Mumtaz Ali at this year's Milad-un-Nabi Celebration.
16
Mar


2014
Milad-un-Nabi Celebration Unites Muslims in Ottawa
Written by J. Hashmi
The Ottawa Shia Islamic Association (OSHIA) held its annual Milad-un-Nabi banquet on February 4 at the Ottawa Conference Centre.
The event celebrates the birth anniversary of the Prophet Muhammad (peace be upon him) and strives to unite all Muslim communities. For years, the festivities have been organized with the support of the Honorable Senator Mobina Jaffer. This year, the Muslim Coordinating Council also helped coordinate in order to acquaint Muslims and people of other faiths with the noble example of the Prophet (pbuh).
This year's event featured two keynote addresses, one from Imam Samy Metwally of the Ottawa Muslim Association (OMA), and the other from Sheikh Vinay Khetia, a Hindu convert to Islam who is currently completing a doctorate in Shi'a Islam at McMaster University.
Quoting from the Holy Quran, and the life and teachings of Prophet Muhammad (pbuh), Imam Metwally quoted the Prophet's famous saying that a person will not have complete faith if he does not wish for others what he wishes for himself or if he does not treat his neighbors with kindness. He declared that Muslims have a duty to speak out against injustice and speak the truth, even if it is against themselves.
"Justice and peace are birthrights for all human beings. Justice and peace are not complimentary privileges that are given to people. They are duties and responsibilities to be safeguarded by every sound citizen or human being. We as Muslims must be part of any effort to achieve peace and justice," Imam Metwally told the audience. "It is considered a sin in Islam to see one wronged without speaking or moving or working hard to restore his rights. There are millions and millions in the world that need to enjoy what we in Canada take for granted today."
Sheikh Vinay Khetia spoke of the Prophet's wisdom. He explained how, over the objections of his followers, the Prophet (pbuh) concluded a peace agreement with the Meccans which seemed to be one-sided and disadvantaging the Muslims. But the Prophet (pbuh) knew that the peace agreement would enable Muslims to explain their beliefs to other tribes and would enable them to win their friendship.
Ontario Labor Minister Yasir Naqvi conveyed greetings from Ontario Premier Kathleen Wynne. Cordova Academy's Imam Mohamad Jebara recited from the Holy Quran. To wrap up the event, a supplication was given by Sheikh Mumtaz Ali of the Abu Dhar al-Ghaffari Mosque in Ottawa.
In an interview with Muslim Link, Sheikh Mumtaz Ali said that events like the annual Milad-un-Nabi are a positive sign that different mosques are working together for a common goal, and that more events need to be organized that promote unity between Muslims.  "There is good cooperation between the imams of the different mosques and between the people of the mosques," he explained, "We have to give more importance and encourage more programs that allow us the chance to get closer to each other," he added. 
To learn more about OSHIA visit: www.oshia.ca
This article was produced exclusively for Muslim Link and should not be copied without prior permission from the site. For permission, please write to info@muslimlink.ca.