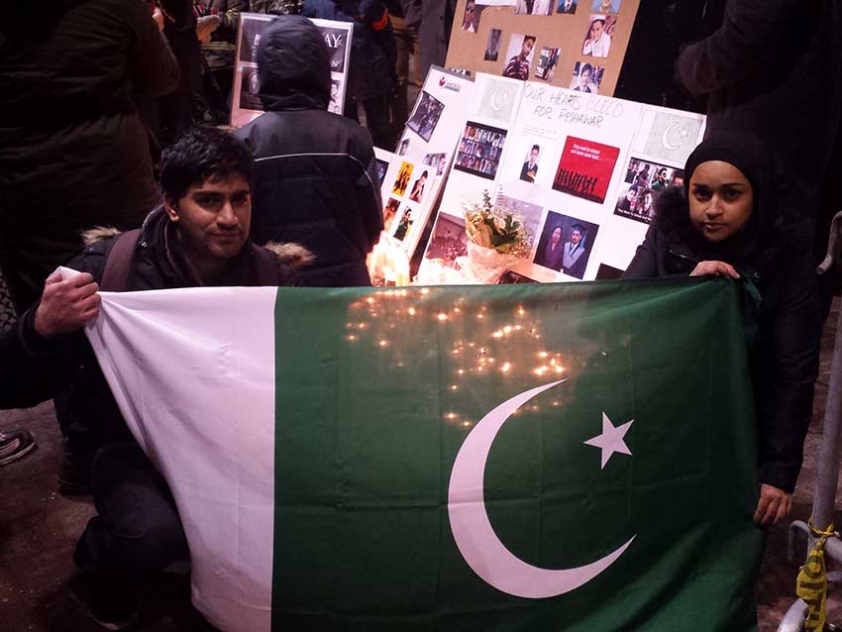 At the vigil held in front of City Hall, university students Samer Abed and Sonia Hamid hold a Pakistani Flag in front of the pictures of those killed in the Peshawar School Attack.
Rasha Al Katta
19
Dec


2014
Ottawa Vigil for Victims of the Peshawar School Attack
Written by Chelby Daigle
On December 18th members of Ottawa's Pakistani community gathered in front of City Hall to pay their respects to the victims of the attack on the Army Public School for Boys in Peshawar in the Federally Administered Tribal Areas of Pakistan. Over 140 lives were lost, most of them children.
According to the school's Facebook Page, "The Army Public School & College (Boys) was commissioned in 1994 as a center of excellence. The college is designed to produce executives and policy makers for the country." It further states that "To respect the individual needs of children; fosters a caring and creative environment; and emphasize the social; emotional, physical & intellectual development of each child enlightened and progressive to be citizens who are capable of serving the humanity, Islam and Pakistan in letter and spirit." In my conversations with members of the Ottawa's Pakistani community, the school was modelling itself after Britain's prestigious military school, Sandhurst.
Anis Rehman, president of the Canada-Pakistan Association of the National Capital Region (CPA-NCR) and a local high school teacher went to school in the same district as the Army Public School. In an interview with CTV Ottawa he described his reaction when he learned of the attack: "I couldn't teach. My brain was freezing," says Rehman. "I was teaching the students and thinking about the students who had lost their lives. We as the Canada Pakistan Association think it's a shameful act of brutality, especially for the innocent students."
The CPA-NCR organized the Dec. 18th vigil with the support of Dil Canada, a charity focused on supporting access to education in Pakistan, and the Pakistan Students' Association of the University of Ottawa (the Carleton University Pakistani Students' Association held their own vigil on Dec. 17th). Those in attendance were led in prayer by Abdul Rashid who is a member of the Ottawa Interfaith Council. Qamar Masood, host of Projection Pakistan on Rogers Community Television,himself originally from Peshawar, also spoke. Imam Sikander Hashmi of the Kanata Muslim Association was also in attendance.
The vigil started promptly at 6 pm. "People were there before us," Anis Rehman laughed after we joked about the tendency of our communities to never do things on time. But it was clear that this was a solemn occasion and people did their best to get themselves and their families (there were many children in attendance) to City Hall in order to pay their respects.
Anis Rehman spoke, along with Pakistani Canadian MPP Yasir Naqvi who emphasized the need to "fight darkness with light". "We will just build more schools!" he stated in a tone of defiance. Naqvi was alluding to a chilling reality in Pakistan. Although this attack has been one of the most brutal attacks on a school, in reality, schools are a battleground in this country. According to Human Rights Watch, there were at least 838 attacks on schools from 2009 to 2012.
So why was this school attacked so violently? According to Human Rights Watch "The Pakistani Taliban splinter group, Tehreek-e-Taliban (TTP), justified the attack against the military-run school – where militants systematically went from classroom to classroom shooting children and teachers – as revenge for an ongoing army offensive in the tribal areas of North Waziristan that began in June. Taliban spokesman Muhammad Umar Khorasani said the attack was intended to make the army "feel the pain" for allegedly "targeting our families and females."" This is the same group which shot Malala Yosafzai.
But who are the Tehreek-e-Taliban? Well, for one thing they are not the Afghan Taliban. Confusing right? Although the two groups have collaborated, they are distinct in terms of their history, leadership, and goals. What is clear is that, in the wake of this tragedy, we all need to better understand the dynamics of conflict in this region of the world.
Canadian media has covered reactions to the tragedy from ordinary Pakistani Canadians. Pakistani Canadians are the largest national group of Muslims in Canada, with an estimated 10,000 in Ottawa alone. The impact of the tragedy hit Canadian communities with large Pakistani populations the hardest, prompting schools in the Peel Region to fly their flags at half-mast.
One interview that struck me was from Toronto's City News who interviewed the young Pakistani Canadian University of Toronto Political Science Professor Aisha Ahmad. Professor Ahmad's research focuses on conflict zones and has focused on Somalia, Pakistan and Afghanistan, including field research in Peshawar. It is Pakistani Canadians with Ahmad's expertise that we need to be hearing more from if we are to wrap our heads around how we as Canadians should respond to such tragedy effectively and without doing more harm.
At the vigil, Pakistan's Acting High Commissioner to Canada, Abrar H. Hashmi, also spoke. He shared with the crowd that the High Commission was receiving hundreds of messages of condolence, not only from high officials like Prime Minister Stephen Harper and Foreign Minister John Baird, but also from ordinary Canadians. He, like many of the other speakers, expressed the need for Pakistanis to come together and find unity in the wake of this tragedy.
Pakistan is a unique Muslim country in its degree of religious diversity. There is almost every type of Muslim in Pakistan, from all sorts of orientations of Sunni, to Twelver Shia, Ismaili, and Dawoodi Bohra. There are also a number of religious minorities such as Christians, Sikhs, Hindus, and Ahmadiyya. On top of the religious diversity, there is also the country's ethno-cultural and regional diversity, which has often been a source of conflict. The largest ethno-cultural group in Pakistan is Punjabi, but you also have the Pathan, the Sindhi, the Balouchi, the Kashmiri, and a number of communities which migrated to Pakistan after partition from India. You also now have the largest Afghan refugee population in the world. So, needless to say, in a country with so much diversity, unity is often at a premium. But in conversation with the Acting High Commissioner, he informed me that as representatives of almost all of these communities are now living in Canada, it is part of his job to connect with them. "Last week, we had a Christmas party in Toronto with our Christian community," he stated. "There are some 4 to 5 thousand Pakistani Christians in Toronto!" He also said that he would soon be participating in an interfaith gathering in that city. During the vigil, a Sikh man came to pay his respects and greeted the High Commissioner. His presence seemed to strike many of those in attendance positively.
We must fight darkness with light and clearly one of the best weapons in this battle is education, not just building schools, but also education about the origins of these conflicts, education about effective ways of resolving conflicts that don't simply lead to more chaos and loss of life, education about how to build social cohesion in societies that are so socially, religiously, ethnically, and regionally diverse, education on how to support people who have lived through trauma, and education on how to make education affordable and accessible to the majority and not only an elite so that the society can develop as a whole.
Media Coverage of the Ottawa Vigil:
In the Ottawa Citizen
On CBC News
To learn more about Professor Aisha Ahmad:
Interview with CityNews Toronto
Forgiveness in War Tedx Talk U of T
Interview with U of T Student Journal
To learn more about Conflict in Pakistan:
Breaking Down Tehreek e Taliban (Aljazeera)
Human Rights in Pakistan (Human Rights Watch)
This article was produced exclusively for Muslim Link and should not be copied without prior permission from the site. For permission, please write to info@muslimlink.ca.