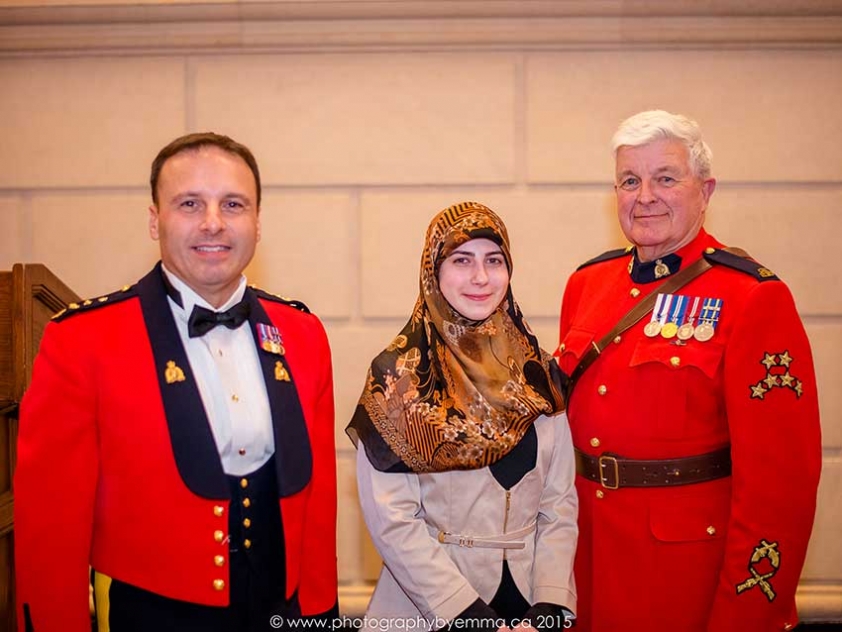 Photography by Emma
27
Feb


2015
The annual Milad un Nabi (Birthday of the Prophet pbuh) returned to Parliament Hill on February 11th, after more than a decade of being hosted at other locations. Given the recent attack on the Hill on October 22nd, this was quite timely as a gesture of trust between Parliament and Ottawa's Muslim communities. Conservative Member of Parliament and Chief Government Whip John Duncan hosted the event in Parliament's Historic Railway Committee Room where the iconic "The Fathers of Confederation" painting hangs.
Shia Muslim organizations in the city work together each year to coordinate the Milad. This year, in collaboration with the Muslim Society of Ottawa, an umbrella organization for all of the local Shia Muslim organizations, the Afghan Jaffari Cultural Centre (AJCC) took the lead. "I was at first surprised that they came to us because we are rather new, we have only been around for the last two years," admitted Ali Mirzad, who is currently the President of AJCC, "but they had been impressed with the success of our past events."
One of those past events laid the groundwork for having this year's Milad on Parliament Hill. Ali Mirzad, who helped to revive the AJCC, worked with his community to organize a celebration in honour of Canadian veterans who served in Afghanistan in 2014. Minister of Citizenship and Immigration Chris Alexander and MP John Duncan were in attendance at that event and Mirzad has maintained this relationship.
31 year old Ali Mirzad returned to Ottawa in 2011 to help his parents, after completing his Masters in Political Science at Stanford University. He feels it is important for newcomer communities, like the Afghan Jaffari community, to start confidently engaging with government. "My own community had reservations in our active involvement with government," he stated, "but I explained to them that Canada is a multicultural society, not many countries in the world have that dynamic and this freedom but you need to do your part to make it better. You need to show that you matter in order for them to pay attention to you. If you want the needs of our community, our youth, to be fulfilled, you need to show the government that you matter." Mirzad is grateful for the trust his community has placed in him.
While co-organizing this year's Milad, Mirzad wanted to have a "more inclusive event", he explained, "Not just more inclusive to the Muslim community, but really remember that the core objective of this event is to convey a message to an audience which would otherwise not be very familiar with the religion of Islam or what our Prophet was all about. This year it was very important to have other religions in attendance." A highlight of the evening was a presentation by Father Jacques Kabangu, a Roman Catholic Priest originally from the Democratic Republic of Congo, who spoke in both English and French about the current work of Pope Francis to improve Muslim-Catholic relations.
Imam Sikander Hashmi had been invited to speak at the event but was unable to attend due to illness but a representative from the Kanata Muslim Association and the Mosque of Aylmer were in attendance.  Imam Mohamad Jebara spoke about the impact of the recent shooting of three young Muslim Americans in Chapel Hill and requested a moment of silence on their behalf.
Members of Ottawa's Ismaili Muslim Community were also involved in the event, both with the President of the Ismaili Council for Ottawa, Bashir Surani, in attendance and a traditional song in honour of the Prophet (pbuh) known as the Salam sung in Arabic, Urdu and English by Ismaili community  members.
The Ambassadors for Afghanistan, Iraq, and Turkey were also in attendance.
Moving forward, Mirzad hopes to do more work to engage all Afghans in Ottawa, not just the Afghan Jaffari community, and he feels that coming from the younger generation of Afghan Canadians, he and his peers are in a better place to do that. Ottawa's Afghan community is made up of Sunni, Shia, and Ismaili Muslims and comes from several ethno-cultural groups. "Being from the younger generation and being raised in Canada from the age of 3, I don't have that talent of looking at an Afghan and telling which ethnicity he's from or which region he's from.  And this is a blessing because most of our Afghan countrymen, the reason for all the violence and bloodshed happens because of these ethnic differences. Here in Ottawa, we are lucky that this is not being passed on to the younger generation. The evidence for that is when we organized our first Nowrooz (Persian New Year) last year, it was all organized by the AJCC, but it was inclusive of all Afghans, regardless of religion, so we had the Ismaili community, the Shia community and the Sunni community all together at the Turkish Centre in Kanata."
Although he misses the California weather, Mirzad is excited about being back in Ottawa at a time when the city's Muslim communities are growing, diversifying, and asserting their presence with government.
Muslim Link is grateful to professional photographer Emma Haidar of Photography by Emma for letting us use her photos for this article.
This article was produced exclusively for Muslim Link and should not be copied without prior permission from the site. For permission, please write to info@muslimlink.ca.