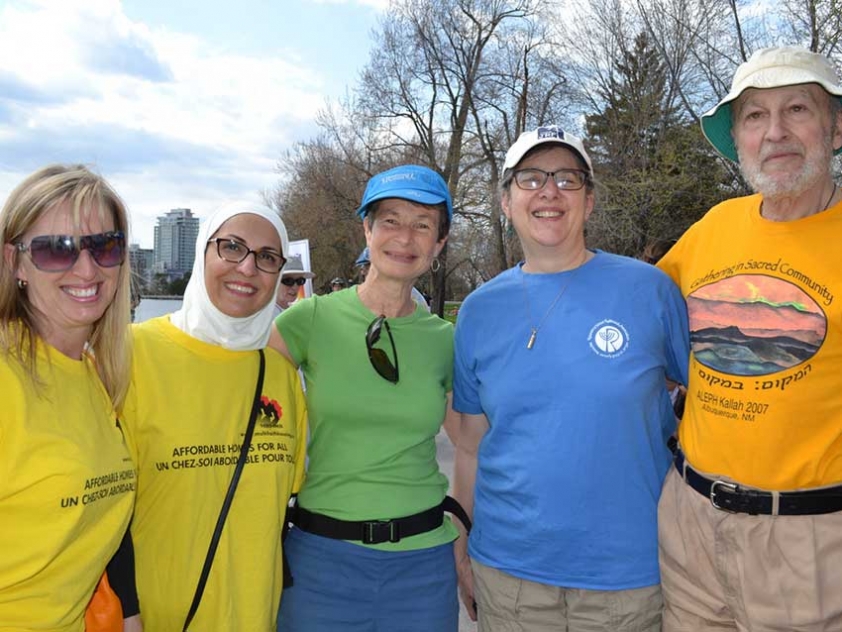 Maha Sakka, MHI's Fundraising Manager, with supporters of MHI
Courtesy of MHI
11
May


2015
Walking for Affordable Housing: The Multifaith Housing Initiative's Annual Tulipathon
Written by Salma Mahgoub
Communities of different faiths gathered near Dow's Lake on May 3rd to take part in the annual Tulipathon, a charity walk organized to raise awareness and funds for affordable housing in Ottawa.
The Tulipathon was initially founded by Dr. Farook Tareen almost two decades ago as a symbolic act that brought people from multiple faiths together to advocate for affordable housing. Since 2009, the event has been hosted by the Multifaith Housing Initiative (MHI), an Ottawa-based non-profit coalition.
The walk takes place each year on the first Sunday of May through the collaborative efforts of participants from various faiths including Christians, Jews, Unitarians, Hindus, and Muslims.
This year, after the 3.2-kilometer walk, there were speeches by Mayor Jim Watson, Dr. Monia Mazigh, and Father Jacques Kabangu, and participants were free to socialize.
"This is an issue that's so close to everyone's heart that we all come together over it," said Suzanne Le, the Executive Director of MHI. She believes the Tulipathon is an important event not only because it raises awareness about the need for affordable housing in Ottawa, but also as it brings different faith groups together for a common cause.
"First and foremost, it raises the profile of affordable housing," she said, "but also it shows the different faith groups walking together."
This annual event is also a call to action, said Stephane Lessard, the Chair of MHI's Membership and Outreach Committee.  He believes the event is not only about raising money for affordable housing, but also about showing people that they can make a difference to improve the lives of others.
"I think it's important for people to realize that not only is there a problem, but we can do something about it. It's a call to action really," he explained.
All proceeds collected from the event go towards developing affordable housing across the city. Each year, the Dr. Farook Tareen Tulipathon Award is presented to the faith group that raises the most funds. This year's award will be presented in November at City Hall by Dr. Tareen's widow, Nazira Tareen.
Mrs. Tareen said she was pleased with the outcome of this year's walk. "It's one of the biggest we've had so far," she shared, adding that the goal of this event is to invite others to take action in supporting those in need.
"We are galvanizing the whole community to share with us in helping the less fortunate," she said. "We should provide housing for the homeless people too and eliminate poverty in such a beautiful country as Canada."
For more information on the Multifaith Housing Initiative, visit http://www.multifaithhousing.ca/
This article was produced exclusively for Muslim Link and should not be copied without prior permission from the site. For permission, please write to info@muslimlink.ca.