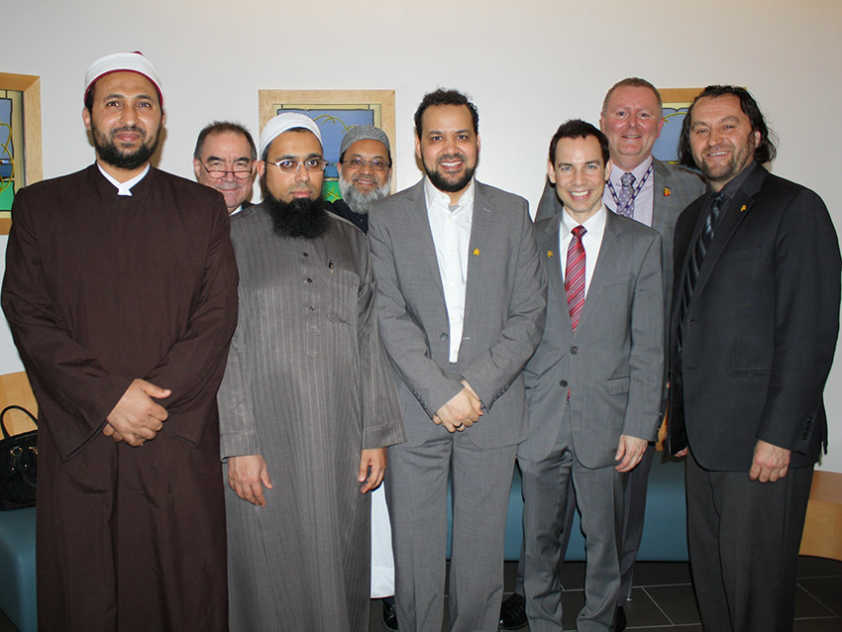 Local imams and CHEO representatives at the inauguration of the newly renovated Interfaith Prayer Room.
Courtesy of Imam Anver Malam
23
July


2014
Local Imams Want You to Help Give an Eid Gift to the Children's Hospital
Written by Chelby Daigle
For Muslims still deciding where to donate their zakat this Ramadan, the Council of Imams of Ottawa-Gatineau would like you to consider supporting the Children's Hospital of Eastern Ontario (CHEO).
Last June, local imams representing the Muslim Community of Ottawa-Gatineau presented CHEO with a united contribution of $43,150 during the annual CHEO Telethon. These funds went towards renovating CHEO's Interfaith Prayer Room which had not been renovated since the 1980s and so could no longer accommodate the needs of Ottawa's spiritually diverse population. Now the room has a modern design allowing people to use the space for prayer or to receive spiritual support in their time of need.
This year, the imams hope to raise money in order to give an Eid Gift to CHEO on behalf of the entire Muslim community of Ottawa-Gatineau.
Although CHEO receives provincial funding, an important source of revenue is public donations. This is actually how CHEO began. In 1965, a group of young mothers and health care professionals launched a campaign to build a hospital focused on the needs of children. They raised four million dollars on their own over 10 years and finally in 1974 CHEO opened its doors.
"CHEO has been built by this community," Alex Munter, CHEO's President and CEO explained, "CHEO has thrived as an institution because of that active engagement of the broader community. It is our obligation to open our doors and our hearts to make sure our services reflect the needs of the whole community but we really rely on citizens and residents of our region to participate in helping to build the institution."
Imam Anver Malam of Jami Omar Mosque is one of CHEO's most enthusiastic supporters because his own family has been given hope from the hospital's research on rare genetic conditions. Imam Malam's children, Salma and Atif, were diagnosed with a rare genetic disorder which made them go blind soon after being born. They were selected to take part in CHEO's world-renowned Care for Rare Program which aims to discover the genetic roots of hereditary disorders.
"When I take my children to CHEO I really see how passionately these people deliver services and look after the well-being and health of the children," he explained. This inspired Imam Malam to work with the Council of Imams of Ottawa-Gatineau to begin fundraising for CHEO within the Muslim community.
Imam Malam is also pleased to work with Alex Munter who he collaborated with years ago when Munter was a city councillor representing Kanata. "Alex helped us with a lot of the zoning issues when we began to build Jami Omar," Imam Malam explained.
Munter is impressed by the initiative taken by local imams to get involved with supporting CHEO. The imams have been working with CHEO representatives to do outreach at local mosques in order to raise funds for Project Stitch, a campaign aimed at making it possible for important renovations and upgrades at CHEO's Day Surgery Unit. Imam Malam hopes the funds jointly raised by the Muslim community for Eid this year will go to supporting a new Operation Recovery Room as part of Project Stitch.
CHEO currently performs about eight thousand surgeries a year, however there is awaiting list of about 2,500 children who may have to wait up to six months to a year for surgery. "The waiting list is too long. This Project will allow us to cut wait times by 50%. It is an important priority for us because everyday matters in the life of a child," Munter stated.
Local imams hope that the news of Muslims donating a million dollars to the William Osler Hospital in Brampton, Ontario, will inspire more Ottawa Muslims to consider giving back to institutions like CHEO which serve the entire community.
To contribute to the Muslim community's Eid Gift for CHEO you can donate online with Human Concern International's CHEO Appeal.
It is also possible to donate to the CHEO Foundation at any time throughout the year.
This article was produced exclusively for Muslim Link and should not be copied without prior permission from the site. For permission, please write to info@muslimlink.ca.