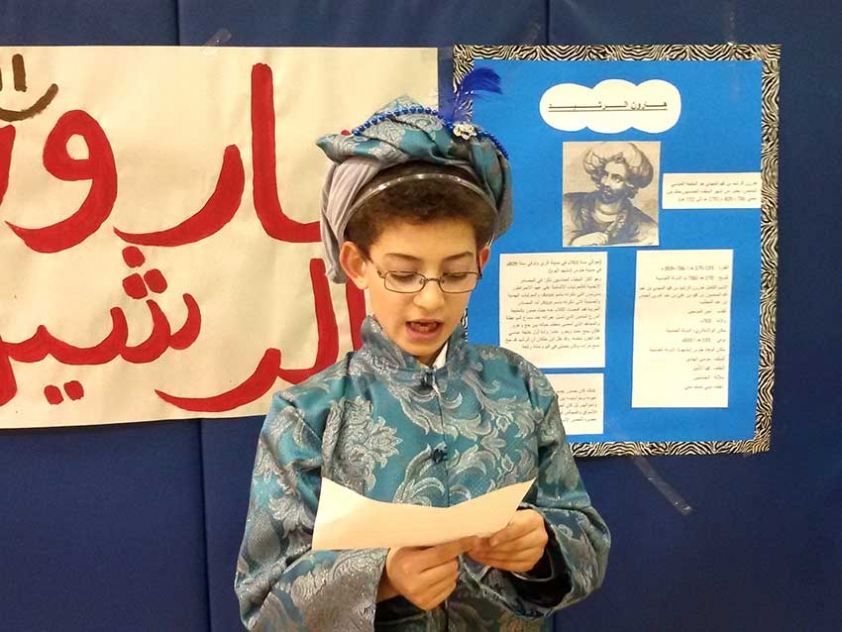 Night at the Life Museum at Iqraa School.
Salma Mahgoub
28
Apr


2015
Iqraa School presents Night at the Life Museum
Written by Salma Mahgoub
Important figures of the past and present came to life during Iqraa School's "Night at the Life Museum". Dozens of students from various Arabic-speaking levels presented the life-time stories and achievements of famous personalities, from influential writers like Ibn Sina and Taha Hussein, to fictional characters like Ali Baba and Aladdin.
Held in the gymnasium of the Pierre Elliot Trudeau School, the Saturday Arabic School organized the event for students to develop their language skills in a fun manner by dressing up as famous characters and presenting an exhibition about them in Arabic to member of the community.
Dr. Aliaa Dakroury, principal of Iqraa School for four years, got the idea of organizing this event several weeks ago when her daughter had to prepare for a similar project at her public school.
 "My daughter was performing in French during Black History Month about Oprah Winfrey," she explained, "I got an idea that it would be interesting for her replicate this information in Arabic."
Dr. Dakroury then thought of bringing the idea to Iqraa School by organizing a life museum where students could practice speaking and presenting in Arabic through a fun, interactive activity. "This way I can break the boring aspect of learning language," she said.
Five students were selected to present from each of the language levels taught at the School. Each student prepared a poster and costume to represent their characters, which included Arab and non-Arab philosophers, inventors, and athletes.
Ahmed Eid, a twelve-year-old student in level six, presented the character of Mahatma Gandhi. Ahmed said he learned new information in Arabic by preparing for the life museum and found it to be more fun than sitting in class to learn the language. "We learn more and it's fun," he said, "I would do it again."
Ruba El-Abdallah, a parent who attended the event, said her eight-year-old daughter Miral Chabayta was excited about presenting and dressing-up as El-Sindibad, a popular Arabic cartoon character. "She was very excited in preparing for this," said El-Abdallah, "she was ready to come early to school."
For El-Abdallah, the event was more than just exciting for her daughter, "This idea is actually excellent and it motivated kids to speak more Arabic."
Receiving positive feedback from both parents and students, Dr. Dakoury hopes to organize a similar activity for the school in the future. "Based on the comments from the parents, and from the excitement of the students and the teachers, I think they have seen how this is a very efficient way to learn Arabic," she shared.
This article was produced exclusively for Muslim Link and should not be copied without prior permission from the site. For permission, please write to info@muslimlink.ca.