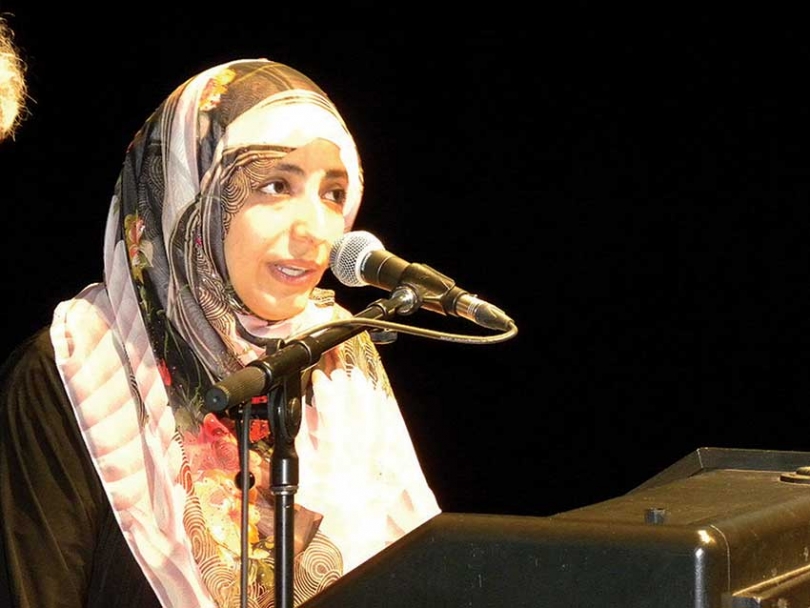 Tawakkol Karman speaking in Ottawa
24
December


2012
Nobel Peace Laureate Tawakkol Karman charms Ottawa
Written by Staff Writer
The Yemeni journalist and human rights activist Tawakkol Karman charmed several audiences during a visit to Ottawa on November 21 and 22 while touring across Canada.
Before landing in the nation's capital, the Nobel Peace Prize laureate had been in Edmonton, where she received an honourary doctorate of Laws from the University of Alberta. There, she also participated in the Festival of Ideas.
In Ottawa, she spoke to a packed theatre hall at the University of Ottawa on November 21. Later that same evening, Dr. Karman spoke to an enthusiastic crowd of over 200 people in the more intimate setting of Centrepointe Studio Theatre in Nepean. The event, titled "Inspiring Activism", gave the 33-year old mother of three a further opportunity to speak passionately about the role of everyday citizens to get involved in demanding their rights.
"The youth came at the period when there was no hope, and there was no [action] from the traditional powers (parties, tribes, even civil society, even journalists)," she told the audience. "All of [these groups] were struggling in some way, and the previous regimes they didn't listen to them.  There was a deterioration of all the fields, political, economic, social, so the youth decided to have the solution. They wanted to stop the crisis, to build a dream."
Dr. Karman gave much credit to Yemen's young people, though she herself had started protesting with a small group of like-minded activists as early as 2007 when she would gather with them every Tuesday in Sanaa's Freedom Square (similarly named to Cairo's famed "˜Tahrir' Square).
"As a woman, and as youth, we didn't just stay at home and cry and please give us a solution," she said in clear English, though interspersing her words with Arabic. "We say we are the solution. So we go to the street, and we destroy all the walls," she explained, referring to what she called "bad customs and traditions and wrong fatwas" (religious rulings) that sought to keep women from participating.
In fact, she pointed out that women in the Arab spring took part in three revolutions "" against dictators, against backwards traditions, and against fatwas that were used to prevent women from taking part in calling for change. "[There were] tens of fatwas," she said, with a wry smile. "You have to stay at home, it isharam (forbidden) to stay in Change square [where the anti-government protests had moved to] . . . these fatwas came from the former president Ali Abdullah Saleh.
". . . all the dictators support these kinds of fatwas because they are afraid of women, they know if a woman decides to do something, she will continue!" she exclaimed at one point, eliciting applause and whistles from the diverse audience.
Her husband, who was in the crowd, smiled widely throughout her speech and was clearly proud by his wife's accomplishments (he had withstood pressure from the patriarchal forces who had tried to convince him, as well as her other male family members, to keep her from agitating publicly for Yemeni human rights).
The panel was moderated by Amira Elghawaby from the Canadian Council on American-Islamic Relations, the main sponsor of the event, and included Dr. Qais Ghanem as interpreter and Dr. Aliaa Dakroury, associate professor at the University of Ottawa specializing in communications and human rights.  Human Concern International, Peace Midan, and the National Council on Canada-Arab Relations co-sponsored the evening as well.
The lively discussion, which was also live tweeted, included reflections on the role of citizens in political processes.  Dr. Karman insisted that everyone has a role to play in their societies, and the strength of people lies in their ability to join together to work for common causes.
"You alone as a person, [you can make a difference] but also if you build institutions, you can make a great difference," she said.
Going forward, Dr. Karman expressed her hope that a free press will emerge in the countries of the Arab Spring so that people will have access to information and freedom to communicate. She warned about sectarianism which would be devastating.  "If we build countries without honest journalists and honest press that is very dangerous," she said, adding that education was also critical in ensuring a bright future for all.
She encouraged Canadians to care about their own societies, as well as communities around the world, using the term "˜global citizens' which she also used in her acceptance speech last year when she accepted the award, the first Arab woman and second Muslim woman to ever win the prize.
"Our humanity brings us together, when you care about any country around the world, it is your country . . . the earth is our country, [being] human is our identity. . ."
Portions of the lecture have been posted at CAIRCANTV on Youtube.
This article was produced exclusively for Muslim Link and should not be copied without prior permission from the site. For permission, please write to info@muslimlink.ca.