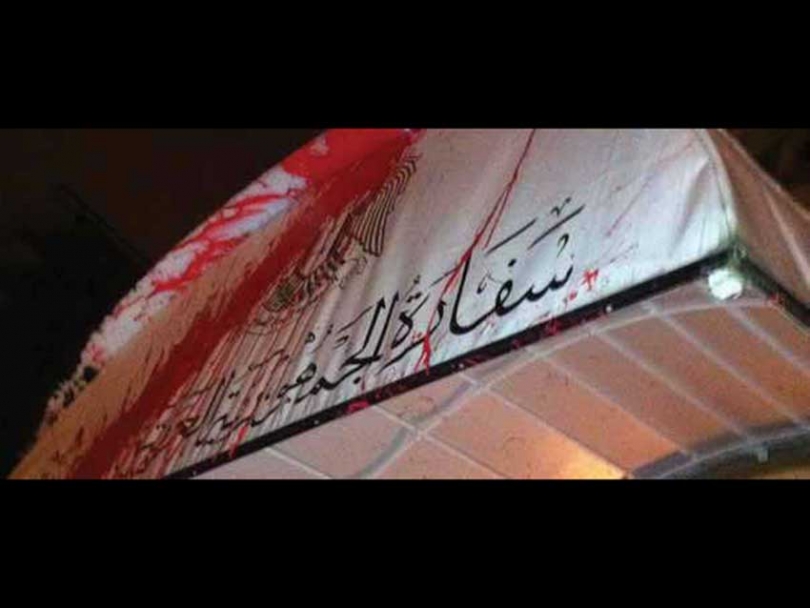 The front of the Syrian Embassy splattered with red paint after news breaks about a government crackdown on dissent in Homs, Syria that killed over 200 people.
Photo Credit: Yaman Marwah
13
February


2012
Hundreds killed in Syria, embassy in Ottawa vandalized
Written by Staff Writer
The RCMP is investigating a case of vandalism at the Syrian embassy on Cartier Street as people around the world protest escalating violence in Syria.
The front of the embassy was splattered with a large quantity of red paint overnight on Feb. 3 to symbolize the blood of the people killed in Syria. The paint covered the embassy door, mailbox, gates and canopy of the embassy's main entrance.
A rally took place from 10pm to 3am that same night, with over 80 participants.  About 10 RCMP cars were present as well.
Police say there seems to be no link between the apparent act of vandalism and a peaceful candlelight vigil held in front of the embassy earlier in the evening to commemorate victims of the 1982 Hama massacre.
From London to Canberra, Syrian embassies around the world have been attacked by protesters furious over an upsurge in violence against those opposed to the regime of President Bashar al-Assad.
On Feb. 3, more than 200 people were reportedly killed in the Syrian city of Homs after security forces fired mortars and artillery rounds on activists. It was the bloodiest explosion of violence in the country since the revolt against Mr. Assad and his government began a year ago, giving sudden urgency to a push for a United Nations Security Council resolution demanding that he cede power.
Reaction from Canada was swift and condemning after Russia and China vetoed the UN resolution on Feb. 4.
"Today's failure by the UN Security Council to effectively deal with the crisis in Syria is yet another free pass for the illegitimate Assad regime and those backing it," Foreign Affairs Minister John Baird said in a statement.
"Canada is disappointed in the extreme."
Canada has reduced its diplomatic staff at its embassy in Damascus to a skeleton crew amid mounting unrest in the country. The embassy remains open but its visa and immigration section has been closed.
Canadian citizens still in Syria are being urged to leave.  
This article was produced exclusively for Muslim Link and should not be copied without prior permission from the site. For permission, please write to info@muslimlink.ca.