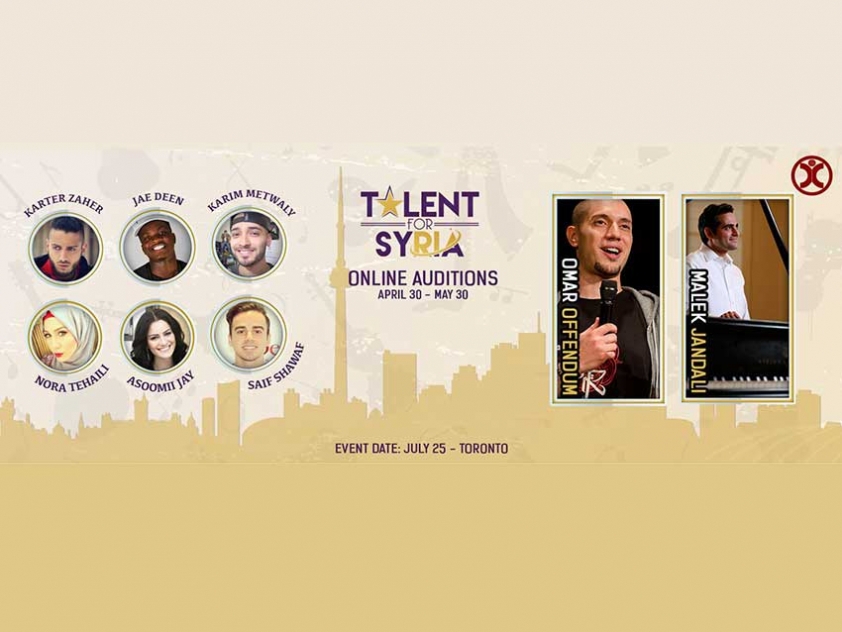 30
April


2015
Talent for Syria: Discovering Local Talent To Help Syrian Refugee Children
Written by Muslim Link
Talent for Syria is a unique and vibrant event that showcases the best of local talent. It's a platform to engage youth and the greater community in artistic expression, while supporting a noble cause.


How it works:

1. Contestant uploads a 1 minute video

2. The video is shared with family and friends to gain votes

3. Top 5 contestants with most votes & 5 chosen from Talent for Syria judges get a chance to perform live in Toronto on July 25
4. All winning contestants receive 2 VIP tickets to the event
5. Contestant with most votes receives $1000 prize and 4 VIP tickets to the event
Important Dates:
April 30 - Videos approved and voting begins
May 30 - Last day to submit your video
June 15 - Voting ends
June 25 - Announce official winners
July 25 - See you in Toronto!

Details:
Talent for Syria, in collaboration with Human Concern International, will help send Syrian orphaned refugees to Al Salam School in Reyhanli-Turkey, a project run by the Syrian Kids Foundation. Many Syrian children have been deprived of an education for over four years. It only takes a $1 per day to send an orphaned refugee to school. All proceeds from Talent for Syria will be used to give children living in refugee camps a chance to regain their childhood and pursue their education.
After four years of crisis, over three million Syrians have been forced to seek refuge in neighboring countries and over seven million are internally displaced.
When we asked Syrian children living in refugee camps what their #1 dream was, an overwhelming majority answered "going back to school". Talent for Syria aims to raise at least $100,000 to provide this opportunity to orphaned refugees.
The event Talent for Syria will be held on Saturday July 25th, 2015 at the modern and elegant Meeting House Theatre, one of the largest theatres in the Toronto area. Canadian YouTubers and Performance Artists Jae Deen, Asoomii Jay, Nora Tehaili and Karter Zaher will also be participating along with performances by Omar Offendum and Malek Jandali.
To learn more visit: http://talentforsyria.com/
This article was produced exclusively for Muslim Link and should not be copied without prior permission from the site. For permission, please write to info@muslimlink.ca.