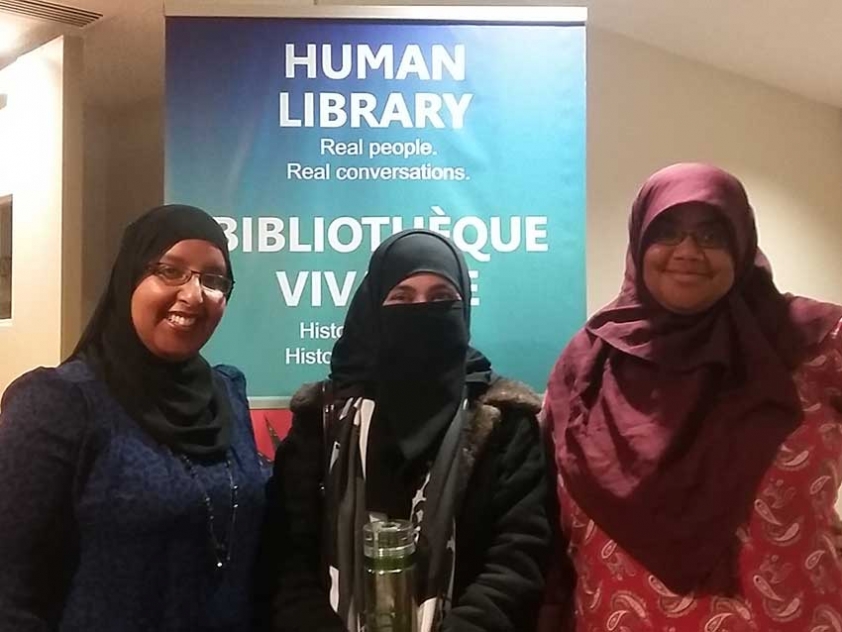 Ottawa Muslims are participating in CBC and the Ottawa Public Library's annual Human Library. Hiba Yusuf, Mahwash Fatima, and Chelby Daigle will be "books" this year.
Courtesy of Muslim Link
21
February


2016
Check Out The Muslim Books In CBC's 2016 Human Library on February 27th
Written by Muslim Link
CBC in partnership with the Ottawa Public Library (OPL) are once again hosting the Human Library on Saturday, February 27th. The Human Library provides unique opportunities for people curious about a particular life experience to have a chat with a human "book". Several Ottawa Muslims will be on loan this year as "books" at libraries across the city.
The concept for a Human Library began in 2000, in Copenhagen, Denmark, by a Danish grassroots youth organization who wanted to address violence and prejudice in their community.
According to its website, "Visitors to a Human Library are given the opportunity to speak informally with "people on loan"; this latter group being extremely varied in age, sex and cultural background. The Human Library enables groups to break stereotypes by challenging the most common prejudices in a positive and humorous manner. It is a concrete, easily transferable and affordable way of promoting tolerance and understanding. It is a "keep it simple", "no-nonsense" contribution to social cohesion in multicultural societies." Human Libraries now take place around the world.
Several Muslims will be participating in this year's Human Library. Mahwash Fatima, an entrepreneur who wears niqab and who has spoken and written about her experience wearing niqab will be participating as the book "Muslim Woman" and Imam Sikander Hashmi will be participating as the book "Imam". 
But Muslims are also participating as books on a diveristy of other topics that are not related to their Muslim identity. Hiba Yusuf will be participating as the book "Organ Transplant Recipient", Ayan Yusuf will be participating as the book "Living with Schizophrenia & Depression", and Muslim Link's Editor in Chief Chelby Daigle will be participating as the book "Daughter of a Deportee".
To learn more about this year's Human Library and to discover more books you may wish to take out and where to find them visit: Ottawa Human Library 2016
To learn more about the Human Library Organization visit their website.
This article was produced exclusively for Muslim Link and should not be copied without prior permission from the site. For permission, please write to info@muslimlink.ca.