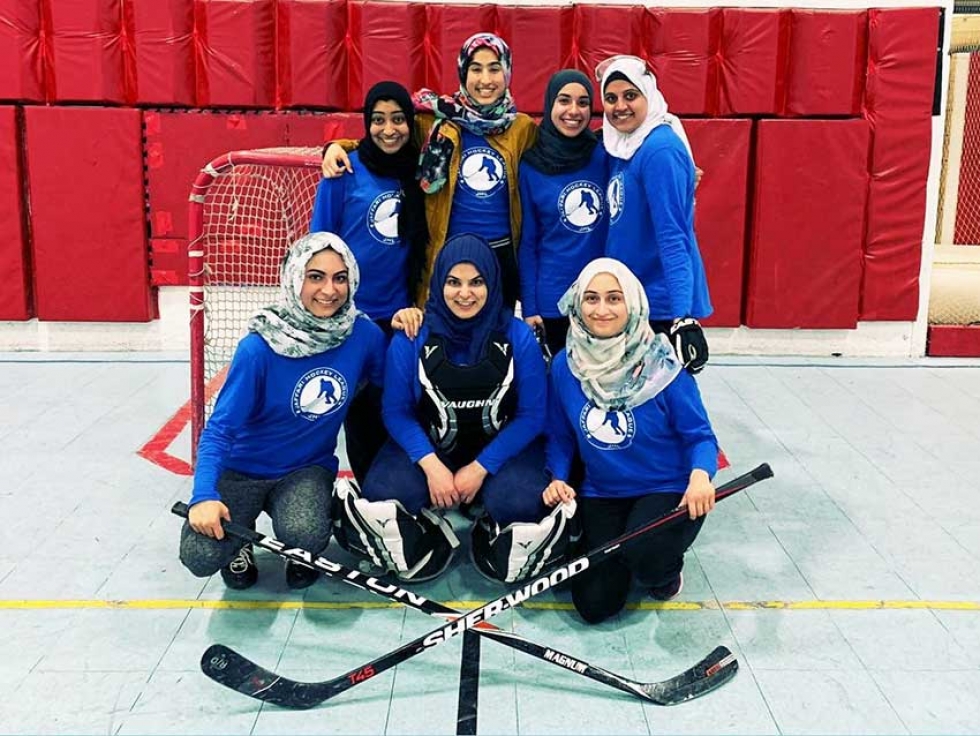 Meet the women of the Jaffari Hockey League in Thornhill, Ontario.
Jaffari Hockey League
17
October


2019
Hitting the Home Court in Hijab: Muslim Canadian Women and Sports
Written by Zehra Kamani
The Canadian federal elections are coming up, and between climate change, funding for autism services, the SNC-Lavalin controversy, brownface, blackface and the true face of racism, there has been a lot up for debate on the definition of a good leader, and ultimately, what represents a true Canadian.
Take Bill 21, for example, which bans religious symbols from being worn at the workplace by public employees in Quebec. There has been much uproar across the country for this move towards legislating racism, but perhaps one of the most blatant acts of defiance against the bill can be seen in neighbouring Ontario. The Toronto Raptors launched its new team-branded hijab this fall, with its iconic ball-and-claw Raptors logo brandished on the temple. This made the Raptors the first team ever in the National Basketball Association (NBA) to launch an athletic hijab, a move made specifically targeting the Muslim female athlete.
The Raptors hijab is not the first of its kind on the world stage. Nike introduced its Pro Hijab to the market in 2017, with the Nike logo displayed across its lightweight breathable fabric. Hijabs like these were created to appeal to modestly dressed hijab-donning female athletes, promoting inclusivity and breaking down physical or ideological barriers that may prevent Muslim women from breaking a sweat while hitting the gym or playing their favourite sport in public. While the decision has also been criticized for contributing to the commercialization of religion and spiritual practice, there is no denying that Muslim women represent an ever-growing face of athletes worldwide, and in recent times more notably in the Western world. Like Ibtihaj Muhammad, the first Muslim American woman to compete in the 2016 U.S. Olympics while wearing a hijab. Barbie soon jumped on board her fan base, releasing an Ibtihaj doll in her image, complete with fencing attire and hijab. Images like these showcase the diversity, personality, and accomplishments of the modern Muslim woman.
Closer to home, Sarah Esmail represents another modern Muslim woman whose passion for sports has brought her to compete on the international stage while wearing the hijab. A graduate from the University of Toronto and an engineer by profession, Esmail has played ringette competitively for almost two decades. She was drafted to the National Ringette League (NRL) and boasts 2 bronze medals at the World Ringette Championships, representing her home country Sweden as part of the Swedish National Team.
"My faith defines me as a person," explains Esmail. "Both my faith and sports teach me to be the best in what I do, to set goals, work hard towards my goals, and always continue to learn, grow, (and) develop."
An active member of the Jaffari community in Thornhill, Ontario, Esmail has also participated in the community's soccer and ball hockey leagues.
The Jaffari Hockey League (JHL), while running for many years for the men and youth boys of the community, introduced ladies' teams 3 years ago. Amina Mohamedali, who established the ladies league, grew up playing ball hockey in Vancouver, B.C., and felt there was a need for women and girls to have an equal opportunity as the boys in the Toronto community, where she moved after she got married, to stay active and have fun at the same time. But it didn't come without its fair share of challenges.
"Time commitment is definitely a major challenge", Mohamedali explains. "Women are always so busy with school, work, families and kids."
"Another challenge we face is to ensure that hijab is being observed during games. While most players (in the league) wear hijab when they play, I try my best to make sure no men are in the gym area or watching the games, as this can be uncomfortable for many."
Today, the JHL women's league has 4 teams, goalies, jerseys and trophies, including a replica miniature Stanley Cup. It began its fourth season this September.
Women's sports weren't always prominent in the Jaffari community. When Mohamedali got the ball rolling for ball hockey for women in the community, they started with sporadic pickup games. Meanwhile, men had been participating in the JHL for over 10 years. An organized softball league was initiated for ladies in 2016, but only lasted for one season, with lack of commitment and poor attendance being cited as some of the major reasons the ladies league went on a losing streak.
Esmail has also served as an organizer of the Al Wahda Sports Festival, an intrafaith Muslim tournament that aims to bring together different communities across the greater Toronto area (GTA). "Wahda" in Arabic means "unity", a fitting name for its participants who are united in their love for sports. Esmail shares similar views as Mohamedali, who both find that the greatest challenge as an organizer is recruiting women to join, and further, to take leadership roles in these committees in order to take ownership of the women's tournaments.
"(It's a challenge to) increase participation so that we can have more teams play in the tournament or even to introduce more sports. Within the committee, it can sometimes be challenging to have your voice heard in order to shift resources to women's sports as it is often seen as 'less important' and 'less of a priority'."
The Al Wahda Sports Festival tipped off in 2013 and takes place every 2 years on the Canada Day long weekend. Sports for both males and females of all ages include ball hockey, soccer, tennis, and volleyball amongst many others. Games take place at several locations across the GTA, including various community centres, sports complexes such as the Vaughan Sportsplex, and the Jaffari Community Centre (JCC) in Thornhill, Ontario, which boasts a large gymnasium and soccer field. As part of the sports festival, the JCC also accommodates the opening and closing ceremonies along with awards, a ladies bazaar showcasing local businesses run by women and families of the community, and a kids carnival.
Even with challenges around participating and organizing, Esmail and Mohamedali keep coming back for more, season after season.
"(Being a part of sports) is important to me because it simulates real life," Esmail says. "In team sports, you have to work with others towards a shared result and put the team before yourself. This is also the case at school, work, marriage, and family life, where you have to lean on each other and work collectively to achieve something great."
Another important motivator in participating in organized team sports is the opportunity to meet other women. "It's great to meet other ladies from the community. The social aspect is definitely a plus!" Mohamedali says.
"You end up forming great memories and friendships," says Esmail.
While having fun scores big points, Isra al-Salem notes that physical wellbeing is also a big focus and requirement of Islam, stating that our community needs to do more to make health and fitness more accessible.
"We need to have more space, more programs, more classes, more events... for all ages," she says. "We have a lot of religious and faith-based programs, but a lot of workshops are not health-related. In reality, I find the physical and emotional well-being piece is missing in our community".
Al-Salem, a certified clinical holistic practitioner by profession, sees a wide range of clients with various health issues, from those with acne and hair loss to women with fertility issues, as well as otherwise healthy individuals looking to improve their overall well-being. She tackles health challenges primarily through nutrition and digestion, citing Islamic traditions as a big source of many health-promoting and holistic practices, such as when to eat, what to eat, herbs and spices that have been recommended by historical religious figures such as the Holy Prophet Muhammad (peace be upon him), and so on.
"It was already embedded in our Islamic teachings, so I immediately gravitated towards it," she says.
Besides nutrition consulting and recipe development, Al-Salem also teaches yoga at corporate events and wellness workshops, as well as to individual and group clients from her private home studio in Richmond Hill, Ontario, a source of comfort for many Muslim women who may otherwise be unwilling to participate in classes at public facilities because of the lack of privacy and accomodation of hijab.
She also notes that the online presence of fitness influencers on social media who not only necessarily wear the hijab, but who are modestly dressed has helped change the game for fitness amongst Muslim women.
"I don't need to look a certain way to practice my fitness regimen or reach my fitness goals or just be active," she says about the upsurge in modest female fitness role models. "For example, for people who may not have been comfortable going for a jog outside may now feel okay running on the streets. Like, who am I not to do that?"
Esmail, Mohamedali and al-Salem represent a growing population of Muslim women are looking for more from their communities with the growing need to live more balanced lives, physically, mentally, and spiritually.
"We sometimes look at self-care and focus only on the physical aspect, such as taking multivitamins or having a morning smoothie, or sleep hygiene. But if we neglect our emotional and mental wellbeing, if we are burnt out or are in toxic relationships, or our self-talk is very negative, we won't feel good. We need to work on this."
"When you feel good, your spiritual practices improve as well, and vice versa," says al-Salem.
Even with the rise in hijabi athletes and modestly dressed influencers gaining positive ground, being visibly Muslim in an arena where the female body, whether intentionally or unintentionally is often on display, has its challenges. Esmail has noted that she has been discriminated against, marginalized, and underestimated because of her choice to wear hijab, at school, while playing sports, as well as in the workplace.
"In those moments, it is important to stay positive, continue to believe in yourself, and continue to do what you do," shares Esmail.
And with her rigorous year-round ringette and soccer schedules, and years of coaching and refereeing in her bag, she doesn't see the season coming to an end for her any time soon.
This article was produced exclusively for Muslim Link and should not be copied without prior permission from the site. For permission, please write to info@muslimlink.ca.