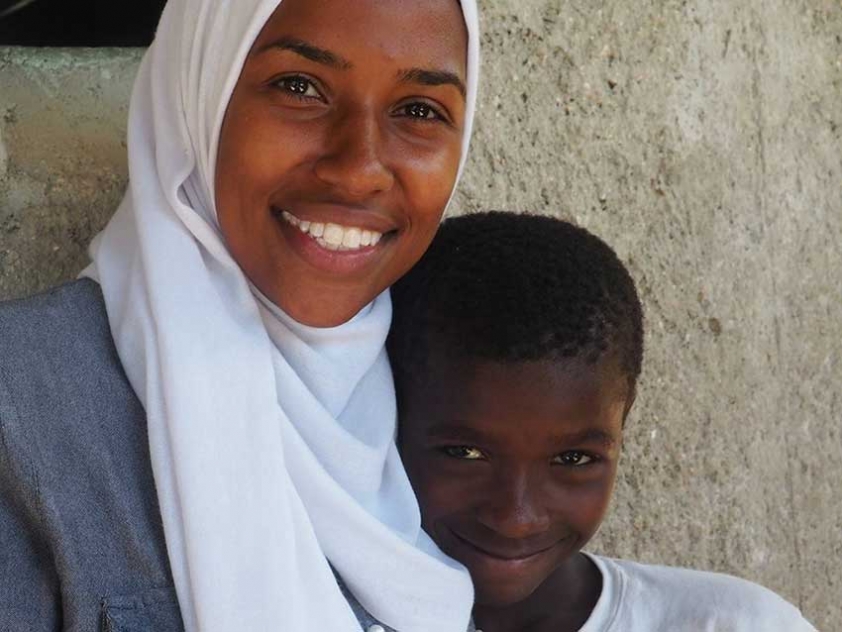 Haitian Canadian Fatima Estime with one of her students in the village of Desab, Haiti
Courtesy of Fatima Estime
14
Apr


2016
Haitian Canadian Hopes to Help Bring Clean Water to Drought-Stricken Village
Written by Muslim Link
Last year, Haitian Canadian Fatima Estime visited the drought stricken village of Desab in Haiti. The village is facing chronic challenges around accessing clean water. Fatima is now determined to work to help support the village.
Muslim Link interviewed Fatima about her experience in Haiti, including visiting with Haiti's Muslim communities, and her work to collect resources and find sustainable access to clean water for Desab. She hopes to return there this summer.
Tell us about yourself
My name is Fatima Estime. I was born in Montreal, Quebec, grew up in Ottawa, Ontario and completed my high school in Detroit, Michigan. I come from a very diverse family of Haitian and Arab descent. I have a passion to speak against injustice systems that we currently face in our society. I love to travel but not in the sense of touristic entertainment, but to understand the different lifestyles outside of Westernized society. As for my education, I studied Urban Development at Concordia University and I plan on pursing my Masters in Public Health Insh'Allah (God willing).
How did you become connected to Desab?
I have always had a desire to volunteer, especially at an orphanage or in a very rural area.  After I completed my undergrad in August 2015 I decided to volunteer overseas. I decided that my first experience should be in Haiti because I do speak the native language, Creole, and I have always wanted to go back to Haiti ever since my first visit with my family.
I found an organization that sent volunteers to a very isolated and rural area in Haiti called Desab. After registering I decided to look Desab [up] on the map and realized that it was not on the map. The organization I volunteered with were requesting volunteers to teach English at the school located in Desab and to help with community building.
When I arrived in Haiti in September, I had a week in Port au Prince, the country's capital, and I visited a local orphanage and brought the donations I had collected in Canada. We often think that orphanages are places where children receive care and love. However, in many countries, orphanages are businesses. Many people have orphanages for economic profit; by no means does that mean all orphanages in Haiti are like that but many are. I was disappointed from what I witnessed at the orphanage I visited; the kids were not in the best health or in the best environment. Until, this day I feel guilty that I could not take them and put them somewhere safer.
After a week, I was taken to volunteer in Desab, which is about an hour outside of Port au Prince. When I first arrived, I looked around me and my first thought was that this place suffers from deforestation.
When I first arrived, it was common for the volunteers to eat outside and be watched by the children who were hungry. I was told to just not pay attention to them. I felt my heart being ripped out of my chest. Although, this might be unbelievable, these type of comments are posted on some official websites of non-profit organizations that I have come across.
After dinner, the volunteer planned the English class curriculum. I was put in [a] group with three other volunteers [whom] I refer to as my sisters because they have such beautiful souls. We taught grades 1-3. For the first three days I said nothing and I just observed and after the fourth day I decided to go back to Port - au-Prince because I felt like I could not stay in Desab and I could not relate to anyone. I also missed my family and this was the first time I was the only Muslim in an area.
I went back to Port-au-Prince and I called my dad and told him that I would just volunteer at the masjid in Haiti or I would take a flight back home. My dad suggested that I should stay and be strong; that as Muslims this is our duty to help others and that it is easy to be Muslim when all your friends wear hijab, when work provides you with a place to pray, when you father wakes you up for fajr (the morning prayer).
But what happens when you are not that type of environment? That is when the test comes of being Muslim, when you have to seek Allah's Rahma (Mercy) in everything. He told me that he named me Fatima for a reason and that I should learn from the teachings Fatima Zahra (The daughter of the Prophet Mohammad (peace be upon him) and of Seyda Zaineb (The granddaughter of the Prophet Mohammad (pbuh)) and go back and help the people of Desab.
After I went back to Desab, I kept telling myself to seek Allah's mercy. So when I went back, I refused to eat if we did not share food with the people around, especially the children. I would share my food, I would serve the rest of the food in the pots to the children and I would not eat at the table while children watched us. Everything changed for me and my motivation and focus was just to serve the people of Desab.
Teaching was our main priority. My group sat together and planned out the best ways to teach English. Eventually, I became the full-time teacher for the grade 3 class and I taught Math, English, French, Grammar and Social Science. I noticed that academically the children in Desab are not at the required levels for their ages.  My Grade 3 class could not read well and their ages ranged from 9 to 13. By the end of my trip, I saw huge progression with their reading and it really hurt me to leave them. I also noticed that many children complained that they were hungry in class and thirsty. As we all know, without the proper nutrients it becomes difficult for our brains to sit in classrooms all day and learn.
In addition, we taught evening English classes and I quickly learned that many of the elders do not know how to read and have a great desire to learn as well. On Fridays, I decided to run a youth empowerment class where we would pick a topic and reflect on it and have discussions. The youth were very happy because this was a first-time experience for them. As my days came closer to an end, I became more attached to Desab. I made a promise to continue supporting the community and to go back some day Insh'Allah.
I also volunteered at the local clinic every Wednesday. The local clinic has limited supplies and staff and cannot provide all the medical assistance that patients require.
How have you continued to help support Desab?
With the help of Brother Bilal, a Muslim who resides in Haiti, and Abene who resides in Desab, and the donations I have crowdfunded, we have been able to send water aid to Desab.
Desab is currently facing a drought as there has been lack of rain for several months. In addition there is no water in Desab and therefore, when there is no rain people have to walk about 1 to 2 hours (depending where you stay) to get water. We have started this project since January 31, 2016 where we pay a water truck company to bring about 2,500 gallons of water to Desab to help people. This gives approximately 30 gallons of water for each family which is not much and can barely last a week.
In the near future Insh'Allah, I hope to build water reservoirs so that when it rains Desab can collect as much rain water as possible, and wells that consists of a pump for people to access water during the dry season.
While I was in Desab, I came across two students who seemed to be suffering from some type of skin disease. I decided that it was only right to send them to see a doctor and after several tests, the results came back and stated that they suffered from a life-threating disease called Epidermolysis Bullosa which had been complicated by infections. Thanks to the donations I have crowdfunded so far they have been able to received monthly medical care. Since there is no cure for this disease they will require permanent medical care. I really want to do more.  
Why does Desab lack the resources you are fundraising for?
In Desab, families sustain themselves through agriculture. If their agriculture suffers, then families lack the ability to feed their children and pay for them to attend school. The government in Haiti has not taken any initiative to help Desab. Currently, there is no road to get to Desab, which is the responsibility of the government. This also affects the ability of people in Desab to access clean water.
What are you planning now to do in Desab?
I plan to return to Desab this summer Insh'Allah. I am accepting school supplies such as pens, pencils, school bags, erasers, and notebooks for the students. I am also collecting medical supplies and sanitary products (soap, shampoo, tooth brushes, and toothpaste). Also, if you have clothing and especially shoes for all ages I would welcome those donations.
I am also continuing to crowdfund to raise money to supply Desab with clean water and to build a sustainable water system for people to access clean water so if people would like to contribute to that, it would be much appreciated.
Why do you think people who are not Haitian should learn more about what is happening in Haiti right now?
There is a lot of corruption happening in Haiti and especially among non-profits and charities in the country. It is our duty to help our brothers and sisters in humanity. If we do not help the younger generations to have a successful future then we must accept the fact that we do not believe in the equal right to health, education, and clean water. It is about helping those in need and standing up to injustice against the most marginalized people all over the world.
You said that there are problems with some of the charities and non-profits in the country. Can you explain?
Many NGOs and charities come from places like the United States and have never been to a country outside of the United States. Sometimes they are just doing it for profit. It is like a business. Other times, they have really good intentions but they have no sense of Haitian culture and cannot even speak the language, which I believe is important because how can you help someone without understanding their needs?
Many NGOs don't understand the needs of local Haitians and believe that "giving" is the solution. But Haitians want to be able to sustain themselves. They don't want to wait until someone or some NGO decides to feed them.
Any project that I have done so far, I have asked people what their needs are. Currently, in Desab the need is to access clean water. Therefore, all the projects that I have managed so far, people have expressed their needs and expressed how they wanted things to be done. What I do is that I take all their ideas, think about what I can actually do, and as a group we discuss the best way to do any project. The locals are doing the work and they feel like they have come together to improve their community. I hope for it to be for the Haitians and by the Haitians. People need their voices to be heard.
Sometimes, NGO's choose which area they want to work in, decide on a project, hire people from different countries, go to the area and construct the project and then leave. That is not how it should be done. I believe that in any area or for any person you choose to help, their voices need to be heard and they need to be involved in the projects in order for it to be successful. To do a development project you have to understand the people's needs and allow them to participate directly in the projects.
You were raised Muslim in a Haitian and Arab household, but there are not many Haitian Muslims. Did you have an opportunity to connect with Muslims in Haiti?
While in Port au Prince, I paid a visit to Masjid Al Tawheed. The majority of Muslims in Haiti converted to Islam. There was a huge growth of Islam in Haiti after the earthquake, because many Muslim charities came to help. Muslims in Haiti are a predominately Sunni community, but there is also a small Shi'a community. There are also orphanages in Haiti owned by Haitian Muslims.
If you wish to get in touch with Fatima Estime to offer support for her work in Desab email her here: This email address is being protected from spambots. You need JavaScript enabled to view it.
You may also contribute to her Water Aid GoFundMe Page here
This article was produced exclusively for Muslim Link and should not be copied without prior permission from the site. For permission, please write to info@muslimlink.ca.