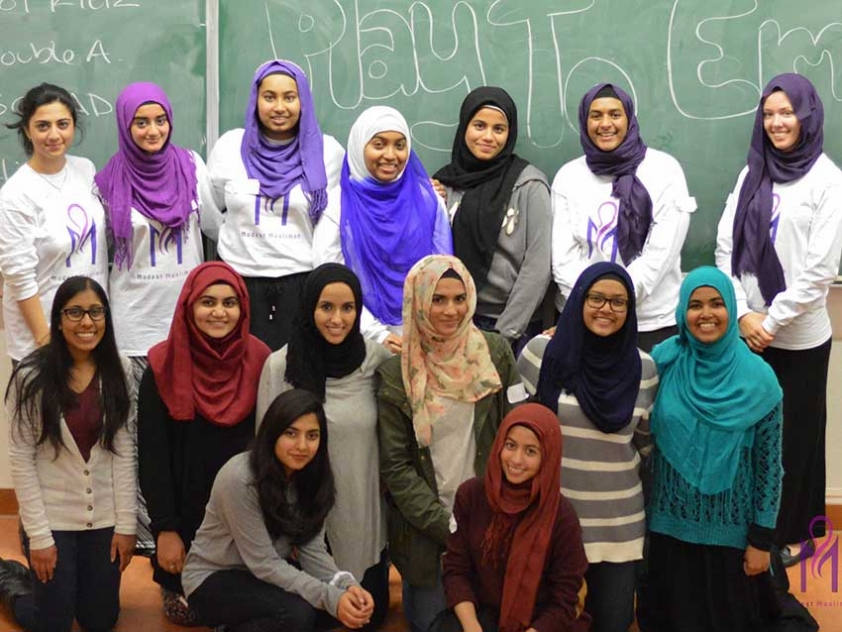 Modest Muslimah is crowdfunding to make their programs accessible to all young Muslim women in Ottawa.
Courtesy of Modest Muslimah
10
January


2016
Crowdfunding to Expand Modest Muslimah Programs to Empower Young Muslim Women in Ottawa
Written by Muslim Link
Modest Muslimah is crowdfunding to make their programs accessible to all young Muslim women. Muslim Link spoke with Nayaelah Abdussamad Sedeke about how she has created a space to empower and inspire Muslim women in Ottawa. A student at the University of Ottawa and an aspiring entrepreneur, Nayaelah co-founded Modest Muslimah to fill a social gap she and her sister identified.
Originally from a South Asian background, Nayaelah spent most of her childhood in the Middle East before moving to Canada. She feels that her identity has been shaped by Middle Eastern, South Asian, and Western cultures, which enables her to participate in a variety of cross-cultural dialogues. She loves meeting people from different backgrounds, cultures, and mindsets and sees moving to Canada and joining in this diverse country as a blessing.
How and why did Modest Muslimah begin?
Modest Muslimah began solely as a community based group for women between the ages of 15 and 29. One evening as my sister and I discussed the issues that we face, we realized that there was no organization in Ottawa that focused specifically on empowering Muslim women. We really felt that there was a need for a space for women to develop life skills, feel comfortable and motivated to get healthy, and be able to discuss taboo topics in an Islamically-friendly environment.
Although school teaches us a lot of academic skills, we are never really taught how to become confident independent individuals. There aren't many accessible places where women can go to learn real life skills. For example, if I want to learn more about taking care of my car, there isn't really a class that I can take. If I am ever put in a situation where I need to change a car tire, I want to be able to do it all by myself.
Also, after doing a citywide survey on physical activities, we found that most women from various backgrounds considered a co-ed environment, cost, and transportation as barriers for exercising regularly. Therefore we knew there was a need and we felt we could fill this gap by providing the necessary space.
We started Modest Muslimah by holding events in Barrhaven, usually using a space at South Nepean Satellite Health Centre and South Nepean Muslim Community (SNMC). Upon receiving positive feedback from our participants, this year I decided to start a club at the University of Ottawa in the hope that we can hold more of our events in the central part of Ottawa, which is accessible to more women.
Most women do not realize their own potential, and with Modest Muslimah, I really want to unlock any untapped talent, which is why we try to focus on events that build self-esteem. When a woman is allowed to be herself and she gains confidence in her abilities, she becomes unstoppable.
Sometimes young Muslim women feel alienated from the mosque and the Muslim community because of how "modesty" is defined? How does Modest Muslimah strive to be an inclusive space for young Muslim women no matter how they define "modesty"?
I know there are many ways people define modesty but with Modest Muslimah, we think modesty is all about treating ourselves with dignity and I think that every woman has the right to respect herself. Our aim is to create a space for all women to share their ideas and perspectives. We want to empower women to celebrate each other's success (whatever they may be) and to really just be that source that helps lift one another when in need. When we learn to elevate others for their accomplishments we tend to rise ourselves, and that is what we try to promote at our events.
Tell us about your activities, the impact they are having on young women's lives, and why you are crowdfunding so that they are free?
There are really four key components that we base all our activities around. One component is on health, and so currently we have a weekly free Friday drop in at Chapman Mills Public School in Barrhaven from 6pm-8pm. This facility is completely free and gives an opportunity for women to stay fit while playing a variety of sports, such as basketball, badminton and soccer. For our hijab-practicing sisters, all arrangements are made to accommodate their privacy
We also have a component on spirituality and giving back to the community. Therefore, for the past couple weeks our team has been busy planning our 2nd annual "Untrend the Trend" event scheduled to take place on the 16th of January. It is based on self-esteem and friendship in Islam and this year we are incorporating a quilting session where participants will be able to decorate their own square piece of cloth which will later be quilted together with all other squares and be personally donated to someone in need.
As for our last component which has to do with developing skills, we are currently planning on starting a free series for young women to come learn how to stitch and knit. It's planned to start closer to February, God willing.
So far we have received lots of positive feedback. I have had young women tell me that they want to attend more of our events and I have also had a few others who have said that they have been waiting for such events in the city. Our guests consider the weekly Friday gym to be a real stress reliever. We are also always open to suggestions and we try to organize events based on popular demand.
Why is Modest Muslimah crowdfunding?
When I started off, I invested money because I believed in the cause. After becoming a club at the university, we have a limited budget that we are trying to use as efficiently as possible. We are crowdfunding so that we can make sure all our women get empowered and learn to be confident independent individuals. The money would really help us fund a lot of our activities and grow, since right now we are very constricted due to our budget. My hope is that one day I can get it registered as a non-profit [organization] so that we can hold more events throughout the city. 
To donate to Modest Muslimah visit their crowdfunding page here
This article was produced exclusively for Muslim Link and should not be copied without prior permission from the site. For permission, please write to info@muslimlink.ca.