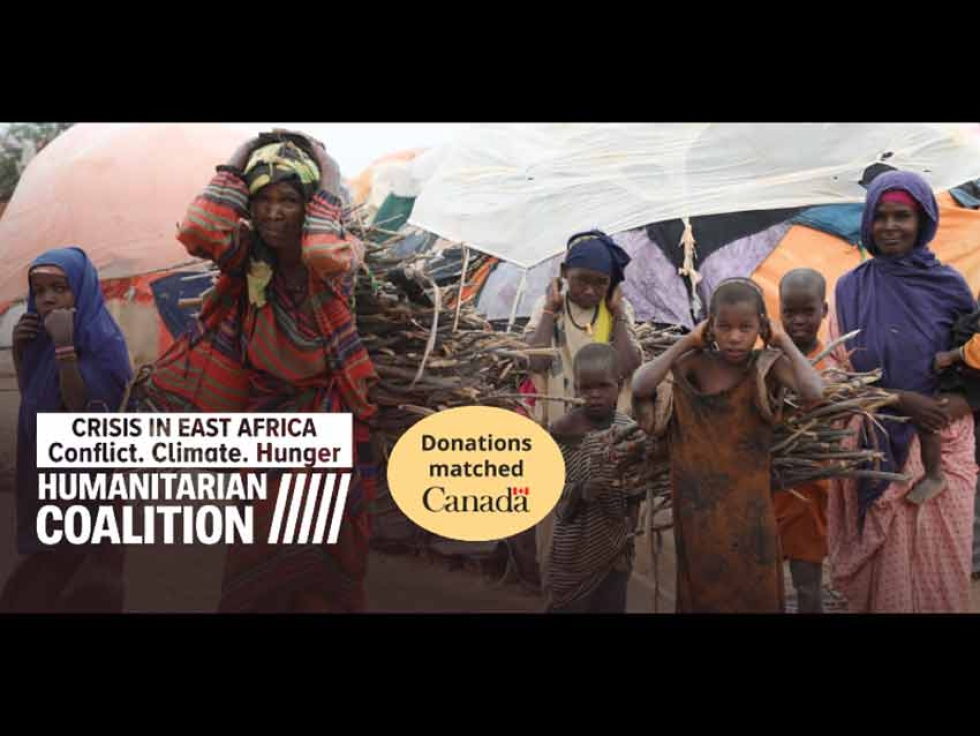 06
Jun


2023
OTTAWA, ON, June 5, 2023. In response to the combined impact of conflict, climate and hunger in parts of east Africa, along with the ripple effects of the conflict in Sudan, leading Canadian aid agencies – working together as the Humanitarian Coalition – are raising funds to rush assistance to people in need.
The Canadian government has announced it will match donations by individual Canadians until June 30, up to a total of $5 million.
Facts
Clashes between rival military factions in Sudan that began on April 15, 2023 have left more than 1,800 people dead and forced 1.4 million people to flee their homes.
Refugees from the Sudan conflict have flooded into Chad, Central African Republic, and South Sudan, putting a strain on already overburdened humanitarian relief efforts in those countries.
The persistent drought conditions first seen in 2020 continued into 2023 in Ethiopia, Somalia, and Kenya with more than 23 million people facing severe shortages of food and water.
The Democratic Republic of the Congo is home to the highest number of food-insecure people worldwide at 26.4 million people – a quarter of the country's population.
Humanitarian Coalition members are on the ground in the region, providing emergency food, water, shelter, and health care to people in need.
Quote
Richard Morgan, Executive Director of the Humanitarian Coalition, says: "The combined effects of climate change, conflict and hunger have left millions of people in Sudan, surrounding countries and throughout parts of East Africa on the brink of a humanitarian catastrophe. The Humanitarian Coalition is calling on all Canadians to donate to help people in need."
The following are members of the Humanitarian Coalition: Action Against Hunger, Canadian Foodgrains Bank, Canadian Lutheran World Relief, CARE Canada, Doctors of the World, Humanity & Inclusion, Islamic Relief Canada, Oxfam Canada, Oxfam-Québec, Plan Canada, Save the Children Canada and World Vision Canada.
Canadians can help provide emergency assistance to people in East Africa by donating at www.together.ca or by calling 1-855-461-2154.
The Government of Canada has committed to matching each donation dollar-for-dollar until June 30, 2023 to a maximum of $5 million.
The Humanitarian Coalition brings together 12 leading aid organizations to provide Canadians with a simple and effective way to help during major international humanitarian emergencies.