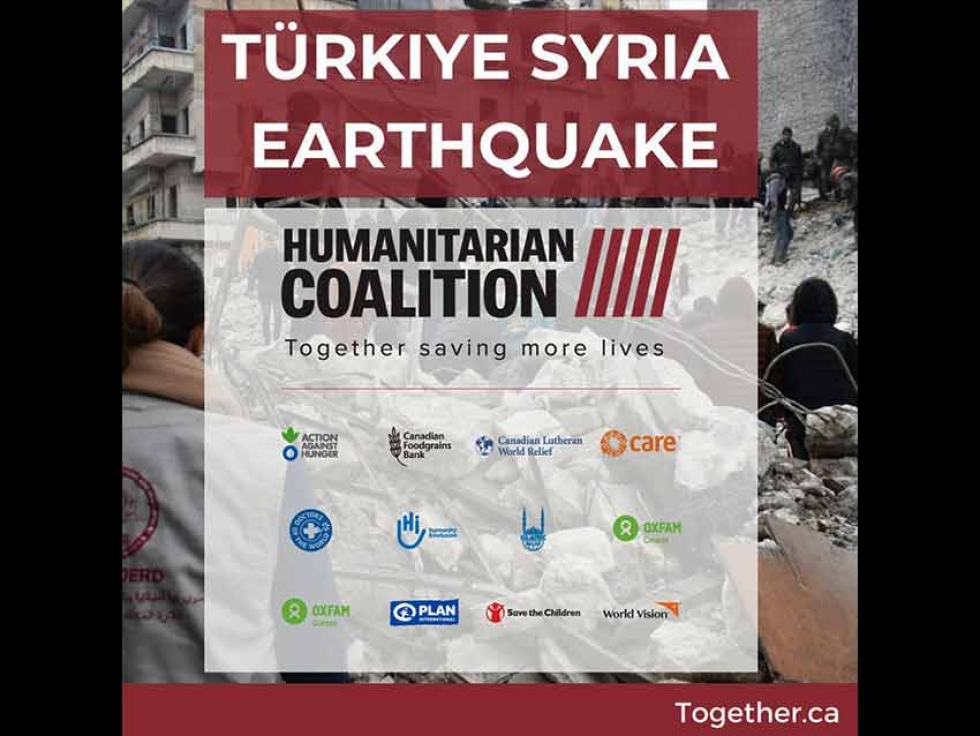 06
Feb


2023
In response to the devastation caused in Türkiye and Syria by an earthquake early this morning, leading Canadian aid agencies, working together as the Humanitarian Coalition,are raising funds to rush assistance to people in need.
Facts
A 7.8 magnitude earthquake struck southern Türkiye, close to the border with northern Syria, in the early hours of Monday February 6, 2023.
Over 2,300 people are dead and several hundred are injured, with the death toll expected to rise.
4.1 million people in north-west Syria already depend on humanitarian assistance, due to years of conflict.
Heavy rain and snow is making the situation worse for survivors who have lost their homes
Humanitarian Coalition members will be providing emergency food, water, shelter and health care to survivors.
Richard Morgan, executive director of the Humanitarian Coalition, says, "This news is heartbreaking, but we can all do something. Our member charities are rallying together to respond, and we invite Canadians to join us."
The following are members of the Humanitarian Coalition: Action Against Hunger, Canadian Foodgrains Bank, Canadian Lutheran World Relief, CARE Canada, Doctors of the World, Humanity & Inclusion, Islamic Relief Canada, Oxfam Canada, Oxfam-Québec, Plan Canada, Save the Children Canada and World Vision Canada.
Canadians can give to Türkiye/Syria earthquake relief at www.together.ca or by calling 1-855-461-2154.
The Humanitarian Coalition brings together 12 leading aid organizations to provide Canadians with a simple and effective way to help during large-scale humanitarian emergencies.