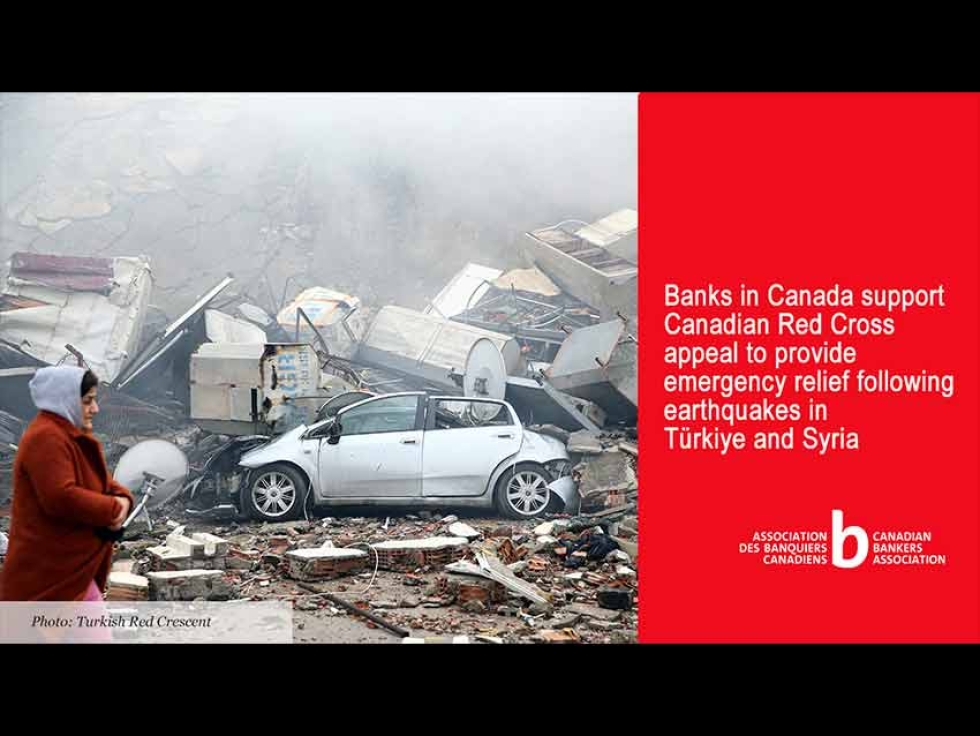 Turkish Red Crescent (CNW Group/Canadian Bankers Association)
08
Feb


2023
Banks in Canada support Canadian Red Cross appeal to provide emergency relief following earthquakes in Türkiye and Syria
Written by Canadian Bankers Association
Banks in Canada have pledged support for a Canadian Red Cross appeal to help provide immediate relief and help to those affected by the devastating earthquakes in Türkiye and Syria that have collapsed thousands of buildings, killed more than 11,000 people and counting, and have left hundreds of thousands seeking shelter.
Canadian Red Cross donations
The following banks are donating a combined $535,000 to the Canadian Red Cross' Earthquake in Türkiye and Syria Appeal to support immediate and ongoing recovery efforts in the region.
BMO
Laurentian Bank
National Bank
RBC
Scotiabank
Tangerine Bank
TD Bank Group
CIBC and Simplii Financial will be making a donation to UNICEF Canada.
TD Bank Group will also be making additional donations to Canadian non-profit organizations that provide support to Syrian and Turkish communities.
How Canadians can help
Canadians who are in a position to donate to the Canadian Red Cross Earthquake in Türkiye and Syria Appeal can do so online at redcross.ca, by calling 1-800-418-1111, or at any branch or online where available from the banks listed below from February 9 to March 2, 2023:
BMO
CIBC (online only)
RBC
Scotiabank
TD Bank Group
Several banks will also be encouraging customers and employees to donate through online portals. Banks in Canada have long supported humanitarian and emergency relief appeals in Canada and internationally to help those affected by extreme weather, health crises and conflicts.
"The aftermath of the earthquakes in Türkiye and Syria is disastrous, with weather conditions further endangering survivors and creating a humanitarian crisis. Our thoughts are with the families of those who have lost their lives, as well as members of the Turkish and Syrian communities in Canada. Donations received through this campaign will assist the Red Cross and Red Crescent with providing necessary on-the-ground emergency relief. We encourage Canadians who are able, to help to support the Appeal." Anthony G. Ostler, President & CEO, Canadian Bankers Association
About the Canadian Bankers Association
The Canadian Bankers Association is the voice of more than 60 domestic and foreign banks that help drive Canada's economic growth and prosperity. The CBA advocates for public policies that contribute to a sound, thriving banking system to ensure Canadians can succeed in their financial goals.