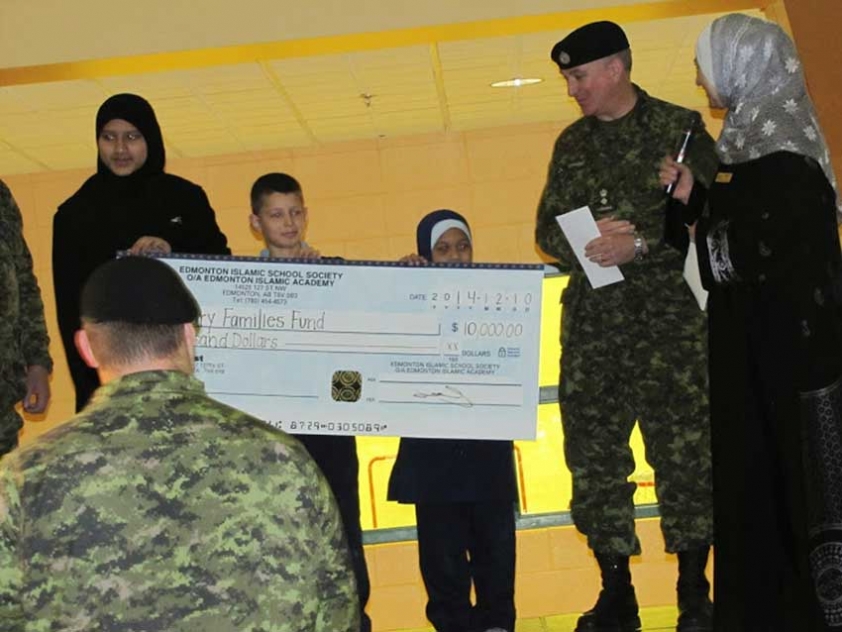 Students from the Edmonton Islamic Academy present a cheque to representatives from the Canadian Armed Forces.
Courtesy of Sally Farhat
21
December


2014
Edmonton Islamic School Raises Funds for Families of Fallen Soldiers
Written by Amira Elghawaby
Following the tragic killing of two Canadian soldiers in late October, flags at the Edmonton Islamic Academy (EIA) were flown at half-mast. Students joined fellow citizens in mourning the loss and the school principal offered special assemblies to discuss the Islamic perspective on such a tragedy.
"We started from the Quranic verse which says that whoever kills one human being, [it is] as if they have killed all of mankind. This was a crime equivalent to the killing of the whole of mankind," recalled Principal Moussa Ouarou, who was formerly the principal at Ottawa's Abraar School.
Thoughts at the EIA quickly turned to the families of the victims and Sally Farhat, a parent, suggested raising funds to help support them. Within two weeks, parents and students helped raise $10,000. The cheque was handed over to representatives of the Canadian Armed forces earlier this month at a special school ceremony.
Farhat shared her reflections with Muslim Link about the initiative and the experience.
ML: Tell us about the initiative.
The recent shootings in Quebec and Ottawa have left many Muslim families with a sense of empathy towards the families of our fallen soldiers. The Canadian Muslims in Edmonton and surrounding areas joined together to show our Canadian neighbours that Canada is home to a vast majority of peaceful, loving, respected, neighbourly people of the Muslim faith.
The Edmonton Islamic Academy supported this initiative and helped initiate a fundraiser where 100% of the proceeds would be donated to the families of the victims. Over the course of two weeks the EIA, Al-Rashid Mosque, and its generous community members raised 10,000 dollars.
ML: What was the goal?
Though many great scholars, as well as Canadian Islamic leaders have condemned the recent acts that took place in Ottawa and Quebec, we felt we needed to do more.
The goal was to lead by example and represent the true meaning of Islam – a religion that is based on peace, love, and empathy. Whether it is Christianity, Islam, or any other religion, the radical groups that have emerged from these different religions are a misconception of the religion itself.
With that thought in mind, our goal was to do what we can to help the victims' families because we as a Muslim community place strong value on contributing positively to our country.
ML: What did you accomplish?
Initially our goal was to have the kids hold a special event at the school to support our fundraiser, but because our goal was to give the cheque on Remembrance Day, the timeline did not accommodate for this event to take place. As things fell into place after, we were advised by a Public Relations Officer at the military base here in Edmonton, that the process would take longer than anticipated, therefore delaying our ability to present our donation on Remembrance Day.
Throughout the week, the principal addressed the students of the EIA during multiple morning assemblies and encouraged them to bring in money to support our initiative. I know personally of a child that felt great empathy for the families and insisted that the donation come from his own savings. In order to help increase our contribution, children at EIA also collected funds from family members including aunts, uncles, grandparents, etc.
Our initiative was successful in that not only did we raise 10,000 dollars over the course of two weeks (November 3-14) but we also participated in a Canadian-wide effort to contribute to the welfare of the families - an effort that reminded our children that they are all a part of Canada too.
ML: Why was this important to you?
The Prophet Mohammed, may peace be upon him, taught us as Muslims to be empathetic in our dealings and for the most part, the Muslim image in the community and worldwide is very important to me.
I don't view Islam as fascist or a radical religion that is often portrayed and misrepresented by the media and others. Someone actually told me face to face that this initiative is a direct result of a way to apologize for our actions. I want to be clear in that I do not feel the need to apologize for someone else's actions – (i.e. the recent shootings in Ottawa and Saint-Jean-Sur-Richelieu, Quebec) nor should we as an Islamic community.
However, you can ask any of my Non-Muslim friends (and I have many) - my Muslim values and Islamic upbringing has taught me to help anyone that I can, regardless of what religion he or she follows. That is one of the many reasons why this cause is important to me personally and definitely not because I feel a sense of guilt for the horrific actions of others.
Our community needed to stand up and show their support, and we did just that.
ML: How challenging do you think it is for Muslim children to deal with this sort of climate?
Does "Labelling" and "Racism" still occur in our greatly developed world with all its intelligent beings . . . I'm sure we would all agree that it does.
I think it is harder for some children than it is for others to deal with this sort of climate, but I think our children will find their way in Western Society. It may not always be a picture perfect scenario for them, but these experiences will only make them stronger individuals – Insha'Allah (God willing).
Overall, I truly believe that when someone takes the opportunity to truly get to know our Muslim children, their personalities, their charismatic characters, their empathy, and their characters just draws you into loving them. They grow up to be adults and the same story rolls: once you get to know them – you fall in love.
This article was produced exclusively for Muslim Link and should not be copied without prior permission from the site. For permission, please write to info@muslimlink.ca.