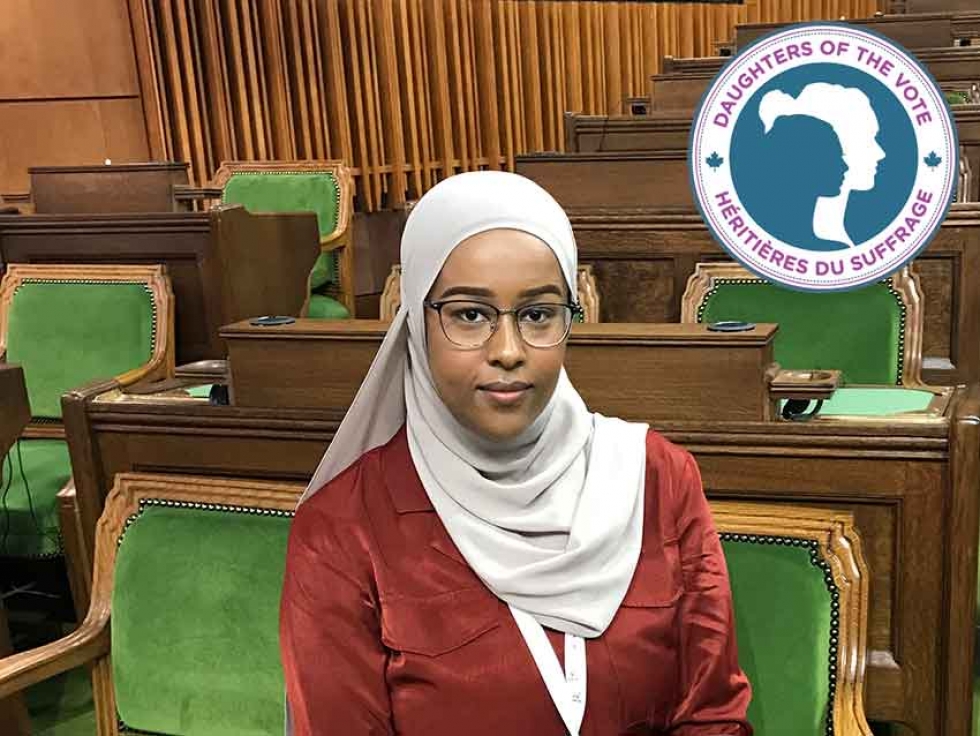 Somali Canadian Asmaa Ali represented the riding of Edmonton-Griesbach, Alberta at Equal Voice's second Daughters of the Vote gathering in early April 2019
13
May


2019
Muslimahs on Parliament Hill: Asmaa Ali from Edmonton Griesbach, Alberta
Written by Making Headlines
Somali Canadian Asmaa Ali represented the riding of Edmonton Griesbach, Alberta at Equal Voice's second Daughters of the Vote gathering in early April 2019, which brought together 338 young women between the ages of 18 and 23, representing each Canadian riding and take their seat in the House of Commons during a historic sitting of the House of Commons. They were addressed by every federal party leader, and engaged with an array of Ministers, critics and advocates.
Daughters of the Vote (DoV) was aimed at encouraging more young women to become involved in Canadian politics, a space where there are still challenges to gender equity.
Muslim Link had the opportunity to interview several of the young Muslim Canadian women who were selected to participate in this historic event, including Asmaa.
Tell us about yourself
My name is Asmaa Ali, I am a Somali Canadian born in Surrey, British Columbia. My parents both came to Canada in the early 90's, my mother from Saudi Arabia and my father from Somalia. Through them, I have grown to love my culture, speak my native language, Somali, and proudly represent my unique identity. My family and ethno-cultural background have deeply inspired me throughout my life, watching trials and tribulations being overcome after hard work and sacrifice has instilled in me the quality of resilience. As a first generation child of immigrants, I have had to navigate two cultures, practice my faith, and negotiate the best for myself in Canada all while helping my family successfully integrate into a culture and country completely new to them. I am thankful to have overcome these obstacles in the past, I now have the ability to achieve beyond what I imagined I was capable of doing.
I study Nursing at the University of Alberta. Choosing this career path satisfies me in a multitude of ways. My passion for service and my dream of working in healthcare manifested themselves together under the umbrella of Nursing, but shortly after starting this program I realized there was so much more I could do outside of a career in a hospital. Through working with many populations who are marginalized and mistreated by our current health care system – both inside the hospital and in the community - I have discovered that my passions lie in health care policy, advocacy for vulnerable populations, and cross cultural brokerage.
In my spare time, I am a freelance photographer, although I have used photography in the past to capture moments of celebration for my friends and family, I am always the happiest when I am presented with the opportunity to use it in a way that benefits my community. I have worked with a subdivision of REACH Edmonton, the Police-Youth Engagement Program, to teach photography to at risk minority youth. I have also worked with Islamic Family Social Services Association (IFSSA) and The Green Room to help capture their vision and create visuals for their multiple community initiatives.
Tell us about the riding your represented in the House of Commons. What challenges socially and economically is the riding facing? Do you feel that many in Canada know about and/or understand these challenges? How do you hope to increase awareness about the challenges your riding faces to broader Canadian society?
At Daughters of the Vote 2019 I had the honor of representing my riding of Edmonton Griesbach. Edmonton Griesbach is a very ethically diverse riding, with Islam as the most significantly practiced religion in the riding after Christianity. This community faces some social and economic challenges such as a lack of well developed affordable housing, affordable housing in the area is of low quality which impacts the health and safety of those residing in it. Other challenges include an overall lack of affordability, many constituents struggle with the cost of rent and other expenses such as health care and drug costs. The lack of employment opportunity in the riding – especially for youth - is an area of concern that current policies are not addressing.
A growing social concern in the area of Edmonton Griesbach is the rise of Islamophobia, hateful letters have been sent to mosques in the area and organized hate groups have visited these local mosques. This issue is deeply concerning to a large portion of constituents because hateful rhetoric quickly morphs into threats, these voices of bigotry are bleeding in from the fringes of our society and finding a place in our communities.
The concerns I have mentioned aren't unique to my community, these same concerns are faced by communities across the country, by spreading awareness about these concerns I hope to push those in power to address them and create action plans that will make the riding a more livable, accepting, and affordable place.
As young women involved in politics, what challenges, if any, do you face? Do you feel that the presence of more young women is changing politics? If so, how?
As a young woman involved in social justice and politics, the biggest challenge I face is the pressure to present myself in a way that conforms with the ideologies and criteria of how women "should" present themselves, look, and act. Throughout history and societally as a whole, the accomplishments of women are drowned out by conversations surrounding our appearance and aesthetics, our quality of work and core beliefs come second to how palatable we are. As a black, veiled, Somali Muslim woman I'm fully aware that I do not fit the standards set out for women participating in politics, but I never chose this path to maintain the status quo. I choose to use my voice and presence in political spaces to speak for the underserved and underrepresented, for everyone who does not look like the norm.
During Daughters of the Vote - and throughout my lifetime - I plan to always choose my integrity and faith over conforming to social ideals. The new wave of fiercely outspoken young women who are currently shaking tables in politics value their integrity & the humanity of the people above all else, this strength is changing the landscape of politics in a hugely impactful way.
As was to be expecting with a federal election fast approaching, tensions between political parties were much more apparent during this DoV than back in 2017. One of the greatest challenges of our time is how societies are becoming more and more polarized. Unfortunately partisan politics plays a role in this polarization as parties focus on attacking one another instead of trying to build consensus for the common good. Do you feel that there is a need for a new culture of how politics is done in Canada in order to keep our democracy healthy and focused on the interests of all Canadians?
The parliamentary democracy that Canada has allows for the views of all participating parties to be shared, part of democracy means allowing for open dialogue and space for dissent. Our constitutional right to free speech has been used to add a distinctive contribution to our society, in recent times though, free speech has been misconstrued as a term to protect those who spread hate from facing any consequences. Partisan politics may play a role in polarization, but it inherently isn't causing it. What is causing polarization in our current social-political climate is the support of White supremacy and hateful rhetoric by those at the top. Intolerant extremists are finding a place in our current political climate, our government's lack of action against these groups and the people who associate with them is furthering their agenda of spreading hate. A healthy democracy is based in tolerance and respect for one another, complacency in the matters of divisive rhetoric, hate speech, racism, and threats against specific groups of Canadians is causing a rapid increase in polarization nationwide.
This polarization has tangible, even life threatening effects. According to Statistics Canada hate crimes have shot up to an all time high across the country, hate crimes globally have grown to become larger and more heinous as well. To maintain the health of a democracy with a growing polarization problem, 'free speech' must be stopped where hate speech and safety of others starts.
As it is an election year, what will you be doing to try to get out the vote in your riding?
During election seasons, I take time to educate my family and their friends - who face language barriers or other barriers - about political parties and what they each stand for. Explaining political issues and relating them back to the personal issues they face makes them more interested in politics and much more interested in voting. Educating those in my personal social circle as well as working with grassroots community organizations that aim to boost civic engagement is how I plan to get out the vote.
What is the key lesson from your experience at DoV that you will be taking back into your work in your riding?
The key lesson I took away from my experience at Daughters of the Vote is to continue to stand firm in my beliefs. The powerful stance we took on Parliament Hill in protest of our government turning their backs on us in many ways was profound and inspiring. The young women of this generation who aspire to take a seat at the table of politics and social change are unwavering in their morality, we will stand against what we do not believe in and work tirelessly for what we do believe in. I will take this spirit to fight for what is right and apply it to my personal and community endeavors from here forward.
This article was produced exclusively for Muslim Link and should not be copied without prior permission from the site. For permission, please write to info@muslimlink.ca.