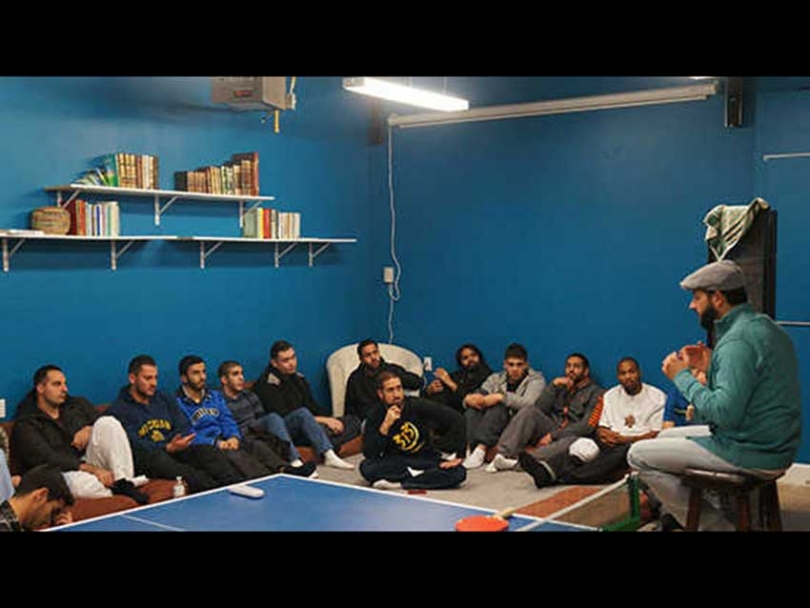 Members of Ottawa's 313 Club gather for a lecture.
19
Nov


2013
It's late on a Saturday evening at the 313 Clubhouse. A couple of youths are huddled around the billiards table, weighing up their next shots. Two brothers are having an intense game of ping-pong at the table nearby. Others sit on the floor couches that line the wide room, watching the Sens game on the projector.
After almost a year and a half of holding weekly Saturday night religious lectures and discussions at people's homes, Ottawa's 313 group finally have a place to call their own. 
In April the group secured a small plot on the corner of St. Laurent and Walkley. By May, they had turned it into a fully functioning clubhouse complete with majlises (traditional Arabian sofas), billiards and table-tennis tables, a mini library, and a projector to watch things like last season's Stanley Cup playoffs.  
Every Saturday night the clubhouse is open to anyone over the age of 18 to come by and take part in a talk given by Sheikh Wael Zain, an engaging lecturer from Windsor, Ontario whose refreshing approach to preaching allows him to connect with youth.
According to the organizers, the Clubhouse isn't exclusive to any sect or religion and is open to everyone as long as they are respectful and tolerant of others and their beliefs.
The lecture topics range from the commentary of certain surahs of the Quran -- the characteristics of a true believer as per Surah Mu'minoon being a recent one "" to other theological subjects.
A popular topic of discussion revolves around the awaited Mahdi, a messianic figure whom Shi'as believe to be their twelfth and final Imam. In the Shi'a school of thought the Mahdi is said to be hidden from the people and will return to fill the world with justice at a time known only to God.
The group itself takes its name from the number of leaders the Shi'as believe will lead the revolution of the Mahdi upon his reappearance. The Shi'a take it as their responsibility to prepare for the Mahdi's coming by enhancing themselves spirituality.
On Wednesday evenings, the Clubhouse holds Quran recitation classes for people of all levels. The lessons are taught by Hassan Dayfallah, one of the key-holders of the clubhouse and an instrumental figure in making this unique initiative a reality.
"What we've started out doing here is a program for the youth by the youth," Dayfallah says. "We want them to feel that they have their say without anyone impeding in the opinions,"
Dayfallah says that beyond the Clubhouse, it's the message of such an initiative that makes 313 unique.
"The idea is not the place - it's the movement," he says. "It's new, it's different, and it has its challenges."
"We're essentially empowering the younger generation and telling them they're responsible for their own fate and that they do not need to lose their Muslim identity in order to integrate into the society."
For Hassan Abbas, a regular attendee at the 313 Clubhouse, the weekly and biweekly programs at the clubhouse are beneficial for more than one reason.
"From learning the recitation of the Holy Qur'an, to having intriguing discussions and enjoying myself with the brothers, I find the programs providing benefit to me and others."
Abbas says that the clubhouse gives youths like him an opportunity to have fun and learn about Islam at the same time "" a balance that many centres and organizations around the city struggle to achieve.
"Having a place where youths can sit back, enjoy, and hear a lecture while opening up discussions is making good use of our time "" it's not to say that this is all we need but it is a positive step," he said.   
"It goes without saying that if we don't have places like these for youth, then the alternatives that this society provides are generally immoral in the eyes of Islam," Abbas added.
Hussein Musa was one of the individuals who started this initiative and played a role in bringing the clubhouse into fruition. He says that holding weekly programs at the clubhouse helps youths keep away from the many distractions out there.
"What we're trying to do here is facilitate a place for the youth to have a good time, and stay away from haram (the unlawful)," Musa says. "One of the biggest reasons anyone does haram is because they're bored - when people are bored they go towards haram."
Musa says it all started when he and a group of friends thought of a place where they could enjoy each other's company in a halal environment and, at the same time, learn something useful about religion.
313 charges no membership fee and runs solely off donations, a challenge Dayfallah says is addressed by having those who attend the programs develop a sense of belonging to the clubhouse.
"When people have that connection they start feeling that you know what, I need to start helping out and put money into the place," he said. "And Alhamdulillah so far people have gone above and beyond and do give generously on a monthly basis to keep the place going."
Looking ahead, Musa says that while expanding the clubhouse is a future goal, the bigger picture is to build a sense of brotherhood amongst different members of the community and at the same time, grow spiritually.
"The end game is building genuine relationships with each other that will bring us closer towards Allah (swt)," says Musa.
Dayfallah also stressed the importance of brotherhood and mentioned that the Clubhouse is also a place for young people to develop strong leadership qualities they can use to make a difference in the future.
"Every community has a lack in leadership," he says. "Every centre that we look into it's the elders that are taking on roles that sometimes don't fit them."
"Five years from now, hopefully, these guys that are attending here and benefitting have learned more about the structure of faith, have become productive members of society, and are ready to feed that into the different centres and mosques in Ottawa."
The 313 Clubhouse is located on C9-2285 St Laurent Boulevard.
You can visit the group's website at www.3thirteen.ca/.
For more information, you can also email them at This email address is being protected from spambots. You need JavaScript enabled to view it. or give them a call at 613-301-6489.
This article was produced exclusively for Muslim Link and should not be copied without prior permission from the site. For permission, please write to info@muslimlink.ca.