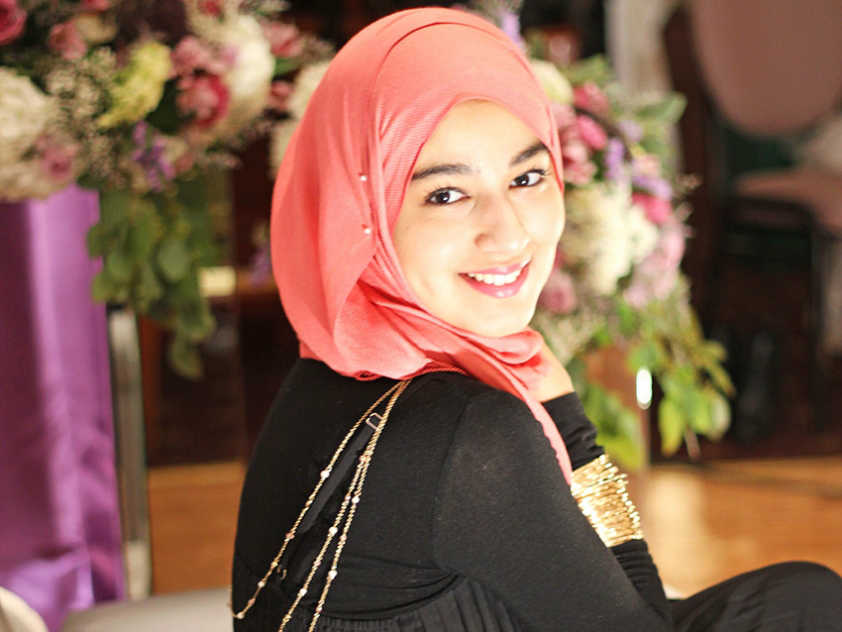 Nafeesa Salar, CEO and founder of Salar Event Planning
04
May


2014
Taking the Creative Leap: Salar Event Planning
Written by Sadia Virk
Like many of her peers, at 22, Nafeesa Salar had her hands full with her full-time university and a part-time job. But her love and passion for art and design inspired her to take a bold move two years ago and launch her own business, Salar Event Planning, a Montreal-based event planning company.
Explaining what motivated her to start her own company, "Through planning community events, I realized how much I enjoyed the process of building something with a team of creative and talented people. Seeing the result of our work and the impact it had on people was always a great feeling. So, I decided to take the leap and pursue my passion."
The realization that there was no professional wedding planner catering to the needs of the Montreal Muslim community pushed her to establish her own event planning company. "I sat down, rolled up my sleeves and got to work," she says. "It took me about six months to get the ball rolling ""drafting my idea and business plan, building the right contacts, being resourceful and resorting to a lot of patience! We take pride in the idea that we were the first company of its kind to establish itself in the Montreal community."
Her first job was a two day wedding, which included a reception for 500 guests. Since then, her company has branched out to design and plan other types of events besides weddings, including engagements, bridal and baby showers, aqeeqas (celebration after the 7th day of a child's birth), corporate events, and style shoots. "Our favourite types of events are the ones in which we can really let our creativity run wild, whimsical, edgy and stylish," she shares. 
Depending on what the job requires, Nafeesa will often hire people to help her on the day of the event. She also works closely with her younger sister Khadeeja Salar, who is her assistant designer and helps coordinate on the day of the event.
"What I like about my job is building new relationships with clients, learning about new cultures, challenging myself with new ideas and concepts, and letting out my creativity," Khadeeja, a student of Architectural & Interior Design, says. "It's exciting and a tremendous honour to have couples hire us and entrust us with one of the most important days of their life."
Dina Sleiman, one of the happy clients of Salar Event Planners, shares her experience of having them plan and design her recent engagement.
"With very short notice on my behalf and my busy schedule, they were able to pull off a simple and elegant engagement celebration," she says. "They are very creative and amazing to work with. I can't wait to work with them on the wedding."
Catering to clients both in the Muslim and non-Muslim communities, Nafeesa believes the incorporation of a blend of both Eastern and Western styles in their designs helps set them apart from other event planners. As an artist and designer, Nafeesa finds inspiration for her events all around her.
"Fashion, nature, art, architecture"you name it!" she says, listing some of her sources of inspiration. "One of the designs we created was for an intimate at-home bridal shower and the idea emerged from a pair of vintage palazzo pants I owned. I took the idea to a whole new level, further developing and exploring the idea and then implementing it. In today's industry you see a whole lot of cookie cutter designs at events. The true challenge of being an artist is to remain authentic."
As a young female entrepreneur, Nafeesa offers encouragement to others interested in starting their own business.
"You have it in you to do whatever it is that you put your mind to," she shares. "Take everything one step at a time. Don't rush, take the time to breathe and enjoy the process." For herself, one of the biggest challenges she faced starting her business was making the time and sacrifices necessary to launch a company while juggling her studies and side job. "After two years, I can say that I learnt a great deal about time and stress management!"
Despite the challenges and sacrifices she has had to make, Nafeesa has no regrets and is only looking forward to taking her company to a new level.
"It's been a wonderful journey so far and it's a blessing to be able to do what I love," she says. "I'm grateful for it everyday."
For more information about Salar Planners, visit www.salareventplanning.com
This article was produced exclusively for Muslim Link and should not be copied without prior permission from the site. For permission, please write to info@muslimlink.ca.