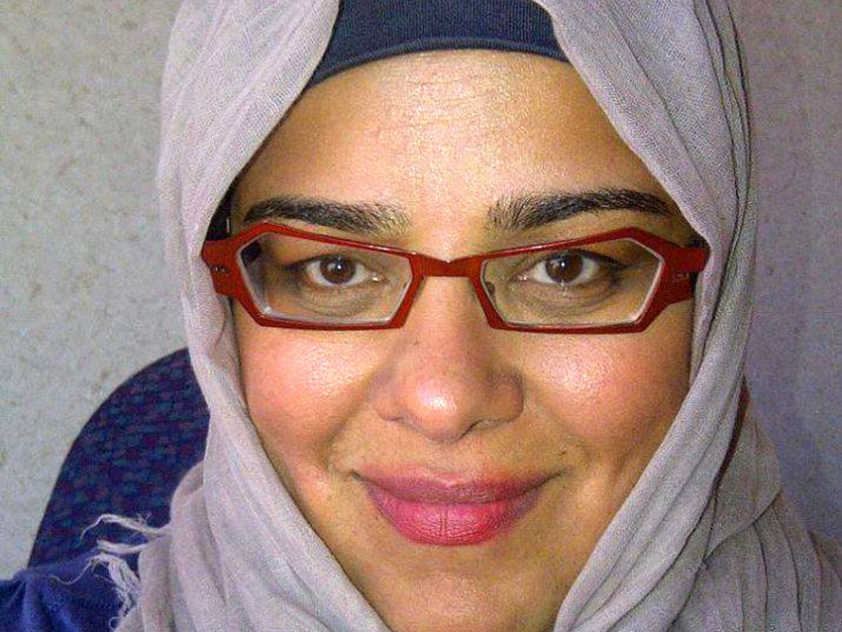 17
Mar


2014
Shelina Merani: Activist, artist, comedian, mom - all rolled up into one
Written by Maha Ansari
Shelina Merani has many accomplishments to speak of.
She once spearheaded an award-winning photography project that was praised for giving a human face to public service workers.  
She is a founder of Muslim Presence, a network which she says aims to promote universal values and active citizenship.
And lately, she's been performing standup comedy in Ottawa and Quebec.
Yet, when asked to name a seminal moment in her life, with a chuckle, she recalls the night when she borrowed her father's car without permission and crashed into a convenience store. Then, as a teenager living in Calgary, Merani says her "whole life stopped."
Merani says the incident made her realize she needed "a bit of change." She was living with three older brothers and was the daughter of immigrant parents she describes as "very protective."
"I needed to get away," explains Merani, "so I decided to go backpacking throughout Europe."
During a recent interview at her townhouse in downtown Ottawa, Merani says the solitude she experienced during her trip to Europe helped her think seriously about her plans for the future.
- Today, Merani works at the Public Service Alliance of Canada. She prepares the union's presidents and spokespeople for interviews with the press and works on projects to promote the rights of public service workers.
- "I love my job," says Merani. "It gives me an opportunity to use my creativity to deal with issues of social justice."
- In 2013, Merani won the Dennis McGann Stroke of Genius Award for a project she directed, in which she used photographs of food service inspectors accompanied by their personal stories to show their contributions to society.
"We were trying to put a human face to public service workers, since what the government is trying to do right now is dehumanize them," recalls Merani .
- Victoria Gibb-Carsley, Merani's colleague, praised the creativity and humour she says Merani brings to her work.  
- "Shelina infuses this creative side to things," says Gibb-Carsley.
- Gibb-Carsley laughs as she recalls an incident when Merani brought art supplies to a meeting "dealing with very serious union activities" and convinced her colleagues to "express the issues they were working on in an artistic way."
- "Because her manner is so easy and inviting, she had them doing art," says Gibb-Carsley, "and they loved it."
- "Shelina is always on the ball," says Alain Cossette, who also works alongside Shelina at the Public Service Alliance of Canada. "She's intellectually very sharp, but she's fun at the same time."
Merani's husband, Abdourahman Kahin, says she brings the same enthusiasm with which she pursues her work to the task of raising her children, Sarah-Mecca and Alif Abdourahman.
"As a parent, she's concerned a lot about her kids, especially in education," Kahin explains.
- Merani smiles, saying she is "really proud" of Sarah-Mecca's achievements in the arts program at her school and her son's success in basketball.  
- Merani and her daughter's colourful artwork hang along the walls of their home.
- When asked how she would define herself, Merani points to a painting above her living room couch, bearing the words, "human."
- She explains that though she identifies herself as a Muslim, she does not believe her religion alone should shape her identity.
"I think sometimes, Muslims will talk to non-Muslims and say, "˜yeah, I'm Muslim, I wearhijab. They're just ghettoizing themselves when the focus is always just on Islam.
"I just want to open all that up. I mean, we have universal values, and when you think like that, you can relate to people so easily."
Throughout her life, Merani has worked on a range of projects with a view toward promoting dialogue and understanding between different communities.
After graduating from Université Laval with a fine arts degree in 1996, she became a teacher's assistant in St. George, Quebec, where she said she often answered questions about Islam.
"All of these college students had never seen a Muslim woman before," remembers Merani , "so my office was always open and people would come and ask me questions."
Merani says her experiences in Quebec lead her to question whether the majority of Québécois actually approve of the Quebec Charter of Values.
"People were so open-minded when I was in Quebec," she says.
Merani expresses the belief that Muslims in Canada should work within communities in Quebec to educate people about Islam by "working on trust, mutual knowledge, and respect."
She points to standup comedy as an "opportunity to build bridges between communities."
Looking to the future, Merani says she hopes standup comedy will be "a big thing" in her life. She says she hopes to use to it "as a means of expressing [her] frustrations with issues within the Muslim community and in society at large."  
For the next few months, Merani will be performing standup routines in Gatineau and Ottawa. She admitted she feels "a bit of pressure" to meet audience expectations.
"This is a big moment for me," Merani says. "I hope I can continue the momentum."
To learn more about Muslim Presence visit http://muslimpresence.com/
This article was produced exclusively for Muslim Link and should not be copied without prior permission from the site. For permission, please write to info@muslimlink.ca.