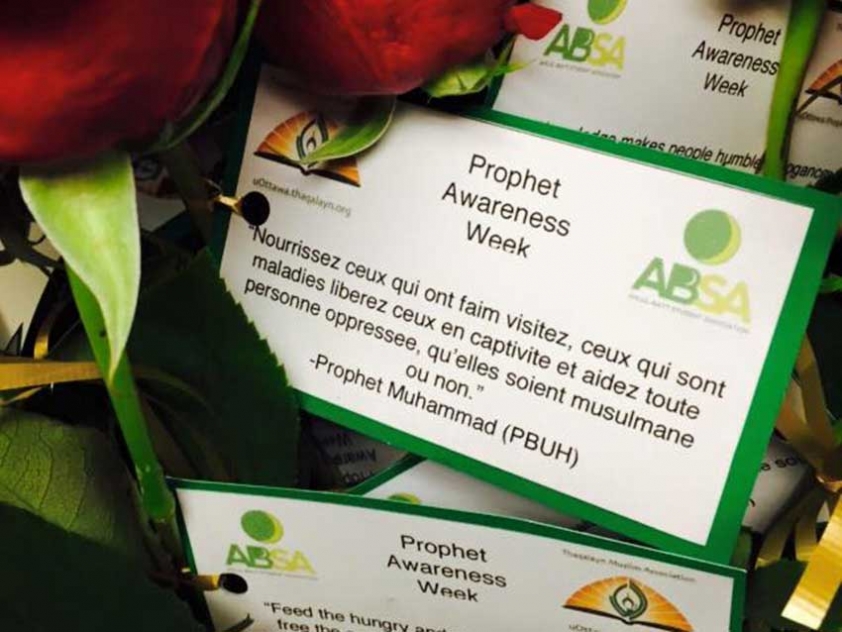 An example of wisdom from the Prophet Mohammad (pbuh) distributed to passersby on roses.
Courtesy of ABSA
26
Jan


2015
Ottawa student campaign spreads knowledge about Prophet Muhammed (pbuh)
Written by Maha Ansari
The Ahlul-Bayt Student Association and the University of Ottawa Thaqalayn Muslim Association spent the past week teaching students about the life of the Muhammed (PBUH), one of Islam's revered prophets.
From January 12th to January 16th, the student groups used a giveaway and information station at the University of Ottawa's central campus to spread knowledge about the prophet. Student volunteers distributed free hot chocolate and held a bake sale to support "Charity: Water," a non-profit organization. Students also distributed information pamphlets about the Prophet and offered passers-by quotes by the Prophet attached to roses.
The Ahlul-Bayt Student Association (ABSA uOttawa) and the University of Ottawa Thaqalayn Muslim Association (TMA Ottawa) are Shi'a Muslim clubs at the University of Ottawa. TMA Ottawa is the student chapter of a national Islamic organization.
Muslim Link caught up with organizers of Prophet Muhammed Week to learn more about the campaign and its purpose. We spoke to ABSA uOttawa President Mouhammed Halawi and Fatima Osseiran, volunteer with ABSA and TMA. TMA Ottawa president Maytham Khatheer was also interviewed.
In the wake of events such as the Charlie Hebdo shooting and the bombing of a school in Peshawar, the media has been flooded with stories of people committing acts of violence in the name of Islam. Do you see Prophet Muhammed Week as an opportunity to spread knowledge about a side of Islam that contradicts the perception of the religion as one that promotes violence?
Mouhammed (ABSA uOttawa): Absolutely. That is the one of the main reasons for organizing this event – to spread awareness and show the true meaning behind our prophet. He is a prophet of mercy for all of mankind. A lot of the misconceptions about Islam are not very well supported. They are just misconceptions based on the news that people have heard based on unfortunate events in Islam. Small things can open people's eyes and minds to show them that there is more to the picture. For example, we distributed quotes to help show what kind of man the Prophet was, and the kind of influence he has on people and on Muslims.
Maytham (TMA Ottawa): Of course. Our goal with Prophet Muhammad week was to show people that the violence, and the killing and the murder that you may see in the news is not what Muslims are about. During Prophet Muhammed week, we, the students at Ottawa U, wanted to do acts of kindness to teach people about the Prophet's character. The prophet was a man who showed kindness and generosity, so we hope people got the message.
Fatima (TMA and ABSA): Having Muslim students educating others about Islam and the Prophet (PBUH) is not only important to clarify some misconceptions others may have, but can also allow the Prophet (PBUH) to possibly inspire other Muslims and non-Muslims.
I mean, we thought why not learn [about] a man that has led a religion that is followed by a fifth of the world's population, right? Many don't know that he's one of the most influential characters in all of history, and we hope to spark interest to get students at the university to understand why.
Initially, you had planned to organize Ashura Awareness Week at this time. Why did you choose to change directions and organize Prophet Muhammed week instead?
Mouhammed (ABSA uOttawa): Usually, every year we do an Ashura Awareness Week. But this year, when we booked our location of Ashura Awareness Week, the booking time ended up close to the Prophet (PBUH)'s birthday, so we decided to organize Prophet Muhammed (pbuh) Week.
Maytham (TMA Ottawa): Ashura Awareness Week is a tradition of TMA. Every year, we set up tables and give out pamphlets in the name of Imam Hussein, the Prophet's grandson. This year however, we got a call from a local sheikh (Sheikh Mumtaz Ali), who explained that we are in the time of the Prophet. In the light of the Prophet's birth anniversary and the recent events that related to Islam, we collectively decided that organizing Prophet Muhammed (pbuh) Week would be more proper.
What are your thoughts on how people responded to the activities and events throughout the week?
Mouhammed (ABSA uOttawa): It was good. People were happy to receive roses and and hot chocolate. What I found interesting was how people responded when we gave them sticky notes and asked them what they stood for. We made a collage of sticky notes. Those sparked meaningful conversations that help us teach people about the Prophet (pbuh).
Maytham (TMA Ottawa): To be honest, I feel like this was a very successful event. A big portion of the Muslim community of Ottawa U came together to make this event happen. We had a lot of people come together. The response was great. The participants seemed happy about their free hot chocolate and we were there to answer their questions. That was the goal.
Fatima (TMA and ABSA): I have positive thoughts on how the response was this week. I think it was a nice, light-hearted opportunity to allow students to speak and ask questions about the Prophet (PBUH) and Islam. We got interesting questions, and many smiles from the free hot chocolate, the roses with Prophetic quotes, which is what ultimately the atmosphere we wanted to have, and the response we hoped to receive by students.
What do you hope that participants learned from the Prophet Muhammed (pbuh) Week?
Mouhammed (ABSA uOttawa): Anything people take from this event will hopefully be meaningful, whether it is a quote they collected, or a conversation they've have with one of our execs and volunteers. Many people think Islam is a religion of war. Our main goal was to show people that the Prophet was sent as a mercy for mankind and that Islam is a peaceful religion. Islam isn't about violence.
Maytham (TMA Ottawa): To be honest, the media's portrayal of the Prophet (pbuh) specifically is not always in the best light. We take it upon ourselves to defend the name of Islam in whatever way we can. In this case, we tried to teach and lead by example. We went in the middle of university centre and hand out chocolate. The bottom line is that participants know that the Prophet promoted peace of helping people.
Fatima (TMA and ABSA): I would hope that participants had their questions answered and misconceptions clarified. I would also hope that even students passing by receiving roses with quotes of the Prophet (PBUH) or seeing quotes from him in our area may inspire them to become better human beings.
Do you think Prophet Muhammed (pbuh) Week will become an annual event?
Mouhammed (ABSA uOttawa): Inshallah, I hope this event will keep going.
Maytham (TMA Ottawa): It could very well be, to be honest. It was a very successful event. It is, of course, just as important as the Ashura Awareness Week tradition. It is important to bring out both the names of the grandson of the Prophet (pbuh) and the Prophet (pbuh) himself. There's also MSA and they do Islam Awareness Week. We are a Shi'a Muslim club so it is up to us to take advantage of Ashura.
Fatima (TMA and ABSA): I am not sure. We usually have a similar event for the events on the day of Ashura and the aftermath that is similar to Prophet Mohammad (pbuh) Week. I would love to see that we have it again, however realistically I think that it would be nice to have a large one-day event that inspires people to research about Prophet's virtuous character.
Many know modern-day Islam, but don't know how it flourished from West-Africa to China through Mohammad's character.
What the future plans of ABSA Ottawa and TMA uOttawa?
Mouhammed (ABSA uOttawa): Hopefully we will be doing a ski trip soon. In the summer we'll be have more BBQs on campus. We are also hoping to organize a camp and invite an Islamic speaker to the camp.
Maytham (TMA Ottawa): For the most part, our mandate is always to allow the Muslims of the University of Ottawa to come together and volunteer and do the best we can. We always have the intention of serving God. As for plans, we have a few events coming up. Our next main event is a Jesus Day event. It's an interfaith dialogue between Muslims and Christians. It will happen during the second semester. We haven't fixed a date yet. We always hope to expand, to grow, and to continue to help any students that need a group to connect and identify with.
This article was produced exclusively for Muslim Link and should not be copied without prior permission from the site. For permission, please write to info@muslimlink.ca.