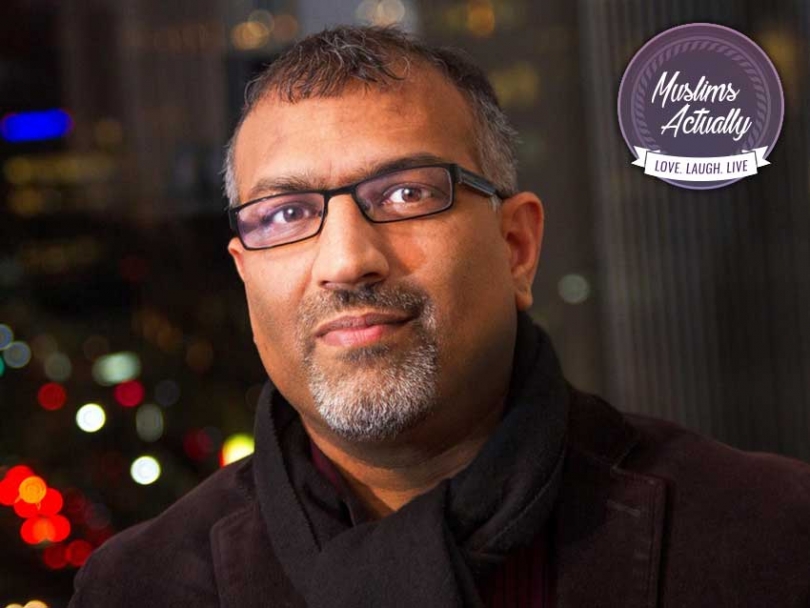 Interview with Muslim American serial entrepreneur Shahed Amanullah, the creator of Zabihah.com
01
Jan


2017
Shahed Amanullah - From Silicon Valley To Social Enterprise
Written by Muslims Actually
Shahed Amanullah is co-founder of Affinis Labs, a Northern Virginia startup incubator that focuses on businesses with positive social impacts in global Muslim communities. Through Affinis Labs, he helps to organize global hackathons to create social impact businesses as well as craft social media strategies for NGOs and governments that combat extremist narratives. As co-founder and director of the lab, Shahed Amanullah helps manage the development and launch of incubated initiatives and mentors portfolio companies to help them accelerate and grow.
A serial entrepreneur who has founded several Silicon Valley new media startups, Shahed Amanullah also serves as CEO & co-founder of LaunchPosse, a DC-based startup based at Affinis Labs that helps people leverage their social networks to shape and launch ideas for entrepreneurship.  Prior to starting LaunchPosse, Shahed served as Senior Advisor for Technology at the US Department of State, where he worked on digital diplomacy in the bureaus of Secretaries of State John Kerry and Hillary Clinton, and was responsible for building and launching the Generation Change and Viral Peace projects. Shahed also worked closely with the White House and other government agencies on social entrepreneurship, social media policy, combating online extremism, and fostering innovation.
Shahed also serves as CEO & founder of Halalfire, a producer of online content and market research for global Muslim communities. He founded Altmuslim, an online magazine with 2.5 million annual unique users, and served as its editor-in-chief for 10 years before its 2011 acquisition by Patheos. In 1998, he created Zabihah, the world's largest Halal restaurant guide, with 10 million annual users and 500,000 mobile app downloads. Shahed was also co-founder and CEO of Relatia, a venture-backed mobile software company acquired in 2001.
Shahed has written and/or been featured in pieces about technology, foreign policy, and media trends in venues such as CNN and Newsweek, has spoken at the Council on Foreign Relations and Center for American Progress, and has published essays in academic journals and newspapers such as the Washington Post and Chicago Tribune. He has been named three times (2009, 2010, and 2011) as one of the 500 most influential Muslims in the world by Georgetown University & the Royal Islamic Strategic Studies Centre in Jordan, one of the top 10 most visionary young Muslims by Islamica Magazine (2007), and the winner of the SXSW Dewey Winburne Award for Community Service (2007). He has also served on the boards of nearly a dozen national non-profit organizations focused on building stable Muslim-American identities. Shahed has a BS from UC Berkeley (where he served as Student Body Vice-President) and an MBA from Georgetown.
Where were you born and raised?

I was born in Hollywood, California to parents who immigrated from south India, in a building that now houses the world headquarters of the Church of Scientology. I spent the first few years of my life in South Central Los Angeles before moving to Fullerton, a middle-class suburb where I was one of the few Muslims.  My parents divorced while I was young, so I was raised by my father, who worked hard so that I could have a good education and childhood.  While I looked and felt different than the rest in my community (most of my neighbors where White or Korean), at no time did I feel like I did not belong, and I have warm feelings about my upbringing that last to this day.  My Muslim identity was shaped greatly by my attendance at the Islamic Center of Southern California, which was a pioneering mosque that taught young boys and girls how to be leaders and stressed an American identity that sought common ground with each other and our neighbors.  Dr. Maher Hathout, who did much to guide me as a child, often said that home is not where your grandparents are buried, but where your grandchildren will be raised.
What did you study?

I attended UC Berkeley for my undergraduate studies, which provided multiple distractions from academia in the form of daily political protests, fraternity life (I lived in a fraternity house for 4 years, never once being pressured to drink), and student government (I was elected 3 times to the student body senate and student body vice president in my last year).  My major was civil engineering – one that was thrust upon me as every male in my family was also a civil engineer.  It served me well in my future as an entrepreneur because every time I failed a startup, I could always get a job as a civil engineer while I nursed my wounds and prepared for my next venture.
What do you currently do as a career?

I have done many things during my career (in between my startups), including being a senior manager at multiple engineering firms (notable projects include the Fisherman's Wharf streetcar in San Francisco, earthquake-retrofitted buildings throughout California, and hundreds of rooftop cellphone towers in cities like Toronto, Houston, and San Francisco), a marketing manager at the World Bank, a diplomat with the US State Department, and a real estate developer in Austin. But my main love is entrepreneurship, and I have spent my happiest years building, growing, and selling companies in the technology space.  I was lucky enough to be in the SF Bay Area when the Internet was born, and I quit my job to join a startup in 1998 and never looked back.  I quickly went from working in a startup to founding one, raising millions of dollars in capital only to have the first dotcom crash take it all away.  I have since created many more companies, including Altmuslim (an online newsmagazine that I ran for 10 years before selling it to Patheos in 2011), Zabihah (the first and largest guide to the world's Halal restaurants), LaunchPosse (an app for entrepreneurship development due this year), and Affinis Labs (the innovation hub where I now work).
What lead you on this path? Did you always know that you would be a business owner?

Any entrepreneur will tell you that once you have tasted the sweetness of running your own company, nothing else will do.  There is nothing more rewarding than being your own boss.  People who have known me from childhood say that I had always talked about running a company even in the early days, so I suppose I had it in my blood.  Running your own company or organization allows you to change the world in even small ways, and for someone like me that ability is intoxicating.
How wasZabihah.comformed?

Zabihah was formed in 1998, when I was working for a startup in Silicon Valley. My friends and I would work long nights and went out late nights to eat, and I posted a list of halal restaurants on a web page for us all to use. I noticed quickly that the page was getting a lot of traffic, so I set up Zabihah to see if others would use it.  At first, the site had only 200 restaurants in the entire US, but that has since grown to nearly 8000.  It went global in 2000 and has since been put on apps for iPhone, Android, BlackBerry and Windows Phones.  10 million people use it every year, and 500,000 apps have been downloaded.  To this day, my happiest moments are when I get notes of thanks from restaurant owners who cite Zabihah for saving their business, or weary travelers thanking me for letting them know about Halal food in unexpected places.
You are now working on some new projects, how did they transpire?
I'm always looking for new ways to take my skill set and apply it to problems that have yet to be solved.  My main project these days is Affinis Labs, which fosters innovation in Muslim communities and global populations that have been passed over by other innovation and entrepreneurship initiatives.  We've only been in operation for a year, but we've already held 7 hackathons in places like Uganda, Australia, and the UAE to create new businesses, fight anti-Muslim sentiment, and create apps for social benefit.  We work closely with NGOs, tech companies like Google and Facebook, and startup incubators that help nurture the winners of our events.  We also mentor a cohort of startups at Affinis Labs that leverage Islamic values for their goods and services.  We are hoping to create an ecosystem that proves that Muslims and our values can be a source of benefits for the world.  I'm also working on another startup, LaunchPosse, that hopes to solve the inaccessible nature of much of today's entrepreneurship by helping people leverage their social networks to create new business ideas.  I started it with a colleague from business school a few years ago, and we are working on the final app now. It is one of those Ideas that I believe will change the world or fail miserably.  Aside from those, I have many more ideas that I'd like to work on, but my lack of bandwidth prevents me from doing so.
What inspires you or motivates you to keep going?
I believe that entrepreneurship should not just be about making money.  For most people, that's enough, but not for me. I believe entrepreneurship needs to have a positive social impact in order for it to be meaningful enough for me to work on. My entrepreneurship permeates my life and informs my relationships with my friends and family.  They cannot be separated. As such, those close to me see the passion which I bring to my work and see that it makes me happy, which in turn (I hope!) makes them happy as well.
As a Muslim, what role does your faith play in all that you do?

I firmly believe that Islamic values have something of benefit for humanity and can be harnessed to help the world appreciate what we bring to the world.  For too long people have seen Muslims as a source of problems – I want to prove that we can be a source of solutions.  Whether my business directly targets Muslims (i.e. Zabihah) or is more generally focused (i.e. LaunchPosse), my enterprises incorporate my Islamic values in one way or another.
As a business owner, what advice would you give to other individuals looking to get into business and/or social enterprise?

Spend as much time as you need to find your passion – it will be immensely fulfilling for you to merge with your work.  For me, I've hit the ideal space – my work incorporates my passion, it benefits the world, and it makes me money.  If you can find a career path that incorporates all three of those, you are one of the luckiest people in the world.
Were there any defining moments during your life that you would like to share with us?

I have had incredible highs in my life – working for Secretaries of State Hillary Clinton and John Kerry, selling multiple companies that I created, building tools that have worldwide visibility, etc.  I have also had incredible disappointments as well.  I have many times in my life "rebooted" my existence from scratch – questioning and reinventing everything from career to lifestyle to relationships, and it has served me well.  Never get too comfortable with your life, and never get complacent when it comes to being good to those close to you or true to your values.  Always question, reinvent, reinterpret, and explore all possibilities.  This is a life well lived.
What does success mean to you?

Success to me means being a source of happiness and inspiration to as many people as possible. There is a lot of trauma in this world, and no one person can heal it all. But those of us with privilege need to acknowledge it and use it to make the world a better place.  I don't mean just talking about it – I mean doing it.  Too many of us are satisfied with so-called "slacktivism", thinking that a hashtag changes the world. It doesn't.  Giving someone an opportunity to create a business does.  Inspiring someone to learn how to solve problems does.  Telling stories that make people happy does.  Even spending a few minutes giving kind words to someone who needs it, away from the cameras and social media, is truly worthwhile.  If you can be in a position to do all these things, you are truly successful.
Where do you see yourself in 5-10 years?

I see myself doing exactly what I am doing now, because 5-10 years ago I envisioned it.  The only difference is that my efforts will be scaled up and I will have brought as many people on board my endeavors as possible.
This article was produced exclusively for Muslim Link and should not be copied without prior permission from the site. For permission, please write to info@muslimlink.ca.