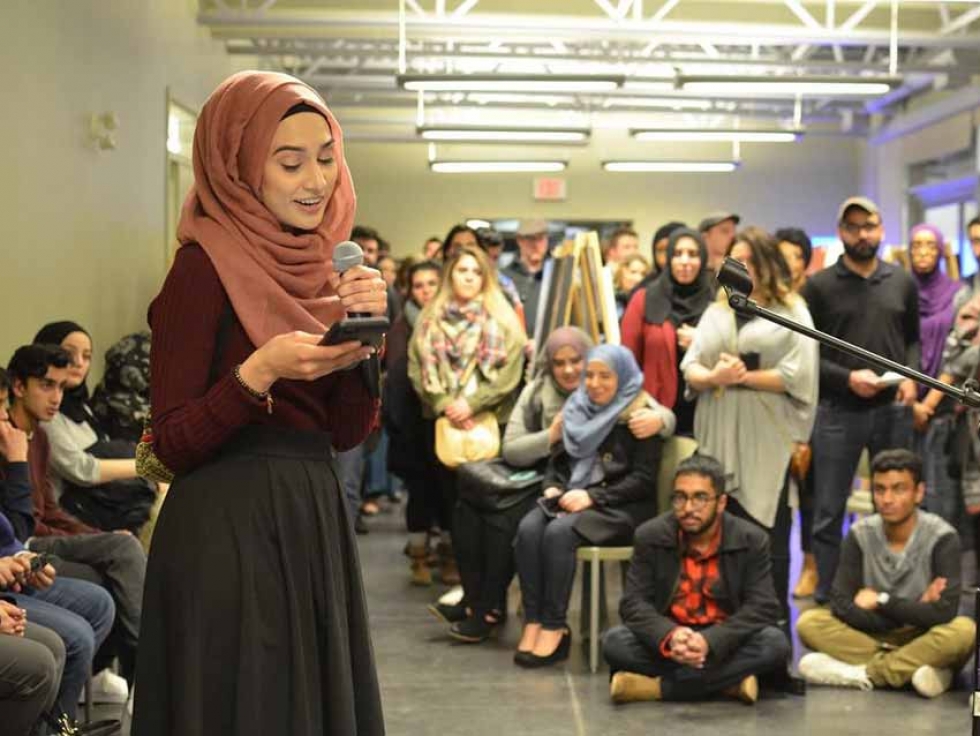 Spoken word poet Maha Malik performing at the annual Muslim Art Movement event organized by the Western Muslim Initiative in Calgary, Alberta.
Western Muslim Initiative
10
February


2019
Nurturing a Muslim Art Movement in Alberta
Written by Aicha Lasfar
Being the hub of Canada's oil and gas industry, Calgary may not seem like the sort of city that harnesses creative energy the way cities like Toronto or Montreal do. Take a second look, and you might discover that there's more to this city than meets the eye.
Last November, an event named "The Muslim Art Movement" took place in downtown Calgary. A hall was rented out where Muslim artists and creatives gathered to display their artwork.
From painting, photography and digital art to spoken word, music and film; almost every artistic medium was showcased there.
The Muslim Art Movement is one of several programs organized by the Western Muslim Initiative (WMI). It is an organization run by a board of Muslim creatives who's mission is to: "Provide a forum that explores, expresses, and contributes positively towards Western Muslim culture and encourages a diversity of perspectives on Muslims and Islam."
Muslim Link got in touch with WMI president Fadia Omar and communications director Uma Samari to learn more.
Firstly, can you tell us a little bit about yourselves and your backgrounds?
Uma: My name is Uma Samari and I'm a teacher and poet here in Calgary. I have been writing since the age of 12 and started performing at the age of 19 or 20.
I am a proud black girl; my parents are from Central America and Western Africa so I do claim a lot of those identities that comes with being from those geographic locations.
I am also an author, I have authored two collections of poetry the first of which is called "Ina Kwana" and it was published in 2016 and the second is called "Black" and it was published in 2017.
Fadia: I was born and raised in Calgary and have been here my whole life. I'm a mom; I have a three year old and I'm doing my masters in counselling part time at the University of the Lethbridge. I also work part time at a family shelter.
I've always been into art and I've always wanted to make it something more. The WMI is what helped me a lot, to be honest. When I was about 19, I went to a WMI event and I didn't know what it was. I just wanted to go see Boonaa Mohamed who was performing there. I got to this event and it was an art show where I saw all these other artists that had their artwork displayed.
You could just be an amateur artist and be displaying, and be Muslim and be displaying and it seemed like something that I could actually do as I had never displayed my art before. I remember I really enjoyed it and so I looked it up on the internet when I got home and tried to figure out how I could get involved.
What exactly is the mission of the Western Muslim Initiative?
Uma: We are a non-profit organization that is run by volunteers fo the greater community. Essentially, what we stand for is the bridging of identities to create a sense of community for Muslims but we also want to include identities in the broader community so we are open to the identities that are reflected in Calgary and Canada and what it means to be a Muslim in the West.
Fadia: For me, a lot of the focus for WMI and what it's meant to me is inclusivity. It encourages diversity of perspectives of Muslims and Islam. You don't have to wear hijab to come here. You could be ostracized from the community due to you personal choices but you still belong here.
You don't have to be from a certain background to come here. You don't have to look a certain way or act a certain way to go to an art class, but you also get a positive Muslim environment.
I have this acquaintance and he identifies as gay and Muslim and I don't' know if this community is ready for that but I feel that there needs to be spaces for everyone. You don't have to come out and talk about your sexuality but I feel like a guy like that should be able to come to our events and feel welcomed.
If you're not Muslim, you should be able to come to our events and feel welcomed. To me the most important thing is continuing to do things where you don't have to be a certain kind of person or a certain kind of Muslim to come to our events and make friends and feel a sense of belonging and community.
Why do you think it's so important for Canadian Muslims to express themselves artistically and have this forum to do so?
Uma: Providing Muslims in Calgary with a forum or a home base where their creativity is respected and accepted is crucial because most of us have grown up in this community where we are taught to be critical thinkers and taught to be creative in our endeavours.
To have an outlet or a place to display all of that is crucial because if we did not create this organization or if this organization didn't exist, our narrative will not be as strong as it is right now. Essentially what we're trying to do is to create a space for us to be ourselves, for us to be heard for us to be alive. If we don't have this, I feel like we would disintegrate into oblivion. Maybe that sounds a little extreme but that's essentially what it is; you have to fight for your narrative or else who else will?
Why is the organization called Western Muslim Initiative instead of simply Canadian Muslim Initiative?
Uma: I think that we are called Western Muslim Initiative because it's a more inclusive title. Not everybody who lives in Calgary or within our realm of influence is necessarily from Canada. Being called a "Canadian Muslim Initiative" might not necessarily be inclusive. What we know for sure is that all of us here are living the West and all of us here that are a part of the organization will have touched lives with Muslims. That's essentially what I think.
Right now, the Western Muslim Initiative has garnered a lot of attention for its art movement, but you also run other programs such as match making events. Can you tell us more about that?
Uma: The organization does come across a little bit like an art centred organization, but that was not always the case.
The reason that it's like this right now because most of the members on the board are artists and that is one thing that we share between all of us. We share what we are and because we are artists that's what we bring to the table. That's why it seems like it's art centred but we do hope to move away from that, not because we're tired of art but because we also have a lot more to offer.
We are hoping to do more activities and run more programs. We are currently running the "Make and Mingles" that are happening monthly where an artist of different background comes and teach a workshop with our help and our planning.
The matchmaking event arose because there was need for it. We are the type of organization that fills voids in the Muslim community and it's nice to create spaces where people could meet other people and socialize with other people without it being like a halaqa or something that's organized by a mosque.
Fadia: I think there's a need for a place where you can just meet somebody and not feel bad about it. Even if you don't find someone you end up marrying, you can meet other working professionals and network.
I think it's really important because sometimes you're not going to marry the first person you meet. You need to get out there and meet many people and know what you like and what you don't like and have that opportunity.
What are your hopes for the future of the organization?
Uma: I hope the WMI will become a home base in Calgary for Muslim folk and a base that is separated from the heavy religious expectations; a place where Muslim folk can just be.
Where can come and create, come and learn, come and socialize, where we can come and just chill together and have a good time.
I think becoming an organization of fun events like the "Muslim Art Movement" , the "Meet your Martch" , the "Make and Mingle" will be stepping stones for what we plan to do in the future.
Right now though, the possibilities are grand and the planning that is going on right now is very titillating so I get very excited just thinking about it.
I do hope that all of it does bring together the Muslim community an the larger community in Calgary and Alberta and Western Canada and hopefully allow us to live and survive as Muslims in the West as best as we can.
To learn more about the Western Muslim Initiative, click here.
This article was produced exclusively for Muslim Link and should not be copied without prior permission from the site. For permission, please write to info@muslimlink.ca.