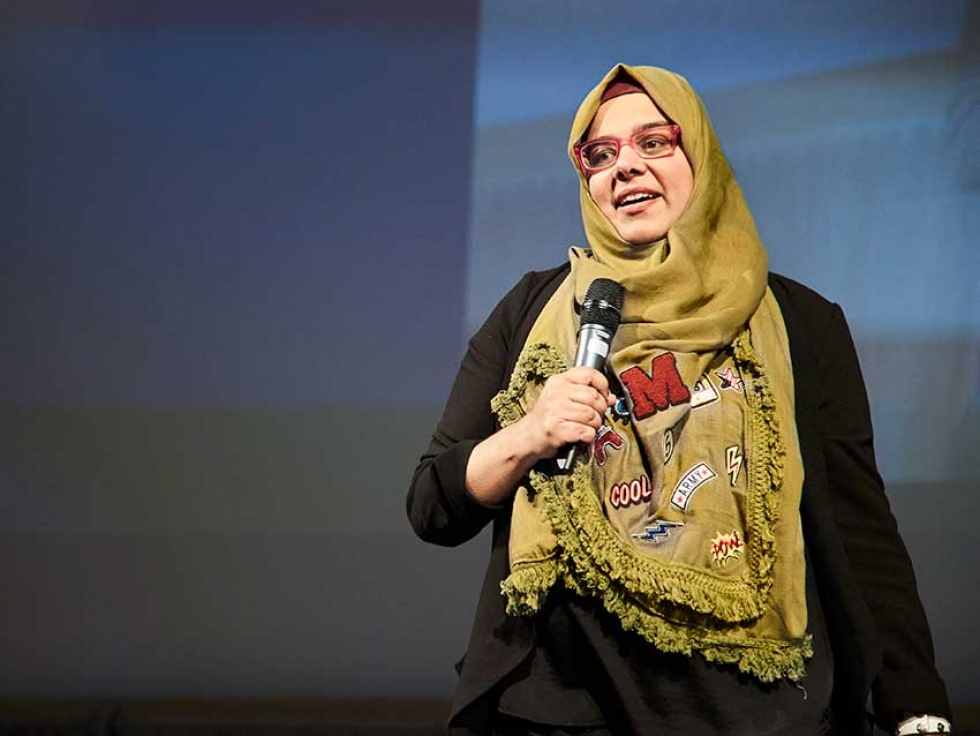 Shelina Merani will be performing stand up comedy at I.LEAD Conference in Ottawa on March 16th, 2019.
Shelina Merani
13
Mar


2019
Persevering as a Stand-Up Comedian: Learn From Shelina Merani at the Largest Muslim Conference in Ottawa This Saturday
Written by Aicha Lasfar
When one thinks about the stand-up comic scene, it tends to come across as a male dominated field and not exactly easy to break into as a Muslim woman of colour.
Shelina Merani is breaking those barriers and propelling herself forward into the industry with a flourish. She will be sharing her journey and her comedy at the I.LEAD Conference on Saturday, March 16 in Ottawa.
Mother and communications professional by day, she performs at comedy clubs on weeknights, quickly making a name for herself with her unique brand and style. Within the five years since she began in 2013, she has auditioned for America's Got Talent in New York city. A documentary about her story, "Shelina Stand-Up" aired on CBC's the National.
She has also performed several gigs around North America and is looking forward to performing at the Halifax and Winnipeg comedy festivals this year.
Born in Kenya and of East Indian background, Shelina immigrated with her family to Canada at the age of four. They landed in Calgary, Alberta where she spent her childhood before moving to Ottawa in 1997. It was around this time she embraced Islam.
Muslim Link got in touch with Shelina to learn more about her journey from union worker and activist to the world of stand-up comedy.
Firstly, can you tell us a little bit about yourself and your background?
Well, the first thing I like to define myself as is a human being.
I have worked for a union in communications for almost ten years. I have my union experience, my activism and of course now the comedy so I define myself as having multiple identities; like everyone, there are a lot of different parts to me and it can be complex, but my identity has been shaped by the immigrant experience and then of course, becoming Muslim.
Can you tell us more about your journey to Islam? How has it impacted your journey into comedy?
I embraced Islam because I needed spirituality in my life. The community - although they were very generous - gave me a message that I needed to fit in.
I used to have a cool and colorful personal style, but I had a "Cat Stevens" moment of renouncing me identity to fit in. Today I have brought all that back.
When I left for Calgary [from Kenya], my grandpa gave me this pair of red shiny boots and I've always thought about those boots as having a message: "Just be yourself, be authentic, you don't have to fit in."
My entire life has been about trying to follow that; It was a constant struggle because my parents went through this identity crisis as new immigrants. There were challenges, internally with identity, externally in terms of racism.
Drama class really helped as well as an English teacher who saw potential and talent. That was the first time that anybody had ever told me that I was good at something.
There's always been these things about me: creativity, energy and standing up for what I believe in. So that's why I refer to this journey as a "Stand up, Speak Out" journey.
Through comedy, I just want people to come into my world, to go beyond my "Muslimness" and just see me.
How did you first get into stand-up in the first place?
It all started out with Expressions of Muslim Women, they have that annual event for women to perform and they asked me if I wanted to present something. I started writing jokes every day and it all started pouring out: about spaces of worship for Muslim women, my experiences as a Muslim woman and the questions that I get such as, "What's that thing called on your head?". My answer is simple. It's called a "scarf".
What was the moment that made you want to pursue this medium seriously?
I think it was when I got this random message on Facebook from an "America's Got Talent" producer. I thought it was a joke so I didn't respond for about three weeks until my daughter said, "Mom, I think it's for real!"
Going to New York city was a once in a lifetime experience. I received great feedback from the producers. I was this nobody and they found one of my videos and thought it was really good. I thought, "Wow, do I have something here? Is there something here that I need to pay a bit more attention to?"
After that, in early 2017, I was approached to do a documentary for the CBC short docs. We did a few months of shooting and that was the other defining moment when that documentary came out and my comedy got a lot more attention.
When I do shows for the Muslim community, I'm definitely catering my jokes to them, but really my main audience is mainstream. You can go far in building bridges of understanding.
There's also a short cartoon animation of you by the CBC on YouTube, what's the story behind that?
After the documentary aired, CBC had a lot of uptake and positive comments on their social media channels so they approached me to work on an animation sketch.
I wrote the script and it was a great experience working with CBC and designers through the creative process. We received great feedback when it launched and it feels great to be immortalized as a cartoon character!
What is it about comedy specifically that appeals to you as a medium to express yourself?
I think at the emotional level, you're able to break down things easily and quickly. When you make people laugh, you disarm them right away. And I always say, making people laugh is an amazing non-alcoholic high!
In the night clubs during my shows, I just try to connect with people in a way that I wouldn't be able to any other way. It goes along with my message of our common humanity.
How are you able to maintain your confidence in a setting where you stick out like that?
When I was taking a comedy course, there was an exercise where we had to think of the first thing people notice about us. It did not even occur to me at all that it was my headscarf. My teacher said, "Are you crazy? That's the first thing people see about you."
I just thought, I have nice shoes…? I have never felt like a victim. I don't even like the term visible minority because I think it just further ghettoizes us. This attitude helps me connect with people when I am on stage.
When I walk into those places, I don't think that people are looking at me. I'm just friendly and I take it upon myself to reach out.
You're going to be performing and presenting at I.LEAD this year where the theme is "The Art of Perseverance". How will your contribution to the event reflect this theme?
My talk is going to be about perseverance, rebellion and resistance. I get into the immigrant experience, growing up in the East Indian where there's this whole concept of "shame" and how I got through that to find my voice through comedy.
I'm very happy to be performing at I.LEAD as they have made a lot of headway in being more representative of diversity and women.
Lastly, what advice would you give to young Muslims who are thinking of pursuing performance art?
If you're in Ottawa, Expressions of Muslim Women is always looking for new talent. If you feel like you've got something to say, put yourself out there and see what happens. There's a lot of power in that.
To purchase tickets to the I.LEAD Conference on Saturday, March 16th in Ottawa, Ontario, click here.
This article was produced exclusively for Muslim Link and should not be copied without prior permission from the site. For permission, please write to info@muslimlink.ca.