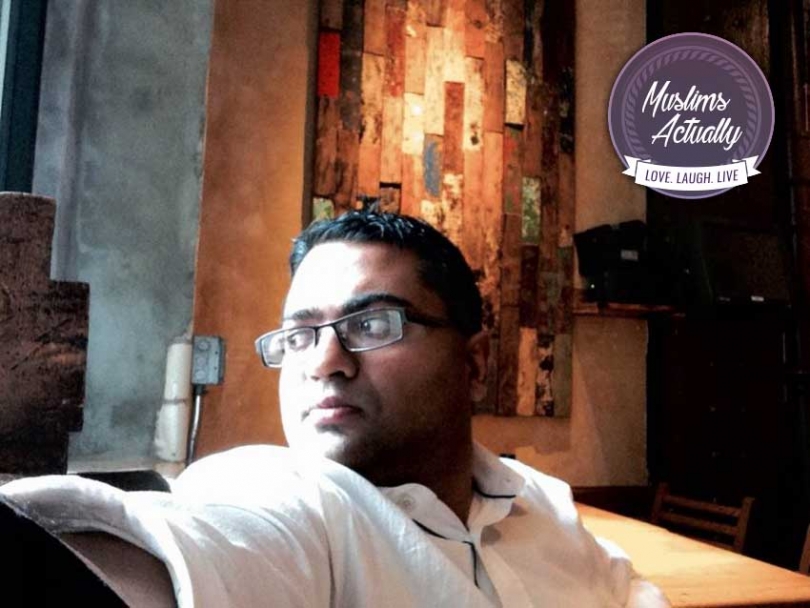 Interview with MQ Qureshi, Global Director of Digital Experience for McDonald's Corporation
01
Jan


2017
Currently working as the Global Director of Digital Experience for McDonald's Corporation, MQ loves to write, cook, travel, take pictures and mostly enjoy life. If you'd like to join him on any of these journeys, take a look at his upcoming blog here. It's still in beta, so be gentle.
Where were you born and raised?
I was born in the city of Nairobi, the capital of the beautiful East African country of Kenya on a Saturday morning, bright and early around the crack of noon. I believe this explains why I'm not a morning person.
What did you study?
I wanted to be an Architect. I got into a fairly well known program –one of the few in the United States that had an entrance exam for undergraduates– and pursued it for two years. Unfortunately a combination of life and shifting familial circumstances didn't allow me to pursue it further.
What do you do for a living?
I work in the e-commerce / digital space. At the moment, I am the Global Director of Digital Experience for McDonald's Corp.
What other initiatives or interests are you involved in or have?
I'm an entrepreneur at heart and am always working on a few things to keep myself occupied. In the past I've run a fairly successful one-man photography studio that focused primarily on weddings, but also saw me dabble into fashion from time to time. I was fortunate enough to have some of my work published, which was a personal highlight. I also love to write, although admittedly I have yet to develop the daily discipline it requires to hone the craft.
We have had the pleasure of featuring some of your recipes on our site, what inspired you to get into food and photography?
I always enjoyed grilling and that's all I did for a long time. My wife and I had an arrangement –I handled everything outside of the house, she managed the cooking inside. This suited me just fine because frankly I was intimidated by the kitchen. However, a few years ago she started traveling frequently for work and I quickly found myself bored with reheated dinners and fast food. It wasn't healthy for me or the children.
I had never found written recipes easy to follow, so I started watching YouTube videos and found a few channels that really helped take my initial fear away. I tried it a few times, didn't burn down the kitchen and the food tasted pretty good so I kept at it, and the love grew from there.
What's awesome to see however, is that my children have shown an interest in cooking as well and they frequently act as my helpers. It's very fulfilling to see that and I hope this shared activity of cooking together blossoms into a lifelong family tradition.
Cooking good, tasty food doesn't need to take a lot of effort or time. There are so many tools out there on YouTube that can get you started. Just have a healthy sense of adventure and don't worry about making mistakes. You'll do fine.
With all that you do, how do you find the time to balance life and family?
We try and involve the kids in almost everything we do. When I'm cooking, they're my helpers –and I try to make it fun for them. When shopping, I get them to pick out ingredients or new fruits or vegetables that we can cook with. I think the key is to do things together.
A little while back I was doing Yoga and they came down and started climbing over me. I was on the verge of getting upset and I thought –wait, this is a great opportunity do something with them, why would you throw that away?  I turned it into a game and they really enjoyed it. They don't join me all the time, but a couple of times they've wanted to do the moves with me and I think that's positive.
What role if any has family played in your success to date?
What are we without family?
My mother is a source of strength, and although we cross swords of religion more often than not, she has a resoluteness that I admire and learn from.
My father passed away a year and a half ago. I think about him often and his enduring counsel to us –nothing should flow from you except love. That's pretty good advice, and with every passing day I realize this wisdom in it.
My sister has always been my greatest champion and I know I can count on her 1000%. Everyone should have someone like that in their lives and I'm very lucky I have her.
My brother and I have a complicated relationship. Growing up, I admired him like a father figure and as a child I tried to model myself after his easy creativity and his natural, friendly personality –things that didn't come easily or naturally to me at all. Events in recent years had pulled us apart a great deal but of late we are trying to reconnect and make an effort with each other, so that's a step forward.
My wife is my best friend and no matter how bad I'm feeling about something, she always finds a way to make it better. She's strong and she's patient and I love making her laugh, though over the years it's become harder as she's heard most of my awful jokes. "What did Jay-Z call his wife before they were married? Feyonce". (Hahaha)
My children are my life. I live to see them smile. And when they cry, I try to let them know that even if I don't always have the answer, I'm there for them and I'm there with them.
How does faith play a role in your life?
I'm not a very religious person. I lead a fairly liberal lifestyle and I'm quite open about it. I don't push my ideology on anyone and request that nobody push theirs on mine. I understand faith is a source of guidance and strength for many, but even when I was young and performing the rituals I came to realize later that I was doing so to please others or just to fit in. It never really spoke to me and I try not to worry about it these days.
Those that know me and love me will continue to do so and I suppose that's all that matters.
What advice would you give anyone whose interested in pursuing a career in the food or photography / film industry?
Just do it. Have a sense of adventure, and actively seek out tools and people who can help you.
Most of all though, don't have a fear of failure and don't let your perception of others success against your own perceived lack of progress get you down. There's a lesson in every setback and think of it just as another tool to help get you forward. Everyone has their own journey and yours will be at a different pace than someone else's. Keep moving.
Where do you see yourself in 10 years?
At a table, outside on a beautiful summer evening, surrounded by friends. Children's laughter in the background and some great food cooking nearby and being passed around. Stories being told, life being shared. Peace. Love. Friendship.
This article was produced exclusively for Muslim Link and should not be copied without prior permission from the site. For permission, please write to info@muslimlink.ca.