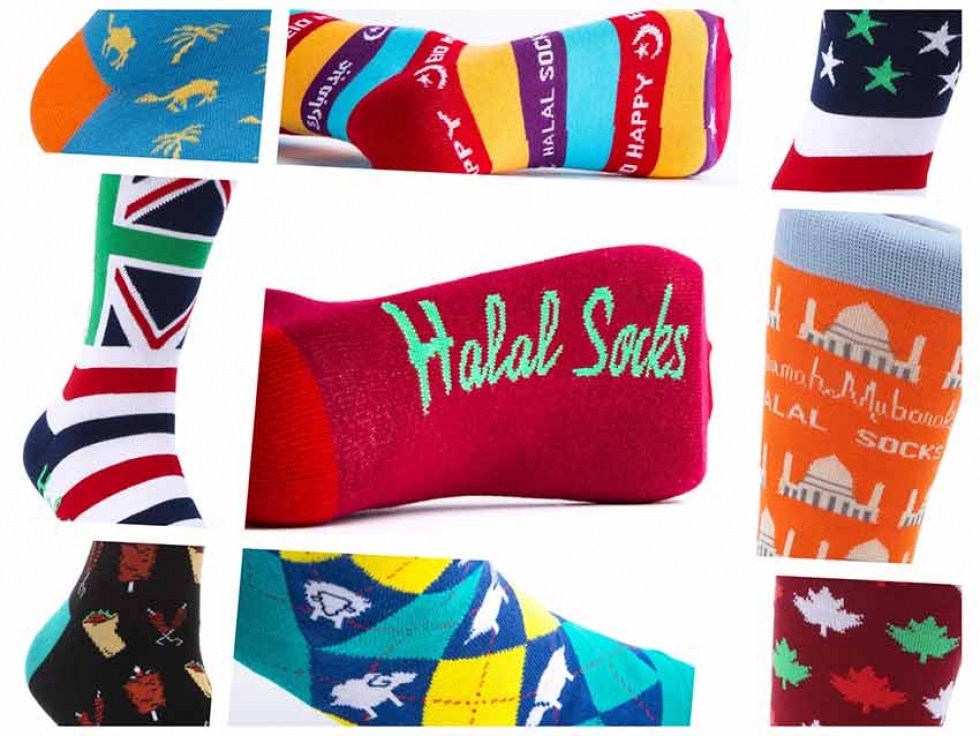 Halal Socks: A Unique Muslim Canadian Brand
25
Jul


2018
Halal Socks: A Unique Muslim Canadian Brand
Written by Staff Writer
With a name that sounds like a fatwa on footwear, Halal Socks is a company that makes colourful, festive, Muslim-themed socks that aim to celebrate Islam and fight Islamophobia. Founded by Toronto couple Sherry and Sara Qureshy, the brand was launched into the international limelight last year when Prime Minister Justin Trudeau wore their Eid Mubarak socks to the Pride Parade (the parade happened to fall on Eid ul-Fitr). The story was picked up by news outlets around the world and Halal Socks got a publicity boost that a start-up can only dream of.
From a Series of Start-Ups
Like almost any success story however, it didn't come overnight. "Halal Socks was actually not our first start-up, " Sherry revealed, "It's actually our eighth. Alhamdulillah (Thank God), with each startup we learnt something new - learning from past experiences, mistakes and what not to do."
After seven attempts at building a business based on software and apps, Sherry and Sara were ready to switch gears and try something else. They didn't know what their next venture would be but whatever it was, they wanted it to make a meaningful contribution to the community.
"One of the biggest influences in our lives are our parents," Sherry explained, "Both Sara and my dads are very involved in the Muslim community. They're part of different masjid committees. We always wanted to get involved with the community, to give back somehow, but we didn't know how or what."
Scepticism About Socks
Then in 2016, just before Eid ul-Adha, Sara had an idea to get Sherry "Eid Mubarak" socks for Eid. After searching and not finding anything she complained to him that she couldn't find what she was looking for. "It was supposed to be a surprise for me but then it wasn't -- because she told me," Sherry joked, "But then we discussed it and I said, 'It's not a bad idea…but maybe there's an issue with having stuff on the feet. Maybe feet is not an area to go into.'"
In some places, pointing your feet at someone is considered insulting. Throwing shoes and stomping on symbols are often a form of protest. Putting writing on socks, which go on your feet might not be acceptable to some people. Given the lowly position of feet in many cultures they ventured forward with trepidation.
They sought advice from a diverse group of imams. "We talked to about seven or eight masjids. We altered some designs based on the feedback we got. Overall there were no issues with the designs. Stars, moons and crescents and even Eid Mubarak written in English and Arabic was totally fine," Sherry said.
With that guidance and go-ahead from religious scholars, they prototyped some designs.
Halal Socks at the Pride Parade
As part of their market research, they also ran the idea by prominent Muslim businessmen and politicians. One such politician was member of Parliament Omar Alghabra.
"Everytime we would meet with someone, we would talk about our idea, what we wished to do and then after getting their feedback on the designs would gift a pair of Halal Socks."
"In the meeting with Omar Alghabra, I remember we walked out saying, 'How cool would it be if Trudeau wore it?'"
Although he didn't promise anything at the time, Alghabra put that suggestion into action and gifted a pair of socks to the Prime Minister. Days later, the socks were all over the news as Prime Minister Justin Trudeau wore them at the Pride Parade in Toronto.

"We couldn't believe in our wildest dreams that the prime minister would be wearing our product!" Sherry recalled. "People talk about the American Dream. Alhumdulillah this was our Canadian Dream. We got coverage from Toronto Star, Time Magazine, Washington Post, NY Times, and other media outlets such as BBC, RT and Al-Jazeera. People could not believe that Trudeau was wearing Eid Mubarak socks at the Pride parade."  
Having just started their business though, they weren't completely ready for this level of attention. When the news broke, their servers crashed.
Fighting Islamophobia
The publicity didn't only generate sales, it also brought comments and responses from people all around the world. One email they got, which was particularly touching came from a veteran in Nova Scotia. He said, "I didn't know about Islam before but I saw the socks that Trudeau wore. And because of the socks, I know about Islam."

This ability to get people thinking and talking about Islam is one of the unique features of Halal Socks. "They're great conversation starters," said Sherry, "When I'm wearing the socks people will often look at the Arabic and ask 'What does that say?' And that's my two minutes of da'wah (sharing Islam): either about Eid, Ramadan, or Islam in general. Because of this education, we felt this was a way of educating people and fighting Islamophobia."
Popularity with Canadian Politicians
The fun and playful nature of the socks have also made them popular as gifts to non-Muslims. "What's interesting is that people are buying our products to give to these leaders at different events. We're quite pleased that Halal Socks has become something that people feel comfortable giving as a gift from our community. We've also had pretty consistent support from all the levels of government and all parties" Sherry said.
Giving Back to the Community
Along with fighting Islamophobia, Halal Socks aims to give back to the community. They've partnered with a number of charities, using their socks to raise money, raise awareness and encourage volunteers.
They have made custom designed socks for Islamic Relief, Project Ramadan (the food basket program to help the needy), Smile (an organization the supports families with special needs children), as well as Muslims organizations such as the Muslim crowdfunding platform, Launch Good.
This past Ramadan, they also partnered with the Ramadan Rangers. Through selling baked goods, lemonade, bookmarks, tasbeehs, bracelets and Eid card, this group of children had collected $27,000 to give to a local shelter in Burlington as well as Nisa Homes and Sakeenah Homes. Here, as an encouragement for the kids, Halal Socks gave them Happy Eid socks.
"We're trying to be an integral part of the community. We feel that part of celebrating Islam is celebrating who we are and helping our own," explained Sherry.
Celebrating Islam
The socks also celebrate Islam through their designs. Several of the sock designs are specific for Muslim celebrations. There's a Jumah Mubarak sock, a Ramadan sock, as well an everyday Mubarak sock. They have several different Eid socks, including one especially for Eid ul-Adha with sheep in an argyle pattern, called Eid Mu'baa'rak.
Another theme in their collection is unity and solidarity. They have a star and striped US Muslim Solidarity design with green and white stars, with "United We Stand" woven into the sock. For the British, they have a similar Union Jack design with a green stripe through the middle. For Canadians, they have a Solidarity sock with red, white and green maple leaves decorating the cuff and the message "In Solidarity We Stand" woven into the sock. This particular pair was released this past January to commemorate the one year anniversary of the Quebec Mosque shooting and 50% of proceeds from the sale of this sock were donated to Quebec Mosque victims and their families.
Last year, they started making food-themed socks showcasing some of the favourite foods of Muslims in Canada. "I saw someone wearing bacon and eggs socks and thought to myself, now those are totally haram'" Sherry explained, "So the idea came that we gotta make halal food socks."
So far, they have Samosa 'N Chutney, Chai Tea, Kulfi and Shawarma socks. The Shawarma socks impressed the owner and founder of Paramount Fine Foods, Mohamad Fakih, that as soon as he saw them on Facebook, he asked to have a few pairs. Fakih later gifted one to Justin Trudeau.
Criticism
The publicity arising from the socks' international debut at the Toronto Pride parade also came with criticism. Although the overwhelming majority of the feedback was positive, there was a vocal minority who had other opinions. Some accused Halal Socks of making rainbow-themed pro-pride socks. "The concept behind the colours in the socks was to showcase the diversity of Muslims. We come in all types of colours shades and all types of sizes. But combined we are one. And we all celebrate Eid," explained Sherry.
In general, some people have also expressed disapproval at using the term 'Halal' (permitted) or having words and Islamically or culturally significant symbols printed on socks. They don't feel it's right to be stepping on words or symbols or to have them on your feet. Aside from Eid Mubarak, some socks have 'Halal Socks' printed on the soles and there are crescents, stars and a mosque woven into some socks.
Sherry and Sara do their best to explain and respond to criticism. Often times, they're even able to convert critics to customers. And ultimately, even if they don't, they're ok with it. "Sara and I grew up around the masjid, we're part of the community, we'd never make fun of Islam."
They've already seen some of the positive impact the socks have had. "If what we're doing even helps one additional person to know about Islam," said Sherry, "Alhamdulillah, it's definitely a step in the right direction."
This article was produced exclusively for Muslim Link and should not be copied without prior permission from the site. For permission, please write to info@muslimlink.ca.