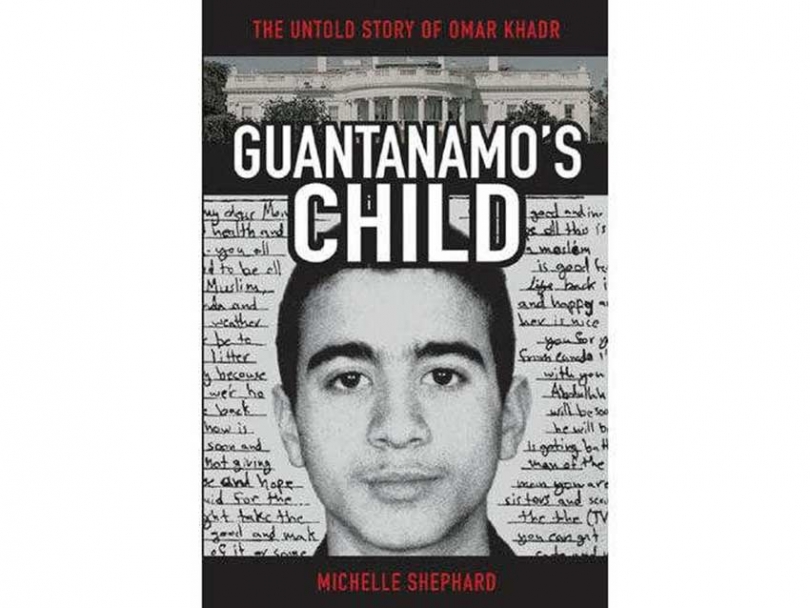 Photo credit: faisalkutty.com
23
Jul


2011
The subtitle of Michelle Shephard's book, Guantanamo's Child: The Untold Story of Omar Khadr, seems a little misleading. How can this be an untold story when news about the Khadr family has been splashed across Canadian and international media?
But the subtitle is accurate. Though the Khadrs have received much news coverage, especially in Canada, not many know the family's full story.
Ms. Shephard is an award-winning journalist who has covered Omar Khadr, for the Toronto Star since the beginning of the Khadr saga. Frustrated that Canadians were not getting the real facts about Omar Khadr, she delved beyond the major details of the case and has produced a gripping, thoughtful and rich account of a Canadian-born boy trapped in the American war against terror.
Guantanamo's Child: The Untold Story of Omar Khadr
By Michelle Shephard
Published by John Wiley and Sons Canada, Ltd.
270 pages
Guantanamo's Child is a sweeping narrative that reconstructs the life of Omar Khadr, from his childhood spent traveling between a Canadian suburb and Peshawar at the height of the jihad against the Soviets, and into Afghanistan and the homes of Osama bin Laden and al Qaeda's elite.
This is not just the story of a 15-year-old Canadian who made history as the youngest-ever defendant tried for war crimes. Based on extensive research and interviews with those connected to Omar's case throughout Canada, the United States, United Kingdom and Pakistan, as well as intensive research at Guantanamo Bay, Michelle Shephard tells the unknown stories of the lives of the U.S. soldiers whom Omar fought and those who knew him in custody. She also delivers an intimate portrait of Omar's parents and siblings, once called "Canada's First Family of Terrorism," and their escape from Kabul after the 9/11 attacks.
Omar Khadr was in a compound in Afghanistan that US soldiers attacked in July 2002. It is alleged that he hid himself (rather than surrender) and threw a grenade that fatally wounded US Sgt. 1st class Christopher Speer. Different versions of the incident have emerged, some casting doubt that the wounded youth even hurled the grenade. The public perception is that he did. Badly wounded, he was captured by US forces, provided medical treatment and ultimately taken to Guantanamo Bay. After years of detention he has pleaded guilty "" some say he did so because he felt that is the only way he could possibly get out of Guantanamo Bay. Canada refuses to repatriate him.
Omar's plight, and that of his family, results from the passions of his father, Ahmed Said Khadr. The Egyptian migrated to Canada in 1975, studied, married, got a comfortable job and spent his time raising a family and being active in the Muslim community. The Soviet invasion of Afghanistan in 1979 changed Ahmed Khadr's life and that of his family. He saw it as an assault on Islam and dedicated his life to helping the Afghan resistance. He took his family to Afghanistan, raised money for the Afghan resistance and helped the Afghans, becoming a close confidant of Osama Bin Laden.
The Russians left Afghanistan in 1989, but Ahmed Khadr stayed on, hoping to help build a state that conformed to his strict views. In 1995, Pakistani authorities arrested him for alleged involvement in an attack on the Egyptian embassy there. Yet, visiting Canadian Prime Minister Jean Chretien saw him in a Islamabad hospital, where he was on a hunger strike, and pleaded on his behalf with then Prime Minister Benazir Bhutto. Some months later, a Pakistani judge found no "legal evidence" of the charges against Ahmed Khadr and released him. He then went to Afghanistan and was killed in October 2003 when US planes pounded his area.
Omar Khadr was detained not only because the Americans charged him with hurling a grenade that killed an American soldier but also because Americans hoped to retrieve from him useful information about Al-Qaeda. They interrogated him endlessly because of his father's closeness to Osama Bin Laden and Al-Qaeda leaders as well as his own contact with them even though he was just a young boy. Omar, like other prisoners, was also tortured. For example, one day he was left in the interrogation booth for hours, his hands and feet tied to a bolt so that he was unable to move. He ultimately urinated, so guards poured Pine-Sol oil cleaner on his chest and the floor and used him as a human mop to clean the mess.
When Americans shipped foreign nationals to Guantanamo Bay and kept them there for lengthy periods, the governments of those prisoners pressed the US to release them for trial at home. Successive Canadian governments did no such thing for Omar. Guantanamo's Child goes behind the scenes in Washington and Ottawa to reveal how Canada has supported Khadr's detention while countries worldwide have condemned the offshore prison and demanded the repatriation of their citizens.
The Khadrs on the other hand, didn't return to Canada, except for brief periods to raise funds or receive medical treatment. Zaynab Khadr and Ahmed Khadr's wife, Maha Elsamnah, frequently badmouthed Canada to the Canadian media, making Canadians wonder why they had come to Canada in the first place and why they didn't leave the country for good and settle in a Muslim country.
Ms. Sheppard chastises the Khadrs but also the US for its violations of the rules of war and international conventions on the treatment of child prisoners and prisoners of war and details Canadian complicity in such a treatment.
As Michael Ratner, President of the Center for Constitutional Rights, New York, stated: "You will be shocked, saddened and in the end made angry at the story this page-turner of a book exposes. I read it straight through, and Omar Khadr's plight is one you cannot forget."
Mohammed Azhar Ali Khan is a retired Canadian journalist, civil servant and refugee judge.  
This article was produced exclusively for Muslim Link and should not be copied without prior permission from the site. For permission, please write to info@muslimlink.ca.