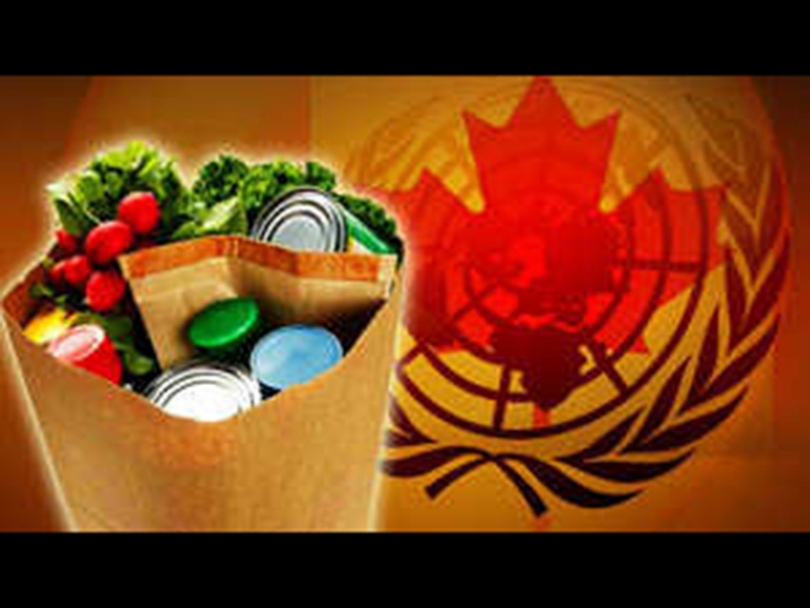 Photo Credit: cfne.org
08
June


2012
Canada has traditionally supported the United Nations as the best vehicle, however imperfect, for promoting world peace, justice, human rights and prosperity. The UN, for its part, ranks Canada as among the finest countries -- currently the sixth.  But now the two are arguing over poverty and hunger in Canada.
The UN Special Rapporteur on the Right to Food recently visited Canada, the first developed country on his tour of inspection. His 11-day investigation into food security in this country produced a scathing report that expressed "extremely severe" concerns about the ability of aboriginal people and families on social assistance to afford the food they need to stay healthy.
"People are simply too poor to eat decently," Olivier De Schutter said, not mincing words.
"Canada has long been seen as a land of plenty. Yet today one in ten families with a child under six is unable to meet their daily food needs. These rates of food insecurity are unacceptable, and it is time for Canada to adopt a national right to food strategy," he said.
The envoy met people in several cities and in Aboriginal communities but was given the cold shoulder by cabinet ministers. Health Minister Leona Aglukkag, conceded to last-minute meeting with Mr. De Schutter, but called him "ill-informed and patronizing", and said he should tackle environmentalists who are trying to block Inuit access to seals, polar bears and fish in the North.
Immigration Minister Jason Kenney said he thought Mr. De Schutter's observations were: "completely ridiculous."
"Canada is one of the wealthiest, most democratic countries in the world... We believe that the UN should focus on development in countries where people are starving and we think it's simply a waste of resources to come to Canada to give them political lecturing," Mr. Kenney said.
Food is a fundamental human right under the 1948 Universal Declaration of Human Rights, the 1966 International Covenant on Economic, Social and Cultural Rights and other UN instruments. According to the UN right-to-food envoy, Canada is flouting its international human rights obligations by ignoring the needs of 800,000 households (about 2.5 million Canadians) who cannot afford proper meals.
"What I've seen in Canada is a system that presents barriers for the poor to access nutritious diets and that tolerates increased inequalities between rich and poor, and aboriginal (and) non-aboriginal peoples," Mr. De Schutter said.
He urged Canada to adopt a national food strategy that would emphasize local food production, reform food subsidies for the North, ensure a living wage for low-income people and harmonize attempts to deal with hunger across the country.
Mr. Schutter's message may have been dismissed by the Tories, but was well received by the opposition.
I think Canada has no excuse to have millions of people who cannot feed themselves adequately. We are one of the richest countries in the world and it's unacceptable that we have hundreds of thousands of elderly people who live in poverty and can't feed themselves. It's unacceptable that in a country as rich as Canada we have children who go to school on an empty stomach," Thomas Mulcair, NDP party chief and leader of the Opposition said.
Liberal Party Interim leader Bob Rae said the government should recognize the problem of poverty in Canada "rather than attacking the person who delivers the message", while Assembly of First Nations National Chief Shawn Atleo thanked the UN envoy for consulting First Nations and highlighting their plight.
A recent First Nations survey indicates that 17.8 per cent of First Nation adults aged 25-39 and 16.1 per cent aged 40-54 reported being hungry. This compared with 7.7 per cent of other Canadians.
"As Minister Kenney pointed out, we are a wealthy nation with a high standard of living and Mr. De Schutter was right on that our privileged status makes it even more unacceptable that 1 in 10 families with a child under 6 are food insecure," commented Elizabeth May, Leader of the Green Party of Canada.
The UN envoy also lamented growing obesity in Canada, saying more than one in four Canadian adults is obese, a rate that costs at least $5 billion a year in health care costs and lost productivity.  
This article was produced exclusively for Muslim Link and should not be copied without prior permission from the site. For permission, please write to info@muslimlink.ca.