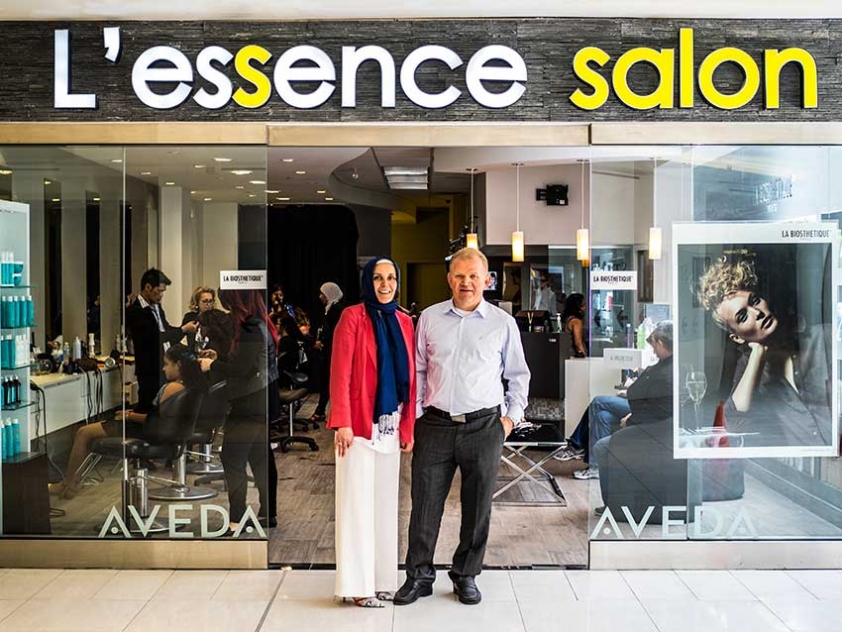 L'essence salon is the latest entrepreneurial adventure for Turkish Canadian couple Mustafa and Selma Elevli.
M. Ghanim
23
June


2015
L' essence Salon: Offering High Quality Hair Care to Hijabis in Ottawa
Written by Chelby Daigle
L'essence salon is the latest entrepreneurial adventure for Turkish Canadian couple Mustafa and Selma Elevli. Muslim Link sat down with the couple to talk about their beauty salon and the lessons they have learned over their years as a business-owning family in Ottawa.
L'essence aims to be a chic and trendy one-stop shop beauty salon offering services such as hair styling, makeup, manicures, pedicures, waxing, and threading. Designed to be "hijabi-friendly", the salon uses curtains to accommodate those who need more privacy while maintaining an open-concept floor plan. Located in St. Laurent Mall, which offers free parking and is along a major transit route, the salon is both convenient and accessible.
But why did a family known for owning coffee shops and grocery stores decide to open up a beauty salon? "When we opened the salon, we met a supplier who asked us if we were hair stylists," Selma shared, "We said no. He was shocked. 'Wow, what guts you have!' he told us."
Mustafa felt that opening up a beauty salon with no experience was worth the risk as he felt that there was an underserved market in Ottawa looking for high quality hair care and makeup services—hijabis. Although the salon offers services for everyone, it has been consciously structured to accommodate women who wear hijab. Selma herself has been looking for a salon like this for years. "All those years, I have been going to people's houses to get my hair done. It is not convenient. So why not open a salon that serves hijabis?"
When a location in St. Laurent Mall became available, the Elevlis felt it was the perfect opportunity to open a hijabi-friendly salon, even if they would be starting from scratch and converting a former clock store into a beauty salon. Mustafa and Selma then set out to become experts on hair care and makeup lines. "We did a lot of research," Mustafa said. This research led them to choose high quality and relatively environmentally friendly product lines despite the lower profit margins.
"If I like to use a healthy product on myself, then that is what I should sell to my customers," Selma explained, "I'm not here to make a big profit. Before we opened the salon, we had suppliers lined up to sell us their colour lines and products. These were often much cheaper and we could make a higher margin on them. But when we did our research, we discovered that a lot of these products are not good for you. Some could even melt certain plastics. Why would you put that on your hair?"
L'essence salon offers high quality hair and makeup products from companies such as La bioesthetique and AVEDA, a company which offers plant-based beauty products that are environmentally responsible.
"At the end of the day, we want our customers to feel good and come back," Mustafa shared, "People will know if you are using cheap products. We want to build customer loyalty so you have to offer quality service and quality products."
Most of the stylists who started working with L'essence in the beginning did not have experience using these product lines and were somewhat dubious about the Elevlis' choices. However, when they received the required training on how to use the products, they soon realized that Mustafa and Selma , although completely inexperienced in the beauty business, had made some good product selections.
"Many of our stylists came to our salon with their own regular clients," Selma explained, "These clients started complimenting them on the new products they were using because they could tell that they were better quality."
Mustafa is happy to say that most of the stylists they hired when they first opened the salon two years ago are still with them. "You often see a lot of turnover of stylists at hair salons. We don't want that. In this business, it is all about personality and character. People want to be served by people they are comfortable with."
Many of the stylists and the makeup artist currently working at the salon were handpicked by the Elevlis for their talent and reputation. "During our research, as we learned about the hair care and makeup business, if we met people we thought were talented, we would try to get them to work for us. When we have eyes on good people, we don't leave them alone," Mustafa explained.
Most of the stylists hired by the Elevlis came from Muslim backgrounds or had lived in the Middle East. So they were familiar with Muslim culture and the special needs of women who wear hijab. For those who were not, such as the salon's lone male stylist, Selma has worked to educate them and now feels confident that everyone on her team can offer women who wear hijab the respect and understanding they deserve.
Selma is also pleased to say that many of the stylists have even become good at incorporating hijabs into their styles, which is popular for weddings, particularly with "up-dos".
As the wife of a serial entrepreneur, Selma is used to working and managing many of the Elevli family businesses; so far l'essence is her favourite. "It is hard work but it is less stressful than other work I have done because you are making people happy," she shared, "You see the clients coming in stressed and you see them leaving relaxed and smiling. It makes you feel good."
Another way the salon works to accommodate the needs of its clients is by being mobile. For weddings and other functions, stylists and makeup artists from l'essence can come to clients' homes or hotels. Selma has found this to be a very popular option for wedding parties in the community. "It is just more convenient than having to get everyone to come to the salon," she stated.
As the salon's clientele grows, the Elevlis hope to expand their hijabi-friendly section in order to more easily accommodate large numbers at the same time.
So far, the Elevlis feel that they have been successful with l'essence, as with their other businesses, by putting the focus on customer service, something which Mustafa has learned to prioritize over his years as a business owner in Ottawa. "I want to make sure that I do a good job so that my customer comes back. I want to put in 100% of my effort so my customer is happy. If you want to succeed you have to work hard. You need to put in long hours," he explained.
Both Mustafa and Selma also feel that any business owner needs to be ready to do the work themselves.  Just as they decided to do the research needed to understand the beauty industry and not hire someone else to do it, Selma emphasized that "you have to be ready to get on your hands and knees." "If you have this idea that you can own a business, wear a suit and just be the boss, that doesn't exist in the real world." When Mustafa owned a cleaning business, if a cleaner called in sick, he would go in and do the cleaning. "Just because I was the boss doesn't mean I couldn't clean the washrooms," he stated.
But the couple also feels that a key to their success has been their family. Their advice to entrepreneurial families is to always remember to respect one another. "It comes down to mutual respect," Mustafa shared, "Family values are important. If you don't have a happy family, there is no way you will succeed in business." Selma has been an integral part in the managing of many of the businesses Mustafa has set up. "We are a team," he stated. "But this means that I also have to do my part. She works hard and I work hard. So, if I'm at home, I can wash the dishes, I can cook," he explained, "If you want to work as team, you have to break that stereotype that some work is only women's work. If I had to change babies' diapers, I changed babies' diapers."
"I am so grateful to Allah that he gave me a husband like this," Selma stated, "You have to support one another."
The Elevlis feel that that sense of team work is also important in their salon. "You can't do this with just one person. You need everyone's skills," Mustafa stated.
The couple will continue to work hard with their team of stylists to make l'essence a unique and innovative beauty salon which caters to the hip and stylish members of Ottawa's growing Muslim community.
This article was produced exclusively for Muslim Link and should not be copied without prior permission from the site. For permission, please write to info@muslimlink.ca.