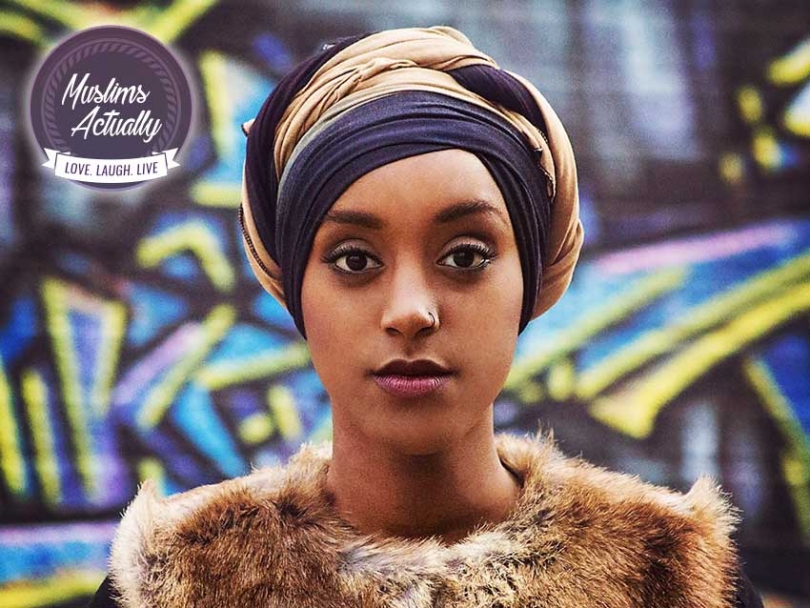 Eman Idil Bare is an award-winning Canadian journalist. She is also a fashion designer who recently launched her own brand focused on ethical fashion
Hekmat Alphin
12
Apr


2017
Eman Idil Bare: On Faith, Fashion, Racism, and Slaying It as a Muslim in Journalism
Written by Muslims Actually
Eman Idil Bare is an award-winning Canadian journalist. She is also a fashion designer who recently launched her own brand.
Muslim Link had the opportunity to interview Eman about growing up in Saskatchewan and about her work writing, which covers topics as diverse as youth radicalization, modest fashion, and anti-Black racism within Muslim communities. We also discuss with her how she is finding her footing as an entrepreneur in the world of ethical fashion.
Tell us about yourself
I'm Ethiopian/Somali and grew up in Regina, Saskatchewan. My parents came to Canada in the 80's and chose Saskatchewan as their home because of its quiet charm. I work for CBC News, Muslim Girl, and Teen Vogue and I own my own fashion company called "Eman Idil." 
What was it like growing up Black and Muslim in Saskatchewan?
Most of the racism I experienced growing up was actually from the Muslims in my community, and the Islamic school I went to - Saskatchewan was never the issue. I actually stopped going to the mosque very early on because the behaviour that I saw there was nauseating, and so unIslamic. Even in the cultural communities I grew up in, it was always the women who wore abayas and chastised little girls who didn't wear hijab that were the meanest. From the backbiting, to the anti-blackness, it really confused me why these people were allowed to go to the mosque or represent Islam in anyway. It's like no one ever taught them that a hijab doesn't make you Muslim, it's your character.  When I was younger, and I would get so frustrated about how awful the people in my community were, my mother would always remind me that Allah swt sees everything. And now I look at where I am, and where they are and I say Alhamdulilah, because Allah swt is the most just. 
When did you know you wanted to be a journalist? How did your parents respond?
I've always known that I wanted to be a journalist, so it was never really a decision. I used to watch Oprah and CBC News obsessively and practiced my stand-ups in front of the mirror. But anytime I told my parents I wanted to be a journalist, they told me I was too smart for that career choice. Literally, that was their response! Even writing this now, I laugh, because I'm pretty sure my job at CBC National is way harder than my older brother's who is a medical resident. 
For most of my life, I was told that I would make a great lawyer. I was on the debate team in university, and writing and logic have always been my strongest skill sets. But just being a lawyer didn't seem like it was enough. I wrote the LSAT in my third year of university and I came home from the exam and told my parents I had zero desire to be a lawyer. I recall my dad not speaking to me for three weeks after that! It was tough, and my friends who saw me through that period in my life can confirm that. 
But alhamdulilah, for that decision, because the next year I was accepted into one of the best journalism programs in the country at the University of Regina.
My dad started warming up to the idea of journalism as a career when Nahlah Ayed gave me a shout out during a lecture and said I would probably become CBC's next foreign correspondent. And then he warmed up a little bit more when he started seeing his last name (Bare) on bylines and hearing it on TV. And then finally this year when I started working for CBC National, he told me he was proud. So, alhamdulilah for it working out. 
Tell us about your experience studying journalism at university. 
I went to j-school (common nickname for a journalism program) at the University of Regina and it was one of the best decisions of my life, for many reasons. The program is wonderful, and the teachers genuinely cared about the students - but I also went to school with a large group of kids from small town Saskatchewan, who had some of the most nauseating views on the world.
In my first semester of university I remember this one girl casually said that the only reason two of the students were accepted is because they were Indigenous. Now, this was a girl who didn't get into the program the first time she tried. And yet, she thought she was in the position to say that someone else was only accepted because of their race. J-school was a good introduction to the biases that can exist in a newsroom, and the responsibility that I had to be a better journalist. Going to school in that environment taught me to be careful of where I invested my time. I worked really hard in j-school, and I was able to work full-time as an investigative producer for Global National during my last year. 
But no matter how hard I worked, kids I went to school with would always try to attribute my success to my race. I remember one time, a former classmate and I both applied for a job at CBC, and I ended up getting it. We were friends at the time, and we were talking about it on the phone and she asked me if I thought I got the job because of my race and the fact I wear hijab. Here I was, just graduating from journalism school with a year of investigative journalism under my belt and three prestigious journalism awards, and this girl thought the only reason I was given the job over her was because I was a minority. I mean, the real reason I got the job is because I'm a better journalist with more experience, but her privileged self couldn't accept that. You can learn valuable lessons from going to school with small-minded people.
Have you faced any barriers pursuing a career in journalism? If so, how have you overcome them?
Alhamdulilah, I've always been really fortunate to have bosses that believed in me. My very first boss used to joke about how my parents wouldn't let me travel alone - he knew I wanted to be a foreign correspondent. One day he was making fun of me and said I would find myself reporting in Gaza one day and would have to sign off by saying "This is Eman Bare reporting from the Gaza Strip with her mom."  Maybe I've just been really blessed, but I've always had the best bosses. My next boss hired me as a full-time reporter, even though I was just an intern, and then gave me the opportunity to do investigative work in Toronto. I haven't faced any barriers, or obstacles and I've been reporting with a hijab on for three years now. My hijab has never been an obstacle, simply because I won't accept it as one. This is me - I'm very "get used to it or get out of my way".
Your writing spans a diversity of subjects from investigative journalism to fashion? Is it easy to find opportunities to explore such broad interests in journalism?
Again, I've been really lucky in the sense that these opportunities will always find me. I'll write one article, and have emails from four publications asking if I am interested in writing for them. I've actually never formally applied for a job, or been interviewed for a job. I always feel bad when young journalism students ask me for advice on how to get a job, because my jobs have all found me. 
You have already received awards for your journalism work. Could you discuss this?
My first investigative piece won a Radio-Television News Directors Association of Canada (RTNDA) award last year, and it was for a piece I did for Global National on radicalisation and recruitment. The piece looked at how ISIS fighters' recruitment of young girls online was similar to human trafficking patterns, and that there needed to be more ways to protect these girls. 
You also work with Muslim Girl. Tell us about your involvement with that project.
I'm the multimedia editor for Muslim Girl. What I love most about the company is that it's an extension of the entire team - we all make up why Muslim Girl is as creative and as resilient as it is. We're diverse, and have writers in the Middle East, UK, and all over Canada and the U.S. It honestly feels like a sorority most of the time, because those girls are my family and I love them the way I love my siblings. 
You have written a few articles for Muslim Girl about the need to address the issue of anti-Black racism within Muslim communities in North America. Why do you think this continues to be such a hard discussion for our communities to have?
Because non-Black Muslims are too busy feeling bad for themselves about Islamophobia to acknowledge the racialism they carry. We aren't only an Ummah when it comes to Arab and South Asian issues, and more importantly you can't be racist and be Muslim, so pick one and stick with it. I'm at a point where I no longer see people who try and normalise anti-blackness as being Muslim. I don't care how much Quran you know, or what you wear, if you try and justify your racism, your views aren't welcome in my religion. 
On top of writing about fashion, you have also launched your own fashion line. Tell us about your brand and why you think it is offering something unique to the modest fashion market.
I've been designing clothing for most of my life, and I actually took a break from journalism to go to fashion school, because I've always wanted to be a designer. Everyone always told me it was not possible to be both a journalist and a fashion designer, but that's exactly what my brand does. 
My namesake brand Eman Idil focuses on ethical fashion, and creating fair and safe work opportunities for women all over the world. I just launched the first capsule of my spring/summer line, and it was handmade my women in Malaysia and Morocco. Each piece was handmade, and tells the story of the woman behind the garment, as a way of getting people to think about ethical fashion and where their clothing comes from. 
Eventually journalism led me back to fashion with the idea of ethical fashion and who makes our clothing. As Muslims it's our religious obligation to live an ethical life - how can we make garments that are keeping people poor and made in sweatshops? The most powerful thing we have is our dollar. We need to be investing in the people we want to succeed, and for me that means marginalized women. It also means staying away from businesses that exploit their workers, who are mostly people of colour. I want people to change the way they see fashion and help make fast fashion a thing of the past. 
As Muslims, it really bothers me how little we think about ethical fashion. It can easily be argued that wearing clothing made in sweatshops is haram (forbidden Islamically). You cannot wear a hijab that was made by a 7 year old, when that 7 year old was paid 10 cents. It's wrong, it's unethical and it's unIslamic. Especially since we are hurting Muslim-majority countries by supporting brands that use slave labour. We need to do better, and we do that by investing in each other - both here and abroad. 
Ideally, one day, I would love to buy all of my textiles from local artists in North and East Africa and open a textile factory in Somalia that offers safe employment opportunities to women.
What do you see as the future of modest fashion?
I'm hoping we see more actual designers. A lot of modest brands sell the same abayas, or order hijabs off Ali Baba and call themselves fashion designers, not realising that this is an actual art form that people spend years studying. I would love to see more Muslims go to design school and actually learn about garment construction so that we aren't all wearing the exact same maxi dress from four different companies. 
What role has your faith played in supporting you as a young media professional and entrepreneur?
I make duaa (prayer) through everything. There have been so many times that I've wanted to quit, but my faith has always been the crutch I could lean on. Nothing is permanent - not failure or success and believing that has changed how I react to things. 
What advice would you give to young Muslims interested in pursuing careers in journalism?

If you want to be a journalist, understand what sets you apart from the thousands of other journalists in the world. And the answer to that is often your own story. Know your story and practice your storytelling. Journal and keep a book with you for story ideas and above all make sure you know what you are passionate about.
Do not be afraid to ask for what you want. No one is going to hand you your dream job, and you can't work towards your dream job until you've recognised what it is. Write out your goals, and then work for them relentlessly. 
What advice would you give to young Muslims interested in launching their own fashion lines?
Go to fashion school, please! We need more originality, and the modest fashion industry is starting to look uniform.
Follow Eman Idil Bare on Twitter  or Instagram
Visit her website to check out her latest fashion designs here
This article was produced exclusively for Muslim Link and should not be copied without prior permission from the site. For permission, please write to info@muslimlink.ca.