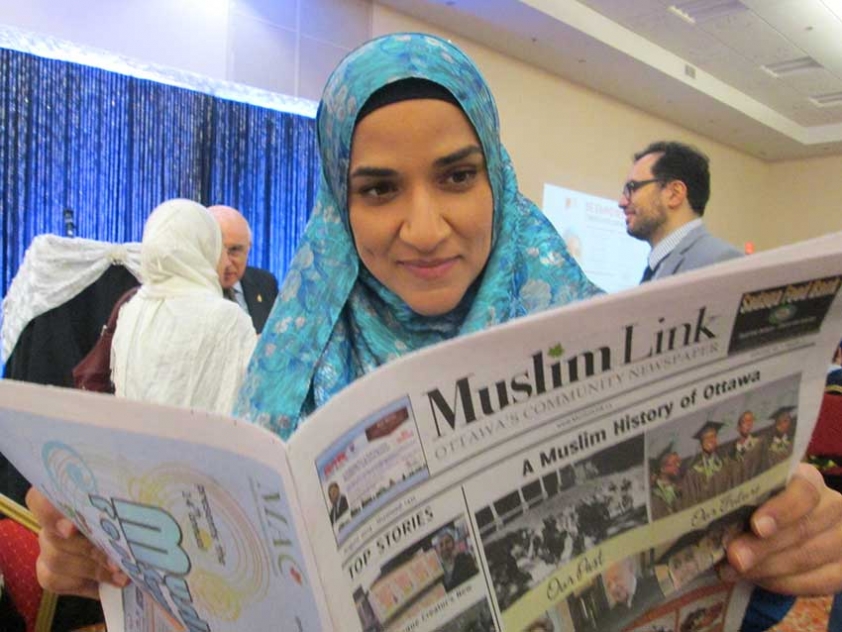 Dalia Mogahed reading a copy of Muslim Link at the National Council of Canadian Muslims fundraising dinner in Ottawa.
Muslim Link
17
Nov


2014
Dalia Mogahed: Lessons for Canadian Muslims
Written by Chelby Daigle
Muslim Link interviewed Egyptian American Dalia Mogahed when she was in Ottawa speaking at the National Council of Canadian Muslims (NCCM)'s fundraising dinner.
Mogahed is former Executive Director of the Gallup Center for Muslim Studies, a non-partisan research center that provided data and analysis to reflect the views of Muslims globally. She was selected as an advisor by U.S. President Barack Obama on the White House Office of Faith-Based and Neighborhood Partnerships. She and John Esposito co-authored the book Who Speaks For Islam?: What a Billion Muslims Really Think, based on over 50,000 interviews with Muslims from around the world. This poll is considered the largest, most comprehensive study of its kind.
The focus of this interview was what lessons she felt would be beneficial for Canadian Muslims to take from the American Muslim experience.
From your experience visiting and studying Muslims in Canada, do you feel that in some ways Canadian Muslims are a more visible part of the Canadian landscape than their American counterparts?
In some ways, Muslims in Canada have succeeded to be much more culturally mainstream. For example, having a television program like Little Mosque on the Prairie. In those ways, Canadian Muslims have been able to widen the Canadian landscape to just accept them as they are more so than we have here in the United States. But at the same time, there are certain arguments and elements within the Canadian landscape, like the proposed bans on hijab, which so far we haven't seen in the United States.
Do you feel that that might have something to do with the fundamental differences between Canadian and American culture?
I do think that that is a very important part of it. Even polling data shows that the American public is just much more tolerant of visible religious symbols than people in both Europe and Canada. It is just part of our culture and part of our laws that telling someone that they can't display or express a religious identity would be very un-American.
Have you reflected on the fact that in some ways religious identity is just more openly articulated in America than in Canada?
I have, I think that is a major difference. In the US there is the possibility of connecting with people around religious identity or spiritual ambitions. There is just an easy conversation with people who are usually at bare minimum believers in God. It is interesting that in the US it used to be the only other group more negatively viewed than Muslims were atheists. Of course that would not be the case in Europe at all where atheists are very positively viewed. It is just a fundamental difference of culture; Americans tend to be more religious. So in the US our religiosity is just one less thing Muslims have to explain about themselves. It does help create greater common ground.
There are significant demographic differences between Canadian and American Muslims, in particular the presence of the African American Muslim population. How does their presence affect how American Muslims are perceived by the mainstream?
The Muslim African American population does give the Muslim American community a special characteristic of being able to be seen as more mainstream. But the US also has the legacy of the Civil Rights Movement and a lot of those ideas are ones that Muslims and other marginalized communities can tap into and harken back to in order to help America grow. Whereas this legacy doesn't exist in a place like France or a lot of European countries where the narrative is much more about former colonies getting their independence and that was really the relationship of greater rights as opposed to a native rights movement for marginalized groups, which the country has embraced as a sign of progress. Without the Civil Rights Movement, there would be just a lot less of a vocabulary and of a psychological space for people to understand the concept of inclusivity as a means to strengthen a country.
American Muslim organizations seem to be prioritizing building bridges between diverse Muslim communities. We have seen this particularly with the Islamic Society of North America (ISNA) which has been working to address issues between Sunni and Twelver Shia Muslims and even invited an Ahmaddiyya Muslim writer to speak about the Prophet Mohammed (pbuh) at their recent convention. Do you feel Canadian Muslim organizations could benefit from taking a less sectarian approach to community organizing?
Absolutely. We can't ignore the intra-Muslim dialogue that needs to happen. It can be a lot more threatening to do that kind of dialogue than it is to do interfaith dialogue, but it can be the most important and the most strengthening for the community. So I do think those are great lessons to take from the United States.
Another important lesson and example is when Ingrid Mattson became president of ISNA; that really wasn't controversial for us at all in the US. And yet when I talked to people from the UK or other Muslims in Western countries they regard it as astounding or extraordinary to have a major Muslim organization headed by a woman and a White convert on top of that.
I just think moving in that direction will be helpful for other Muslim communities in the Western World. What does Muslim religious leadership look like? That is something we need to reconsider.
One thing that I think is significantly different in Canada than in the States is the discussion around indigenous communities. For example, Ottawa is actually considered unceded Algonquin territory and we have a relatively high urban Aboriginal population. We have much more direct interaction with the indigenous inhabitants of this country and there is more discussion around acting in solidarity with their struggles for basic human rights. Are Muslim Americans beginning to engage in similar dialogues with the indigenous communities of their country around human rights and land rights?
No, not at all. I think this is really a blind spot for us.
Perhaps that's a lesson you can take back to the American Muslim community from us. Any final thoughts?
I think the final thought I want to share with the Ottawa Muslim community, and the wider Canadian Muslim community, is that you need to see yourselves as an important part of the Canadian landscape; something that strengthens the country. When I hear people say that they don't feel welcomed I challenge that, because the idea that we need to feel welcomed means that we are guests and we're not. Canada is your country. The United States is our country. And if anyone doesn't like that we are here, they are free to leave. This is my country and I'm not waiting for them to make me feel welcome.
This article was produced exclusively for Muslim Link and should not be copied without prior permission from the site. For permission, please write to info@muslimlink.ca.