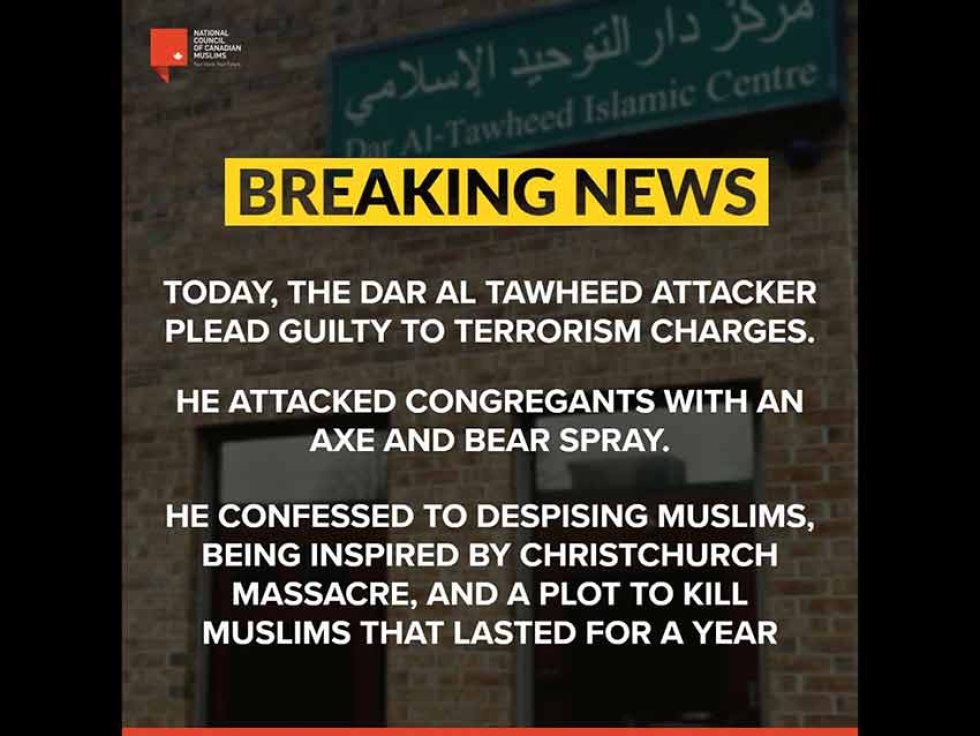 20
Jul


2023
 July 19th, 2023 Brampton, Ontario — Today, National Council of Canadian Muslims (NCCM) representatives and lawyers attended a Brampton courthouse for the guilty plea of Mohammad Moiz Omar, an individual who identified as an atheist with a deep and violent hatred for Muslims.
On March 19, 2022, the attacker entered the Dar Al-Tawheed Islamic Centre in Mississauga, Ontario and sprayed bear spray towards congregants while holding an axe.
There were children, young people and elders in the congregation, some of whom continue to bear significant physical and mental trauma from the attack. Had it not been for the brave actions of the congregants who subdued the attacker, there could have been much more serious injury.
Today, in the agreed-upon statement of facts where the attacker entered his guilty plea, the following disturbing facts were read into the record:
That the attacker was mournful that he had not managed to kill any Muslims, and that he should have killed other Muslims when he had the chance;
That the attacker had the Christchurch killer manifesto on his computer, and sympathized with Alexandre Bissonnette, the Quebec City Mosque murderer;
That the attacker enjoyed seeing an online video of a Muslim woman being shot;
That the attacker at various points tried to obtain a firearm, and to manufacture a bomb, or to ram Muslims with a vehicle to inflict maximum casualties;
That the attacker planned to target other targets (including another mosque in Toronto) but did not due to their distance from his residence;
That the attacker considered using a flamethrower to burn the congregants alive; and
That the attacker had more edged weapons, rope, drill bits, and other chemicals in his car.
"Given the above facts, we are beyond horrified," said Steven Zhou, spokesperson for NCCM, "This individual deserves to see a significant custodial sentence. Just as importantly, we need to see action from all levels of government taken so that we ensure that this kind of violence never happens again."