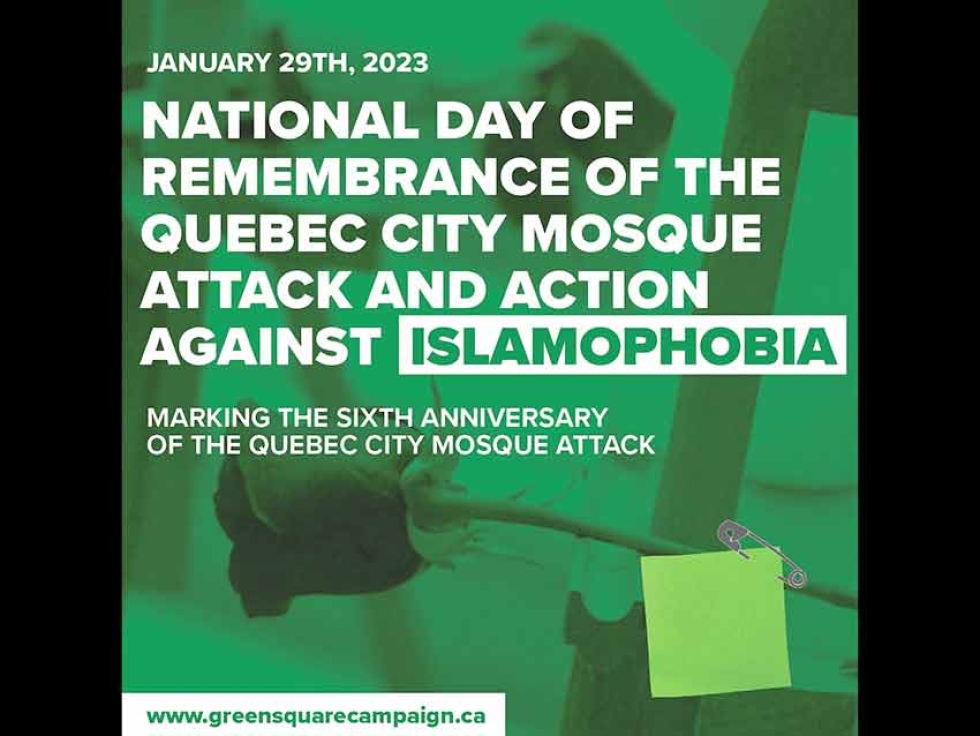 16
Jan


2023
Assalamu alaikum / Peace Be with You
I remember January 29, 2017 like it was yesterday. I will never forget the utter shock, the numbness, the pain after hearing of the unspeakable act of violence that took place that day at the Quebec City Islamic Cultural Centre.
I also remember my last visit to the Quebec City mosque. Years later, you can still feel the weight of what happened there as you walk through the doors. But there is an unmistakable sense of strength in the air, of devotion to the Almighty, to the community, unshaken by the violence that was visited upon them.
In just a few days, it will be six years since the tragic events of January 29th, 2017.
Last year we marked January 29th for the first time as the officially designated National Day of Remembrance and Action Against Islamophobia.
It took bloodshed for many to understand the real cost of Islamophobia, and the real need for action against it.
That is why we must remember again. Year after year, we must remember. We must remember the fallen. As well as those who survive them. The injured, the traumatized, the community.
That's why we ask all Canadians to participate in this year's Green Square Campaign, which takes place throughout the week leading up to January 29th.
Its symbol is the green square, which represents the green carpets of the Quebec City mosque, where the victims and survivors stood to pray that January night six years ago.
The green also symbolizes that, God willing, our brothers now rest in God's green garden—a better place since they left us that night.
We ask everyone to wear the green square in solidarity with the victims and survivors, with Aymen Derbali who is left paralyzed for life, and with every person suffering the consequences of what happened.
Today I ask you to take action and to organize local acts of collective remembrance.
Our team has put together many different ways to participate. View them below.
Wasalam,
Stephen Brown
Chief Executive Officer
1.JOIN THE GREEN SQUARE CAMPAIGN:
Wear a green square the week leading up to and on Jan 29, 2023.
Make your own squares at home with three easy steps:
find/or buy a piece of green fabric
cut your piece of green fabric in 2" by 2" square
attach a safety pin to easily pin it onto your clothes
2.SHARE YOUR STORY IN A VIDEO CLIP
Make a video or post a message telling us why the Green Square Campaign is important to you, and what actions you want to see against Islamophobia to make Canada a safer place for all Canadians.
Use the hashtag #GreenSquareCampaign and tag us on Instagram @nccm_community, Twitter @nccm
3.LIGHT LOCAL MONUMENTS GREEN
Get your local monuments, city halls, or landmarks lit green on January 29th.
Let us know if your local monument will be lit green and we will add it to our website.
Watch our page for a full list of the ones that are being lit green.
4.ORGANIZE A VIGIL
Organize a vigil or virtual event and let us know by dm'ing us at @nccm_community and we will add your event onto our website.
5. ORGANIZE A FRIDAY KHUTBAH
Organize a special jummah prayer at your mosque to pray for the victims, their families and for the safety and well-being of Canadians of all backgrounds.
Reach out to us at This email address is being protected from spambots. You need JavaScript enabled to view it. for more information.
6.CHANGE YOUR VIRTUAL BACKGROUND
Download a virtual background to use on your zoom/meets/teams meetings on www.greensquarecampaign.ca
7.JOIN OUR LETTER WRITING CAMPAIGN
Many victims and survivors of hate-motivated crimes have a long journey to healing. They often need support for accessing counselling, physiotherapy, and other related costs. Join us in urging the government to establish a National Support Fund for Victims of Hate-Motivated Crimes. Send a letter today!
8.RESOURCES FOR EDUCATORS
How do we centre healing in anti-Islamophobia work?
Please join us for a webinar designed for educators to explore answers to this question, particularly in classroom settings.
We will look at how to engage in critical learning around events that impact the our sense of safety and well-being. Register here