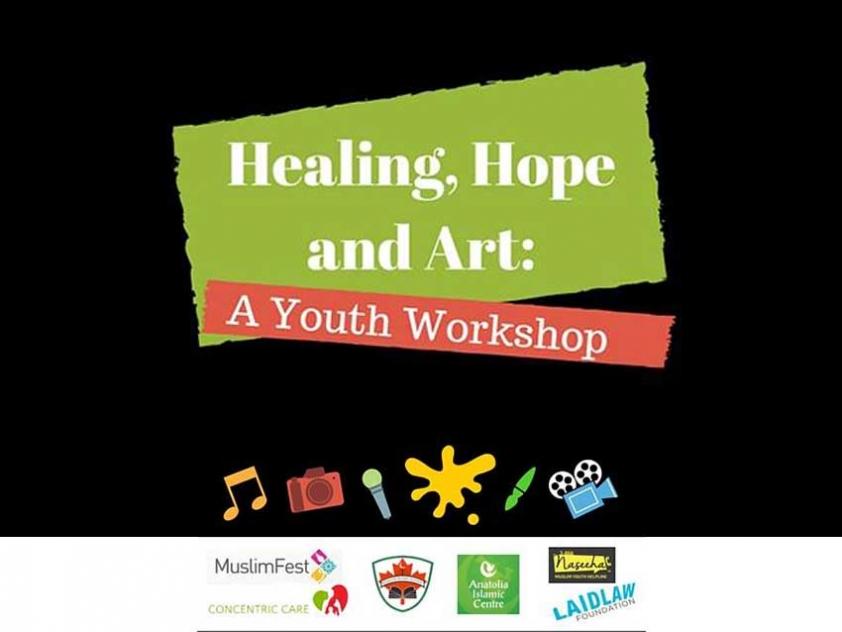 Healing, Hope and Art is a two part project that provides art therapy for Muslim students and an anti-Islamophobia awareness campaign aimed at engaging the general public.
06
Mar


2016
Using Art to Address the Impact of Islamophobia on Children
Written by Muslim Link
Healing, Hope and Art is a two part project that provides art therapy for Muslim students and an anti-Islamophobia awareness campaign aimed at engaging the general public. The campaign uses artwork created by students at the therapy sessions. Muslim Link spoke to Farrah Marfatia, Principal of Maingate Islamic Academy in Mississauga, about the project.
How did the idea of having an art therapy session for Muslim students come about?
A major inspiration behind this initiative was a pilot anti-Islamophobia workshop conducted at Maingate Islamic Academy last year. Led by a group of visionaries who are educators and counsellors in the GTA, [they] also do a lot of hands-on work with young Muslims. That workshop wasn't able to continue due to lack of resources, but we could see that there was a void that needed to be filled. We wanted to fill that void.
Our communities have been dealing with racism on various levels lately and there is research that shows racism has a significant impact on one's mental state. Youth, who are just starting to form their identities and sense of self, are especially vulnerable, and yet this isn't something that is often explored in our community. To our knowledge, this is the first event of its kind in the Muslim community in Ontario and definitely in the Islamic School System in Ontario.
We wanted to use art, which is something very positive and inspirational, as a tool to help Muslim young people as they explored experiences and challenges. We also feel that art can actively engage Muslim youth voices, and, through this particular workshop, can help them rewrite the narrative that is being constructed about them.
We hope that students will develop a love of art and discover that they can continue to use it to release emotions outside this workshop. So when the Laidlaw Foundation micro-grant opportunity around promoting mental health came up, Anatolia Islamic Centre thought that it was a great opportunity to engage Maingate Islamic Academy as its major educational partner and bring this idea to life. 
How were you able to identify and bring together all of the partners for this event?
As an organisation, we needed partners who could provide expertise and support around the different pieces involved in this project, including the arts, Muslim youth issues, as well as counselling and mental health. And it was really great, because the organisations we did identify as experts on these issues—MuslimFest, Naseeha Muslim Youth Helpline, and Concentric Care Counselling—were so enthusiastic when we reached out to them and they brought such amazing ideas to the table about how we could refine the project's structure and implementation.
How are you seeing issues like Islamophobia, racism, and bullying affecting the mental health of Muslim students?
One of the things that we've actually found is that there is no publicly available statistical data on these issues as they affect Muslim youth in Canada, and yet, on the ground, we see that there is a huge problem with Muslim students being bullied. So there's a clear gap there that needs to be addressed.  
As an educator, I have seen several instances where Islamophobic bullying has occurred. Students have been told by their peers that they aren't allowed to associate with them because Islam is a violent religion. In another instance, a group of young sisters were repeatedly called ISIS in school by other students because they wore the hijab.
Most recently, a highly motivated and high achieving public school student was so upset about being bullied because of his faith that he dropped out of all afterschool activities and refuses to continue with extra-curriculars altogether, leaving him socially isolated and further marginalised in the education system. He will be attending our event, and it is our hope that he heals and is able to achieve both inside and outside of school.  
How will you be trying to create a safe space for students to express themselves about their experiences with these issues?
I've recently started studying the theory and praxis of equity and anti-oppression in education, with guidance from a number of people I have a great deal of respect for, and creating a safe space for students is definitely integral to the project.
It is for this reason that we engaged project partners and facilitators that have expertise in mental health. Furthermore, one of the reasons we chose art as the medium for youth to express themselves is that youth aren't always comfortable directly speaking to those in positions of power about issues that are as highly personal as their identities and experiences.
At our event, we hope that our diverse artists, who come from variety of backgrounds, and the different mediums they work with, whether spoken word, creative writing, music, paint, or filmmaking, will allow youth to express themselves using an art form of their choice, openly and without feeling judged or disrespected.  
What are the expected outcomes of this session?
Through this session, we'd really like to make talking about these topics less taboo, and better understand the student experience. We'd also like to raise awareness about the fact that Islamophobia is a very real and pressing problem that requires study and innovative solutions in educational settings. I'm additionally looking forward to students' voices having an impact on broader society.
In order to make this happen, we will be taking samples of student pieces and turning them into postcards, with messages about who our students really are and how racism and Islamophobia affect them. These post cards will be mailed out to members of society in the GTA. We hope that this gives students a sense of control and agency, and thereby promotes their wellbeing.
Do you feel that this session could become a model for similar sessions within private and public schools?
Yes, definitely. There are a number of forms of racism prevalent in the world today. Myself and all our project partners very much hope that this workshop becomes something that might be replicated in various contexts, perhaps even to address different forms of racism and engage communities outside our own.
Will this workshop be held again?
We would love to hear from parents or schools who would be interested in participating in an initiative like this in the future. They can email This email address is being protected from spambots. You need JavaScript enabled to view it.

This article was produced exclusively for Muslim Link and should not be copied without prior permission from the site. For permission, please write to info@muslimlink.ca.