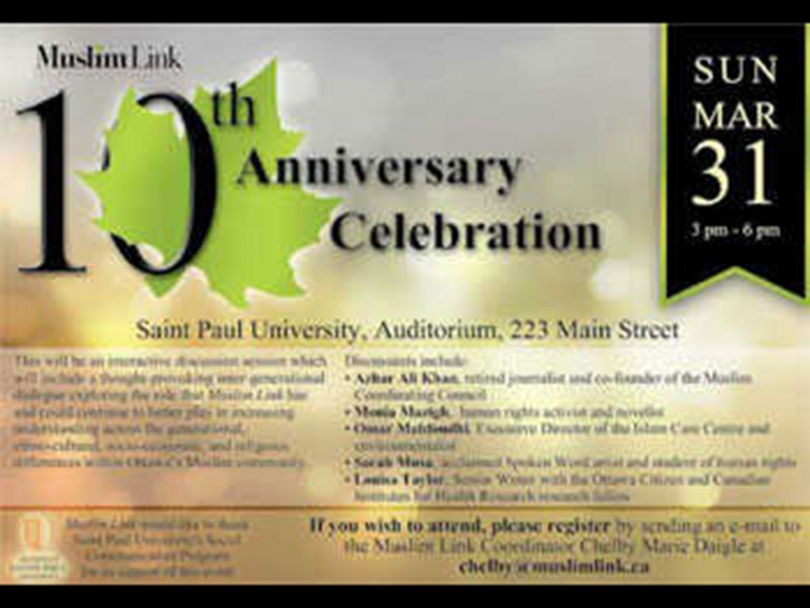 19
Mar


2013
The Muslim Link at 10: A chance to reflect and renew
Written by Chelby Daigle
As the new coordinator of the Muslim Link, one of the tasks I assigned myself was figuring out the history of the paper that has become an important institution in Ottawa's Muslim community.
Muslim Link was founded in 2002 by Ali Bokhari and his wife Tahira Ismail.  Ali was inspired to create the paper after seeing the success of The Muslim Link in the US. Founded in 1998, the American paper connects Muslims across the Virginia, Maryland, and Metropolitan Washington D.C area.
Ali's other motivation came from the fallout of 9/11 when stereotypes and misinformation about Muslims in Canada became rampant and it was clear that a forum was needed for Muslim Canadians to connect, share information, discuss their common concerns, and see their lives reflected in a positive light.
Ottawa's Muslim Link began as a newsletter but quickly evolved into a newspaper. Ali admits that if it wasn't for his wife, or the efforts of editors Lula Adam and Amira Elghawaby, the paper would never have been successful in those early days.
In 2007, Mohammad Dourou joined as co-owner of the paper with Ali, but soon Ali had to leave, and Mohammad found himself sole-proprietor. Although something of a daunting task, Mohammad has worked hard to ensure that the paper is an independent voice for the community, as it is not owned by any one particular Muslim organization.
Mohammad, a computer engineer who originally got involved with the paper as a Sales Associate, most enjoys seeing people actually reading the paper. He is employed full-time by a Canadian digital commerce and marketing solutions company.
Zenab Bagha is the paper's Editor-in-Chief. She studied journalism at Carleton University with Amira Elghawaby, who suggested that Zenab take on the task after Amira no longer could continue with it. Ahmad Luqman, also a trained journalist, and a social worker with Ottawa Community Housing, is the Layout Editor.
The sales team is led by Asad Choudhary, co-founder and director of Tarbiyah Learning, and Irfan Azhar, a civil servant.  Now, I have come on board as the paper's "Coordinator", a loose title that sees me doing a bit of everything.
Everyone on the Muslim Link team has other full-time jobs and family commitments but we all manage to keep the paper going"somehow" alhamdulillah (praise be to Allah).  And of course, we wouldn't have a paper if it weren't for the dedicated writers and reporters who fill these pages, month after month, year after year.
Reading the back issues of the Muslim Link, all of which are available at www.muslimlink.ca, is like flipping through the history not only of Ottawa's Muslim community over the past 10 years, but also the history of Muslims in Canada post 9/11.
We will be reflecting on this history and the ways in which Muslim Link needs to improve in order to better meet the needs of Ottawa's diverse and growing Muslim community at our 10th Anniversary celebration on Sunday, March 31st, from 3 to 6 pm at Saint Paul University.
The event will include a retrospective on the community in the last ten years. The event will also include an inter-generational panel discussion which will include Louisa Taylor, Senior Writer with the Ottawa Citizen, Sarah Musa, celebrated Somali-Canadian spoken word artist; Omar Mahfoudhi, the Executive Director of the Islam Care Centre; Dr. Monia Mazigh, a human rights activist and
author; and the  founder of Ottawa's Muslim Coordinating Council, Mohammed Azhar Ali Khan.
I will be moderating the panel and hope that those who attend will find it thought-provoking and insightful. A portion of the event will be dedicated to listening to what you, the Muslim Link's readers, want to see next for the paper.
To register to attend Muslim Link's 10th Anniversary Celebration please send an email to:  This email address is being protected from spambots. You need JavaScript enabled to view it.. Our special thanks to Saint Paul University's Social Communication Program for its support of the event.  
Amira Elghawaby, regular Contributor, and former Editor
I began with the paper when it first was a small two page flyer in 2003.  Ali Bokhari had approached me to write some articles in it. One of my first articles was a piece about education in Islam. I've been involved in the paper as either a writer or editor, or both, ever since. Being a journalist, I've really felt the need to foster an appreciation for the power of the media within our communities.  It is an appreciation that is often missing due to older generations coming from countries where there is no strong press, and where journalism isn't taken seriously as a profession.  With the Muslim Link, I believe we helped give young Muslims an opportunity to try out a field their parents may not have otherwise encouraged them to experience.
Mohammed Azhar Ali Khan, Contributor
The Muslim community is one of the most diverse ones in Canada. I think that when the paper expands and improves, as it is trying to do, it should be able to bring all sections of the community together in terms of better understanding and cooperation.
Massey Hoveyda, Reporter
I became involved with ML over three years ago, when I began writing articles for the paper, regarding local events and various community initiatives.  Having the opportunity to promote cultural and innovative initiatives happening in the Ottawa community has been a great experience. Having the opportunity to have my voice heard, and to attend community events as an ML representative has also been an engaging experience.  I feel that Muslim Link helps to build Ottawa's Muslim community by providing  better representation of the modern Muslim voice in Ottawa, promoting events and cultural collaboration, opening dialogue, and supporting local events and charities.
Sheema Khan, Contributor
I would like to see Muslim Link become a forum to discuss some of the difficult issues facing our communities ""poverty, anti-women bias in our institutions, lack of real consultation with youth, etc.  We need to have a bit more critical self-analysis - in a constructive way.  And we need to stop blaming the wider society for our ills, or focus exclusively on Islamophobia.  We need to stop seeing ourselves as victims, and instead discuss of ways of meeting challenges.
This article was produced exclusively for Muslim Link and should not be copied without prior permission from the site. For permission, please write to info@muslimlink.ca.