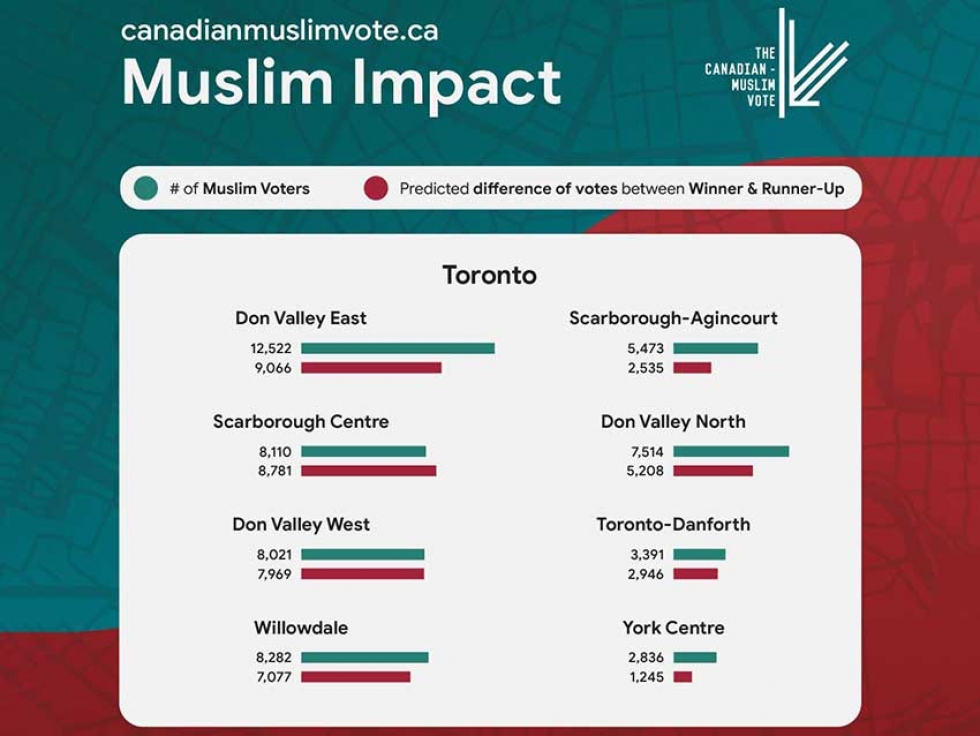 18
Oct


2019
The Canadian Muslim Vote Publishes List of 73 Swing Ridings in Six Provinces Where Muslim Voters Can Impact Government Makeup
Written by Canadian Muslim Vote
The Canadian-Muslim Vote (TCMV) on October 17, 2019 released a list of 73 ridings in six provinces where the number of Muslim voters surpasses or is close to the predicted number of votes the riding will be won by based on the latest projections from 338Canada.com.
In these ridings the current first place parties are Liberals in 32, Conservatives in 25, NDP in 8, Bloc Quebecois in 5, Green Party in 2, and one Independent - Jody Wilson-Raybould in Vancouver Granville. The mix of races the Muslim voting population is concentrated in means Muslim voters can decide not only the winners in close races but also the composition of a minority government.
TCMV has been running a Get Out The Vote (GOTV) campaign in 80 ridings nationwide, and over the Thanksgiving holiday completed a "Muslim Vote Weekend" Advance Poll campaign in 64 ridings from Vancouver to Whitehorse to St. John's, Newfoundland. TCMV's online poll across almost all provinces predicts a high turnout among Muslim voters, who are concentrated in key ridings across Canada.
TCMV Executive Director Ali Manek said, "The Canadian Muslim community has the numbers to decide the winners and losers this election, which directly impacts the composition of the government we will have. Muslim voters have turned out to the Advance Polls over Muslim Vote Weekend and we will be there on election day because we understand that we speak the loudest when we vote. Breaking down barriers to democratic participation through voter education and mobilization is making a difference because everyone's vote matters."
The methodology TCMV used includes:
Using a custom tabulation of Canadian Muslim voters from Statistics Canada's 2011 National Household Survey.
Projecting the Canadian Muslim voter population from 2011 to 2019 by interpolating Statistics Canada's 2036 projections for the general Muslim population.
Using 338Canada.com's riding-by-riding prediction of the percent difference between 1st and 2nd place party as of October 16, 2019.
Converting each riding's percent difference between 1st and 2nd place party into votes using 2015 turnout.
To view the list, click here
The Canadian-Muslim Vote was founded in 2015 with the mandate to educate and mobilize the estimated 767,000+ Muslim voters across Canada at all levels of government in a non-partisan way. It is estimated that in the 2018 Ontario provincial election Get Out The Vote campaign The Canadian-Muslim Vote had nearly 2-million touch points with the Muslim community. TCMV was also very active in both the 2018 Quebec provincial elections as well as the Ontario municipal elections in October 2018. In the recently concluded Alberta provincial election mosques used Friday sermons to encourage Muslims to vote.
For more information on the Canadian-Muslim Vote, please visit www.canadianmuslimvote.ca