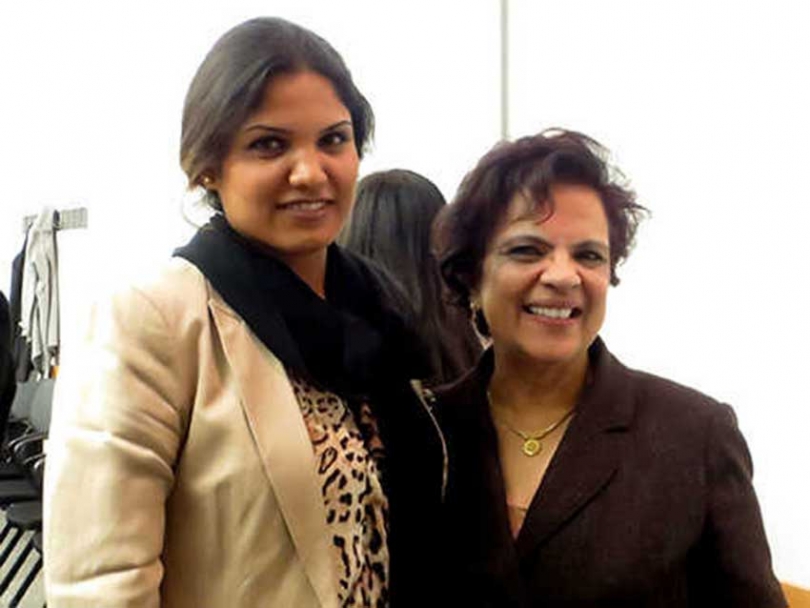 Ex-Afghan politician Sabrina Saqeb and Senator Mobina Jaffer at the screening of 25 Darsad at the University of Ottawa.
11
Nov


2013
On October 25, the Canadian Women for Women in Afghanistan (CWWA) organized a screening of the Afghan film 25 Darsad (25 Percent). Directed by Diana Saqeb, 25 Darsad features Afghan female politicians speaking about their daily lives.
In Afghanistan's parliament, out of the 249 available seats, 68 or 25 percent are reserved for female parliamentarians. 
Diana Saqeb is a documentary film maker and women's rights activist who grew up in the Afghan diaspora. A current resident of Kabul, she focuses on stories that touch her or that she has experienced. Her own sister, Sabrina Saqeb was an Afghan parliamentarian.
25 Darsad received an award at the International Film Festival of Cambodia and has been screened at festivals in Poland, China, Sweden, the United Kingdom, Norway, and at the ISAF Camp in Mazar-e-Sharif, Afghanistan.
Afghan Canadian and member of CWWA, Najia Haneefi explained why the film was screened, "I lived in Canada for almost six years and I have realized that there are so many perspectives on Afghan women. I wanted to show a face of Afghan women that has never been reflected in Canadian media."
Ex-Afghan Parliamentarian Sabrina Saqeb and Senator Mobina Jaffer spoke after the film was screened. Speaking about the documentary, Sabrina Saqeb said, "The women politicians act as social workers and unlike most politicians they actually go back to their constituencies."
"Did you see the women walking in their high heels," she added with a chuckle.
"No matter how dangerous it is," Saqeb said, "the women go back to visit their constituencies."
"The women rely on the power of their people," she continued.
Saqeb said that elders and people living in Afghanistan who most people here would believe are against women representation in the parliament are actually very supportive.
"The women, as you saw in the documentary, were well received by their constituencies," 
"If the people of Afghanistan wouldn't vote and appreciate the presence of women in the parliament, then those seats should have remained vacant, but it was not so."
When asked to speak on the 2014 elections in Afghanistan, Saqeb states that we should not expect with one election or two that Afghanistan will solve all its problems.  "We need to support the institutions that lead movements like the women's movement into society and we need to make sure this is a sustainable movement and not an occasional one," she stated, "We want meaningful sustainable support for institutions and not only individuals."
Senator Mobina Jaffer, also spoke on the importance of institutions, "We must give to meaningful relationships with institutions rather than with individuals. I think we tend to glorify an individual when many other individuals are dying in the same circumstances every day."
"When people said we are going to Afghanistan to save the women, I was one of those people who was saying to my colleagues, don't use us women as an excuse," said Jaffer.
Jaffer believes that people often forget to ask members of a community the questions pertaining to that community. She states that people forget to say, "You are from Afghanistan, tell us your stories tell us what happened."
Jaffer states, "We went to Afghanistan with a false pretense, we said we were going to help the women. But honestly we had our own reasons for going there and now we are leaving without protecting the women."
PhD Candidate at the University of Ottawa, Maisam Najafizada travelled to Afghanistan in the summer of 2013 to research on women's health in Afghanistan.
Najafizada states that the speakers, Jaffer and Saqeb had given, "An interesting picture of the women in Afghanistan."
He adds "I really like the documentary because it shows both the struggle and the success of Afghan women in the past decade."
"The only thing that I don't like very much is to objectify women in any way or form. In Afghanistan they are objectified as the object of development and they have been the excuse for intervention," Najafizada said.
"I believe and I have also witnessed that they are not the objects of change but more the agents of change themselves in the society," he said.
"Afghan women will change their own society," Najafizada added.
For more information about Canadian Women for Women in Afghanistan and their activities, visit http://www.cw4wafghan.ca/.  
Miriam Katawazi is a Journalism student at Carleton University.
This article was produced exclusively for Muslim Link and should not be copied without prior permission from the site. For permission, please write to info@muslimlink.ca.